"There's no better tip-off to the probable success of a stock than when people in the company are putting their own money into it" ~ Peter Lynch

"There is only one reason that insiders buy: they think the stock price is undervalued and will eventually go up" ~ Peter Lynch
Back in May, we wrote a piece on Philip Morris (PM), suggesting investors to follow the insiders and buy this international tobacco giant.
And since then negative articles about Philip Morris in particular and dividend stocks in general have started to creep up these days, as the market has rallied to a great extent in 2012. To give an idea, Dow Jones Industrial Average (DJI), which is up 7% YTD, is the worst performer out of the three major indices. Are these stocks over-valued ? maybe, may be not. No one has a crystal ball. One can look at a few factors and decide if the company is going to do well in the short term and the long term. One of them is insider buying.
As stated in many articles earlier, insiders sell for a variety of reasons like buying a new house, or just cashing out on profits like those at Zynga (ZNGA) and soon at Facebook (FB). But insiders buying their company's stock have only one reason- they believe the stock will do well from this point on.
Sergio Marchionne, CEO of Fiat is on the Board of Directors of PM. He is credited with having turned around both Fiat and Chrysler. So one can safely assume that he knows what is good for business and where and how to spend money.
Since the last article, he has purchased one more chunk of 1,000 shares, on July 24th. This makes his 17th consecutive buy transaction without a single sell action between May 2010 and now.
The table below shows all these 17 transactions and their 3 month return. Agreed, the 3 months return is not as high recently as it was earlier but these continuous buys show an insider's confidence in the long term story of a strong company.
Click to enlarge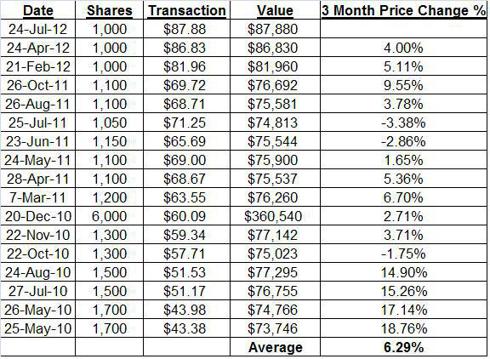 Sure, Europe is going through a crisis and even Philip Morris admitted slowing sales due to that and strong U.S dollar. But in spite of that Philip Morris beat the recent earnings estimate by 2 cents.

Source: Finance.yahoo.com
But "Buy a good company and the market will take care of itself" - is echoed by many famous investors. So how do you define a good company ? Try the following and see if Philip Morris has them.
Wide moat - Check. High Dividend - Check. High Dividend Growth - Check. Insider Purchase - Check. Loyalty to Investors - Check. (All those buybacks stand as proof for this)
So one can safely assume the long term story is still in tact, if you are looking for short term catalysts, check this out. A yummy dividend increase is on its way.
To conclude the article on a friendly note, a shout out to Joe Springer's fantastic writing in the SA article linked above, though we don't agree with the premise totally.
Disclosure: I am long PM.