AcelRx Pharmaceuticals (NASDAQ:ACRX) is a specialty pharmaceutical company focused on the development and commercialization of innovative therapies for the treatment of acute and breakthrough pain. AcelRx's lead product candidate, the ARX-01 Sufentanil NanoTab PCA System, which is currently in Phase 3 clinical development, is designed to solve the problems associated with post-operative intravenous patient-controlled analgesia, or IV PCA, which has been shown to cause harm to patients following surgery because of the side effects of morphine, the invasive intravenous route of delivery and the inherent potential for programming and delivery errors associated with the complexity of infusion pumps.
AcelRx has two additional product candidates which have completed Phase 2 clinical development: ARX-02 for the treatment of cancer breakthrough pain and ARX-03 for mild sedation, anxiety reduction and pain relief for patients undergoing painful procedures in a physician's office. A fourth product candidate, ARX-04, is a sufentanil product for the treatment of moderate-to-severe acute pain, and AcelRx plans to initiate a Phase 2 study funded by a grant from USAMRMC, contingent on approval of the proposed clinical protocol for the study by USAMRMC.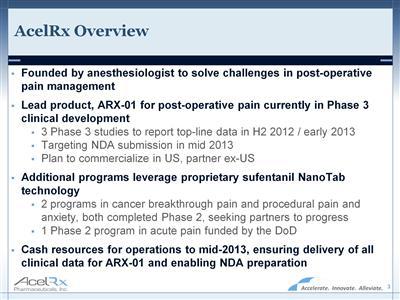 I see at least 4 reasons to buy the stock currently:
1. Sufentanil is an underutilized opioid with numerous advantages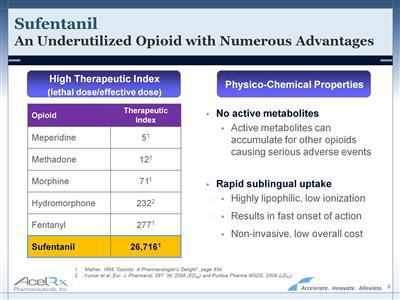 Sufentanil, a high therapeutic index opioid, which has no active metabolites, is 5 to 10 times more potent than fentanyl and is used intravenously as a primary anesthetic to produce balanced general anesthesia for surgery, and for epidural administration during labor and delivery. Sufentanil has many pharmacological advantages over other opioids. Published studies demonstrate that sufentanil produces significantly less respiratory depressive effects relative to its analgesic effects compared to other opioids, including morphine, alfentanil and fentanyl. These third-party clinical results correlate well with preclinical studies demonstrating sufentanil's high therapeutic index, or the ratio of the toxic dose to the therapeutic dose of a drug, used as a measure of the relative safety of the drug for a particular treatment. Accordingly, the company believes that despite its potency, sufentanil can be developed to provide an effective and relatively safe solution for the treatment of acute and breakthrough pain. The table in the above slide illustrates the difference between the therapeutic index of different opioids.
Although the analgesic efficacy of sufentanil has been well established, its use has been limited due to its short duration of action when delivered intravenously. The pharmaceutical attributes of sufentanil, including lipid solubility and ionization, result in rapid cell membrane penetration and onset of action, which the company believes make sufentanil an optimal opioid for the treatment of both acute pain and breakthrough pain. In addition, its pharmacokinetic profile when delivered sublingually avoids the high peak plasma levels and short duration of action of intravenous administration.
2. Post-operative pain is a $5.1 billion growing market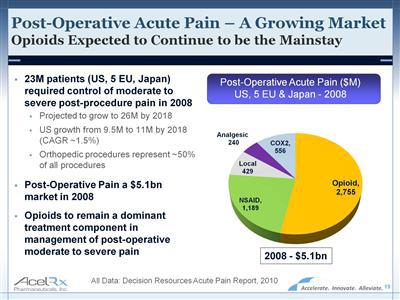 The post-operative pain market in the United States, Europe and Japan is growing steadily and is expected to reach $6.5 billion by 2018. Despite its size, this market remains underserved. Studies report that up to 75% of patients experience inadequate pain relief after surgery. Inadequate pain relief can lead to decreased mobility, which increases the risks of other medical complications, including deep vein thrombosis and partial lung collapse, and can result in extended hospital stays. The 2010 Decision Resources Acute Pain report projects that in 2013, 24.6 million in-patient procedures performed in the United States, Europe and Japan will require post-operative treatment of pain, growing at a rate of approximately 1% per annum.
Market research among surgeons and anesthesiologists has identified a consistent positive response to the attributes of ARX-01 and indicates an interest in using ARX-01 in 85% of their eligible patients. Additionally, physicians expressed interest in using ARX-01 for patients who stay in the hospital for less than 24 hours and are not traditionally treated with IV PCA. Pharmacy and Therapeutics committees also indicate strong interest in ARX-01, with 91% of those interviewed indicating likely adoption to formulary.
3. Three successful Phase 2 studies completed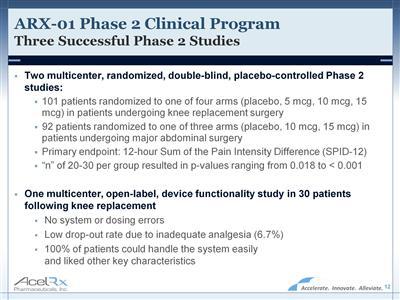 The company has completed three Phase 2 studies in support of sufentanil NanoTabs. Across all studies, the average time interval between doses was approximately 80 minutes. This compares favorably to typical redosing intervals for IV PCA with an average period between dosing of 20 to 40 minutes. No serious adverse events were reported that were considered to be related to the study drug. Adverse events that were reported were similar to those reported for placebo-treated patients. In particular, the incidence of somnolence and oxygen desaturation were roughly comparable for placebo and the 15 mcg dose of ARX-01 at roughly 0%-3%. In contrast, a published meta analysis of approximately 150 IV PCA clinical trials reported an incidence rate of 56% for somnolence and 11.5% for oxygen desaturation. If the larger Phase 3 trials further define the incidence rate for these side effects, an advantage for ARX-01 relative to IV PCA may be demonstrated.
4. Three Phase 3 studies to report top-line data in H2 2012 / early 2013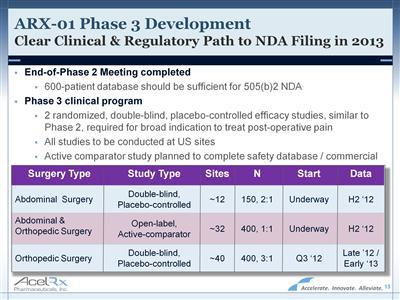 In March 2012, AcelRx initiated the first of three planned Phase 3 clinical trials, a double-blind, placebo-controlled efficacy and safety trial of adult patients with post-operative pain following open-abdominal surgery. The company expects top-line data for this trial in the second half of 2012.
In April 2012, AcelRx initiated a second Phase 3 clinical trial, an open-label active-comparator study comparing ARX-01 to the current standard of care, IV PCA with morphine, in patients with post-operative pain following open-abdominal surgery or major orthopedic surgery. The company expects top-line data for this trial in the second half of 2012.
In the third quarter of 2012, AcelRx plans to initiate its third planned Phase 3 clinical trial, a double-blind, placebo-controlled efficacy and safety study of patients with post-operative pain following hip and knee replacement surgeries, with top-line data expected in late 2012 or early 2013.
Completion of the Phase 3 trials and analysis of the results will allow for the submission of a New Drug Application (NDA) with the U.S. FDA during mid-2013. The results from the studies will also be used by AcelRx to conduct further discussions with interested parties for ex-U.S. commercial rights to ARX-01. AcelRx has discussed its Phase 3 development program with European regulators and believes its data package will meet the requirements necessary for a European filing. A licensing deal could result in an up front payment plus an attractive royalty on future sales. The timing of a deal is highly unpredictable.
Conclusion
The stock has a $6.75 price target from the Point&Figure chart. I believe the target price is achievable after successful Phase 3 study results later this year.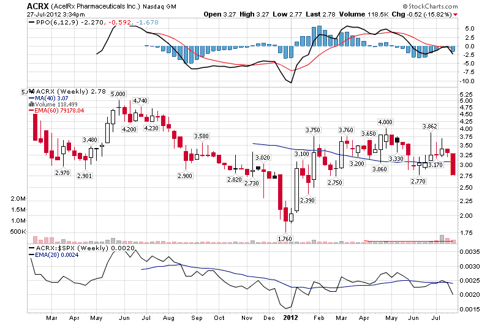 Disclosure: I am long ACRX.