For the second earnings cycle in a row, I failed to execute the post-earnings trading strategy for Amazon.com (NASDAQ:AMZN) to buy the open (see "After Amazon.com Earnings, Buy The Stock At The Opening Price" for more details). After the April earnings report, AMZN soared a surprising 16%, and I thought it was just prudent to wait for a dip to buy the stock. Unfortunately, no significant dip occurred on that day after earnings. AMZN spent the rest of the quarter flipping around the $219 bear/bull dividing line (the low of the day following earnings), and I attempted very few trades.
In the July earnings report last week, I had absolutely no excuse to miss the trade. Although I could perhaps be excused for standing frozen in amazement that AMZN could soar yet again on what on the surface sure looks like poor results. As usual, what first catches my eye with AMZN is the small amount of income the company makes on sizable revenue:
Net sales increased 29% to $12.83 billion in the second quarter, compared with $9.91 billion in second quarter 2011…Operating income was $107 million in the second quarter, compared with $201 million in second quarter 2011…Net income decreased 96% to $7 million in the second quarter, or $0.01 per diluted share, compared with net income of $191 million, or $0.41 per diluted share, in second quarter 2011. The second quarter 2012 includes $65 million of estimated net loss related to the acquisition and integration of Kiva Systems, Inc.
Free cash flow sank as well: "Free cash flow decreased 40% to $1.10 billion for the trailing twelve months, compared with $1.83 billion for the trailing twelve months ended June 30, 2011."
Guidance for Amazon's third quarter seemed poor with operating income dropping into negative territory even as revenue will jump year-over-year again:
Net sales are expected to be between $12.9 billion and $14.3 billion, or to grow between 19% and 31% compared with third quarter 2011. Operating income (loss) is expected to be between $(350) million and $(50) million, down from $79 million in the comparable prior year period. This guidance includes approximately $275 million for stock-based compensation and amortization of intangible assets…
So I was not surprised when AMZN first plunged over 7% in pre-market trading. In classic AMZN style, the stock bounced back, and I believe it ended the after-hours session roughly flat with its closing price in the regular session. The NASDAQ had a strong session on Friday, closing with 2.2% in gains, so it is understandable that AMZN would get some sympathetic benefits. However, not only did AMZN open with a gap up of 2.3%, but also the stock closed with a sizable gain of 7.9%. The "buy the open" post-earnings strategy delivered a very respectable 5.3%….but execution required suspension of disbelief.
Whoever is accumulating AMZN shares continues to pursue his (or their) strategy in a very aggressive manner after earnings reports. I have read several convincing pieces explaining the bearish case on Amazon - for example, "Amazon.com: The Fantasy Keeps Growing" unveils the underbelly of the latest earnings results - but the overall price action simply does not support the dire analyses. Bears seemed to finally have AMZN on the ropes when the stock plunged below its 200-day moving average (DMA) in November and then stayed there for most of the next five months. AMZN has also underperformed the general market since making new all-time highs last year. April's earnings response broke the stock free, and the latest earnings response has delivered a fresh breakout that puts new all-time highs within sight. I would rather wait for the price action to break down before believing in the bearish case. Until then, AMZN is actually a stock you want to own or at least trade from a bullish bias when the technicals support it (like in the two weeks following earnings).
Here is a chart showing the last ten months of trading.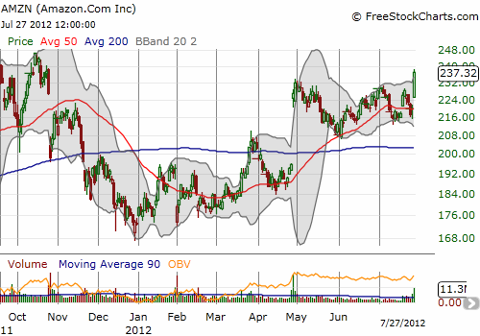 Amazon.com breaks out with fresh all-time highs now in sight
Source: FreeStockCharts.com
The window for the post-earnings trade in AMZN lasts for two weeks. During that time, I recommend buying the dips. The bull/bear line moves up from last quarter's $219 to $224.50, the one-day post-earnings low. AMZN becomes a decent short below that level. However, the lesson from last quarter is that the stock continues to enjoy strong support at key levels. Until recently, the 50DMA held up very well. Only when (IF) AMZN breaks below its 200DMA again will it become a very attractive short (see Starbucks (NASDAQ:SBUX) for a great example).
Interestingly, bears remain a very small part of the story in trading AMZN. Only 2.2% of the float is short as of July 13th. Total shares short have fallen significantly since 2007 and 2008 when AMZN was trading at much lower levels. In other words, AMZN is NOT rallying on a short squeeze and its high position relative to pre-recession levels makes it an even more bullish story from a pricing standpoint. (The gap in dates in the chart below is a result of a hiatus in my collection of the data from NASDAQ.com. If anyone can help me fill this gap, I would greatly appreciate it!).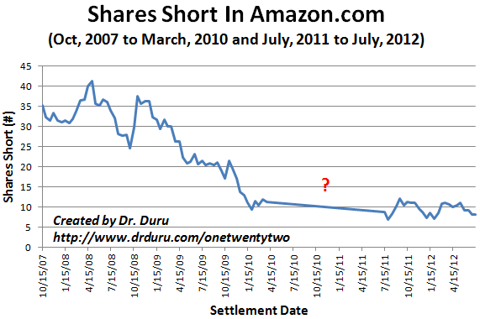 Shorts have largely backed off Amazon.com over the years
Source: NASDAQ.com short interest
I conclude with some notes from scanning the Seeking Alpha transcript of the AMZN earnings call. I wanted to find some more background to the poor guidance and poor operating results that might explain the bullish reaction. I also wanted to see commentary on AMZN's reported strategy to create same-day delivery.
CFO Tom Szkutak explained that the company is spending heavily on investments in the business and its delivery capabilities:
We anticipate consolidated segment operating income or loss which excludes stock-based compensation and other operating expenses to be between $75 million loss and $225 million in income, or between a 129% decline and 14% decline. We expect capital expenditures including capitalized software development to be approximately $0.8 billion to $0.9 billion. These anticipated investments are driven primarily by our expectations of a continued business growth consisting of investments in technology infrastructure, including Amazon web service and additional capacity to support our fulfillment operations.
An analyst noted that "probably this is the first time in a while that you have bracketed negative pro forma operating income in your guidance." Szkutak explained that the company is getting ready for the seasonally important fourth quarter. The spending supports investment in growth. The company also shifted some of its spending from the second quarter to the third quarter (I read that to say that second quarter could have looked even worse). Given these explanations appear to carry convincing weight with the market, I am assuming AMZN will get a free pass for the current quarter. I will be very interested in seeing the market's response to Amazon's fourth quarter results. If profitability remains as meager as it is now, I have to assume the stock will fall mightily (in a "rational" world of course). If AMZN delivers, look out!
Another analyst asked about AMZN's plans to implement same-day delivery: "…related to other questions that have been asked, could you provide any update to your same day shipping efforts and how that relates to sales tax and performance in your investment?"
Szkutak seemed to dispel this news as rumor, but he also did not rule it out:
In terms of delivery speed to customers, we are certainly trying to get geographically, always trying to get closer to customers, that's something that's not new, it's something we have been doing for some time. But in terms of same day, we don't really see a way to do same day delivery on a broad scale economically. But again we will continue to work on behalf of customers to try to figure out a way to serve them even better by getting product faster but in terms of same day, we don't see a way to do that on a broad scale economically.
In other words, AMZN has not YET figured out how to implement same-day delivery across its markets. It seems very likely the company will do so in select markets…wherever it makes sense economically. Once that happens, I highly anticipate AMZN will further refine its logistics expertise in an effort to broaden its capabilities. This is not a story for the next few quarters but instead the next few years. Stay tuned.
Be careful out there!
Disclosure: I have no positions in any stocks mentioned, but may initiate a long position in AMZN over the next 72 hours.