For those who have followed my views over the past year or so, you probably realize that I have been very consistent in my longer-term bearish views though, fortunately, open-minded enough to realize on the past two occasions when "enough was enough" and get temporarily bullish.
That last occasion was just before Bear, Stearns (NYSE:BSC) imploded in March, and the prior time was just before Societe Generale liquidated a massive desk-drawer portfolio of stocks in January. I was very clear in both articles that I believed that these rallies would prove to be temporary, which was certainly the case in January. I have been calling for an interim peak of 1410 to 1455 on the S&P 500, which has been obviously achieved. Today, though, I want to rewrite the ending of the 2008 story as I expect it to be written.
Before I elaborate on my capitulation, allow me to reveal that I have been working very long hours today, as my day began 18 ½ hours ago as I write (earnings season is great, earnings season is terrible – take your pick!). I must also confess to having had a couple of glasses of wine 5 long hours ago as well with my quick dinner. So, if this call turns out to be wrong, well, I have my excuses now. Kidding aside, I want to add that I have been very, very bullish, almost irresponsibly so, since March, with both my advice to my clients and my own personal investments. I have written just one negative article (on Under Armour (NYSE:UA)) in the past two months but more than a dozen that can be construed as bullish. So, why did it take me 8 weeks to realize that this was most likely the end of the bear market? More importantly, why do I think so now?
Bear markets tend to be of certain duration and certain magnitude. This one will have missed on both counts. While it felt horrible, and the Fed panicked like I have never seen in my 43 years, if this ends up being the full extent of the decline, it will look like a blip on the long-term chart. As I write, we are now spitting distance from being unchanged on the year for the broad market. Of course, we were up slightly last year as well As you can see in the graph below, except for Japan, year-over-year changes in the major stock markets, including ours, are down only slightly at this point (click to enlarge image):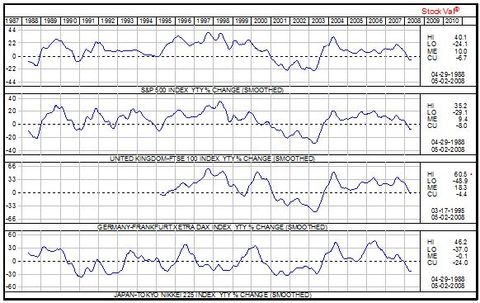 Prior to this evening, I have been expecting the market to peak and retrace the rally, perhaps making new lows. I now expect a potential pause, but I believe that we could have a violent up thrust should we take out 1455, which is highly likely in my opinion. I have already mentioned that the lows in March made the market fall a bit short of the traditional bear market definition of a decline in excess of 20% or more lasting nine to eighteen months. I was also thrown for a loop by the timing – bear markets typically bottom in Q3 or Q4, not Q1. I also was waiting for the overall S&P 500 consensus earnings to drop below $80 – still hasn't happened and probably won't. I had been expecting margin pressure to weigh heavily on stocks, though I was aware that the valuations were pretty low. Finally, I believed that the uncertainty of the national election could weigh on the market.
I now believe that a few things happened, some of which I have already pointed out previously. First, as I discussed in what I believe was perhaps my most popular article on Seeking Alpha to date, to be a bull required three things:
Fed Funds cuts and fiscal stimulus will prove effective
Analyst estimates are now reasonable
Technical analysis is for the birds
Well, after the March sell-off that followed six weeks after these conditions and a few days after I went "short-term" bullish, we did get what is surely a potential bottom technically. It had massive volume as we made a new low. On the first point, as I highlighted in several articles, the Fed finally figured out that it had other tools in its arsenal. Finally, it has become clear to me that while certain estimates needed to come down (and have), other companies are performing quite fine. More importantly, it appears that investors have become extremely sensitized to the margin pressure story – it is now in the stocks. I suggested before they reported that Bed Bath Beyond (NASDAQ:BBBY) was attractive going into the impending release. They made me look foolish – for a nanosecond. Despite horrible numbers and outlook, the stock ended up rallying significantly. Today, Fannie Mae (FNM), one of my favorite positions (now, not yesterday morning before the market opened!), stunned the market with a 25% reversal off of the lows in the pre-market. I am sure that you are aware of several other examples of companies that have rallied on disappointing news. While it is easy to attribute the moves to short-covering, I don't believe that is the case at all. I think that professional investors got extremely defensive in January after being shell-shocked and remained so as they feared Armageddon. My discussions with clients and friends as well as my reading indicate to me that there remains a lot of caution. I believe that my former view – a move back towards the low or through it – is the consensus, and I expect that this view is unlikely to materialize.
Chalk it up to the global economy's strength (primarily the emerging markets), chalk it up to a Federal Reserve Board that finally got to the root of the problem (liquidity), chalk it up to Mr. Market just being smarter than the rest of us (by having stocks not buy into the earnings growth of the past few years and allowing the PE ratios to compress to unreasonably low levels). No matter what happened, it is now clear to me that sticking to my former views would have left me very frustrated. I am not ready to declare that equity returns will be double digit, but I now have a materially higher forecast for year-end, expecting the market to end the year up rather than down.
I love the saying "better to be lucky than smart". I got very lucky that the market ended up fearing what I expected it would fear. The fears, though, were exaggerated. Don't get me wrong, as I believe that there are still some terrible problems in the student loan and housing markets, energy and food inflation is just killing us (for now) and shrinking credit availability will continue to put pressure on externally financed companies, but I think it is priced in. What people may not realize is that the best time to invest is the type of economic scenario that is likely – moderate, non-inflationary growth that is likely to raise PE ratios as rates remain low and earnings streams look more sustainable. I was lucky to be flexible, which isn't always easy, investing against my longer-term view when the market was beaten up beyond merit.
I know that I could end up looking either "dumb" and/or "unlucky" in short order. I still expect the market to pause between here and 1455 and anticipate a retreat to as low as 1340-1380 if that is the case. I remain as bullish for now as I have been over the past couple of months, so tactically no change. There are a plethora of attractive stocks out there, some of which reside outside of the Energy sector! I disclose my holdings daily, so feel free to check out some that I find compelling. I tend to favor small-cap now, as I expect the dollar decline is most likely over and liquidity is improving.
Disclosure: Long FNM