Citigroup, Inc. (C) has been slowly digging itself out of the fallout from the financial crisis. The bank is now profitable again and showing signs of life. Although the company has a pulse, it failed to achieve a year-over-year gain in revenue and earnings for Q2 2012. Total revenue for Q2 was 10% lower and net income was 12% lower than Q2 2011. However, the company did beat earnings expectations by 12.4% by achieving EPS of $1 over estimates of 89 cents.
The current fragile state of the global economy and the Eurozone has kept Citigroup's stock on sale. The stock price is trading at less than half of its book value per share with a price to book ratio of 0.42. Most stocks trade well above their book value per share. From a valuation standpoint, Citigroup is clearly undervalued on all fronts. It has a trailing PE ratio of 7.91, a forward PE ratio of 6.01, and a PEG of 0.72.
One bright spot for Citigroup in Q2 was lending which experienced a 70% increase year-over-year. However, investment banking and equity markets declined 21% and 29% respectively. For Global Consumer Banking the bright spot was North America which increased 4% year-over-year. However, Europe, the Middle East, and Africa declined 11%, Latin America declined 4%, and Asia declined 4%. These inconsistencies across categories and regions are a key factor that is keeping the stock repressed.
Although it may take a few more years, Citigroup's stock should eventually trade closer to its book value per share which currently stands at $62.61. The catalyst for the stock appreciation will need to be increased revenue and earnings. The revenue sources: loans/leases, deposits with banks, federal funds sold, securities, and trading assets will need to show continued signs of strength.
The company has been doing well driving down expenses. Long term debt remains the largest interest expense which has been decreasing every year for the past five years.
Citigroup's Interest Income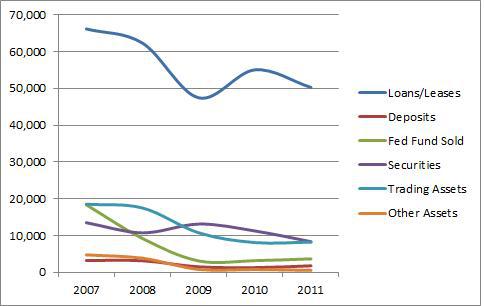 Citigroup's Interest Expenses
Citigroup is expected to grow earnings at 12.7% for 2012. It is expected to grow earnings annually at 9.25% for the next five years. This annual expected growth is below the market's expected annual growth of 10.42%. If the stock were trading above its book value per share I would expect the stock to lag the market over this period. However, with the stock trading at less than half of its book value per share, the stock price has some catching up to do. I think that if a quarterly trend of increased year-over-year revenue and earnings develops, then the stock will accelerate in price and approach its book value per share. For now, the stock will remain hanging on the clearance rack until the company can prove itself worthy of higher stock prices.
Disclosure: I have no positions in any stocks mentioned, and no plans to initiate any positions within the next 72 hours.