Gold gained almost 3 percent last week, boosted by hopes of more monetary easing after European Central Bank President Mario Draghi pledged to do whatever was necessary to protect the euro zone from collapse. Investors also expect that the U.S. Federal Reserve may announce some kind of monetary easing to boost the sluggish economy.
The precious metal broke above its 100-Day SMA at $1,615.60 an ounce briefly. Options-related buying also helped boost underlying gold futures as COMEX August options have expired at Thursday's market close. Gold has been consolidating for nearly three months in the 100 point range between $1530 and $1630.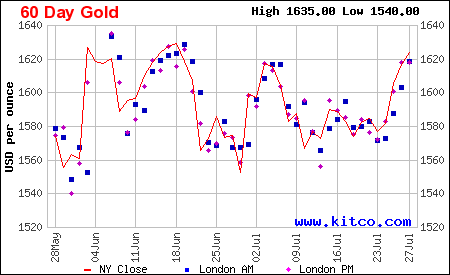 Consolidation in a narrow range is generally followed by a big move and we expect gold to break above the resistance zone near $1630.
Option Activity Signaling Bullish Trade Ahead
Option volume lit up last week in the SPDR Gold Shares Trust ETF (NYSEARCA:GLD), which tracks the price of gold. The October 162 calls stood out firmly, with plenty of buying for $3.31. More than 26,000 of the contracts traded against open interest of 609 contracts, and the ETF jumped quickly after that big block of options moved.
Calls lock in the price investors must pay to buy shares in the fund, so they can generate some nice leverage in the event of a rally, but those options can also expire worthless if the stock doesn't move. Other traders sold calls, apparently to generate income while holding long positions. That fixes their exit price and limits profit while helping to manage risk.
The call activity pushed total option volume in the fund past 260,000 contracts on Thursday, compared with average turnover of about 68,000 a day. Calls outnumbered puts by 3 to 1, a reflection of the bullish sentiment. (Source: CNBC)
Price of gold is supported by solid fundamentals: "Fundamentally, gold is definitely improved big time this morning because of comments by Draghi to save the euro, which basically means he's going to print money," said Adam Sarhan on Thursday, chief executive of Sarhan Capital. "If he prints money that means gold is going higher." (Read more.)
Nearly a month ago I argued in an article on SA that if money printing around the world continues, the price of gold will go up.
As money printing continues, inflationary pressure will exist. How would it be possible not to treat gold as real money and what else can be considered as real money apart from the yellow metal, the only commodity with an inherent anti-inflationary property?

Central banks are buying gold because they are left with no alternatives apart from printing money. In this way many central banks around the world are devaluing their national currency, and they just can't afford not buying gold to counteract the exercise of weakening their national currency.
Technically the outlook for gold is bullish: The price of gold is approaching the big resistance zone. If we can break above it, we will get another leg higher. On charts, gold's sharp gains helped it get closer to breaking above a trading range in the past three months.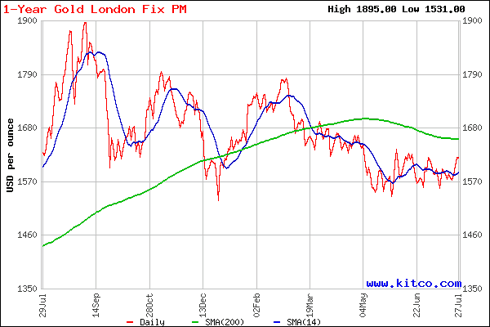 Gold is underpinned by a bullish double-bottom pattern and its next target is near $1,800 an ounce after clearing a strong resistance at the 200-Day SMA at $1,680 an ounce.
Disclosure: I have no positions in any stocks mentioned, and no plans to initiate any positions within the next 72 hours.