Two tier-1 firms are out defending Synchronoss Technologies (NASDAQ:SNCR) following last night's 45% decline in response to weaker than expected guidance.
- Deutsche Bank notes management attempted a delicate balancing act on the call, tempering a rough 2008 with brighter prospects for 2009.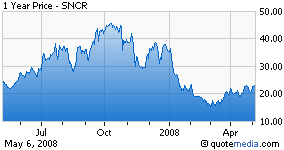 Overall, the firm believes the good news outweighs the bad. Investments made in Europe are starting to pay off as the company is in certification testing with Vodafone (NASDAQ:VOD) in Germany. Time Warner Cable (TWC) will use Synchronoss technology for orders placed on their web site. Another (un-named) existing customer will deploy SNCR for a fixed-mobile convergence offering. Other significant items discussed include agreement with a leading European handset maker for online activation, a global agreement with Brightpoint, a handset logistics and fulfillment provider, and partnership with a global systems integrator who is including SNCR in their customer RFP responses. The company also announced a $25m buyback.
The number of iPhones activated in 1Q08 and expected to be activated by AT&T (NYSE:T) this quarter are a minor disappointment relative to what SNCR expected. And by DB's calculations, the company's guidance (company claimed to remove $30m iPhone activation revenue from 2008) essentially leaves out any upside. They believe SNCR will continue to activate the new iPhone when it launches and estimate a revenue upside of up to $15m and EPS upside of $0.20. Reiterates Buy with target lowered to $30 from $45.
- Goldman Sachs notes the iPhone has very quickly turned from a blessing to a curse with SNCR's outlook reduced for the second quarter in a row due the product. 2Q2008 guidance now implies that iPhone activations have dramatically decelerated over the course of April, likely as consumers prepare for the 3G iPhone launch widely anticipated in June. However, the company's 2H2008 outlook does not reflect any meaningful recovery in iPhone activations relative to 1H. GS believes management has simply thrown in the towel in attempting to meaningfully forecast iPhone contributions due to the near-term erosion in activation visibility, and they, therefore, expect this is the "kitchen sink" quarter.
As a result, they are maintaining their Buy rating as the forward outlook now appears overly conservative relative to iPhone expectations, noting new, albeit lower, estimates are 10%-20% above guidance and are supported by iPhone forecasts consistent with Apple (NASDAQ:AAPL) and AT&T analyst teams. As a result, the firm expects the 40% downdraft in the stock after-market will prove to be a buying opportunity. 6-month price target is lowered to $19 from $38.
Notablecalls: Oh my, SNCR sure took a bad beating in after hours. I feel for the longs. Truly do. This is what investing nightmares are made of.
Yet, with every failure comes opportunity.
I'm going to rate SNCR an Actionable Buy under $15. Yes, Actionable! The iPhone is not going to go away. It can only get better from here with 3G and possibly better anti-unlocking features. I'm sure AT&T is not happy with 40-50% of iPhone's being unlocked. Also, SNCR isn't just about the iPhone. SNCR just signed up a 'leading European handset maker' for online activation.
With two tier-1 firms defending the stock here it's going to bounce. No question about it.
PS: Kudos go to ThinkEquity's (hate the new name!) SNCR analyst Eric Kainer who downgraded the stock just last week anticipating weaker than expected results and guidance. Keep up the good work!