It's been a rough couple of months for airlines. On the heels of Aloha, ATA, Frontier, and Skybus all going bankrupt, American Airlines (NASDAQ:AMR) cancelled over 3,000 flights over safety concerns, stranding tens of thousands of passengers and disrupting air transportation across the U.S.
In the week following the flight groundings, Compete fielded a survey to 429 consumers to poll them about their awareness and opinions of the problems at AA. 95% of the randomly selected Internet users, or a sample of 408, were aware of the groundings. What else did they have to say?
Impact on Attitude Towards American
Nearly two-thirds of consumers felt the groundings took a toll on American's reputation, the most negative outcome of the week of operational problems. Perceptions of AA flight reliability fared almost as badly, with pessimistic sentiment being voiced by half of consumers. Most critical, however, is the significant number of respondents (45%) who indicated a decreased likelihood to fly AA in the immediate wake of the groundings.
American's Response
Did American's PR machine kick into gear as quickly and effectively as consumers expected it to? Consumer feedback showed a lukewarm to cool response, with many respondents either unaware or dissatisfied with AA's handling of the situation. The biggest offending category – informing customers promptly about delays – had a third of consumers feeling AA's actions were insufficient, and an additional third weren't aware of any actions that had been taken.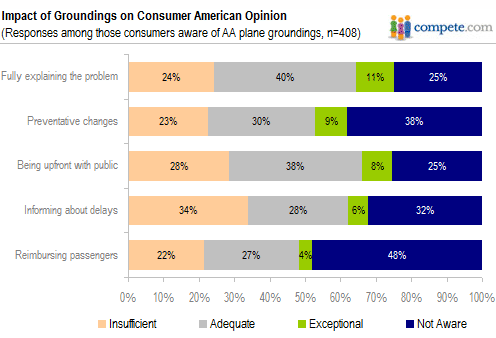 Expectations for the Future
Despite the negative feedback from consumers, most see the events as a general air travel issue rather than a problem specific to American Airlines. While 49% expect AA to experience issues like this in the future, most (81%) think this is just as likely for any other carrier, not just AA.
Comparisons to JetBlue
How do opinions of American today compare to situations that other carriers have gone through in the past? JetBlue (NASDAQ:JBLU), which had a highly-publicized and embarrassing series of operational failures following a February 2007 snowstorm, provides an interesting comparison.
Compete fielded a similar survey a year ago directly following the JetBlue troubles, and found consumers were significantly more impressed by that carrier's response to the situation. In many cases over a third of consumers found JetBlue's responses to the events to be exceptional, a rating that a scarce few gave to AA.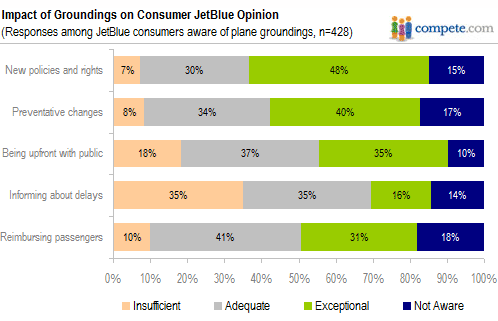 Takeaways
While most consumers aren't thrilled with American Airlines following such a massive operational problem, they are able to bucket this as being more of a general risk in air travel rather than a unique AA issue. Travelers anticipate other airlines to be just as likely to go through similar problems in the future as AA, and ultimately don't fault AA for the groundings.
Where consumers are disappointed with American and expected to see more is in the company's response to the events. Whereas JetBlue's swift and well-publicized responses to their operational failures drew rave reviews from travelers, AA drew little such fanfare. In an age of always-on media, social networking, and YouTube, negative public perception can spread quickly and do meaningful damage to a brand. Even as travelers are increasingly resigned to the inconveniences and unpredictability of flying, a swift and sincere response can go a long way in restoring faith in a brand.