Barrick Gold (NYSE:ABX) is the gold industry leader, with interests in 26 operating mines and a pipeline of projects located across five continents, in addition to large land positions on some of the most prolific mineral districts. As of December 31, 2011, Barrick's proven and probable mineral reserves were 139.9 million ounces of gold, 1.07 billion ounces of silver contained within gold reserves and 12.7 billion pounds of copper.
Click to enlarge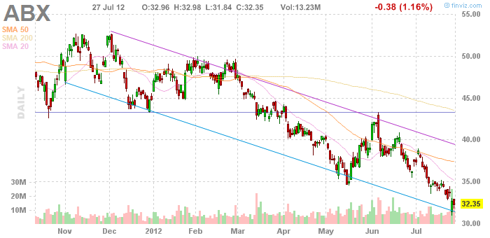 I see at least three reasons to buy the stock currently:
1. Barrick Gold is undervalued against its peers
Last week we saw the second quarter earnings releases from Barrick Gold, Newmont Mining (NYSE:NEM) and Goldcorp (NYSE:GG). I will now compare the companies and their earnings:
| | | | |
| --- | --- | --- | --- |
| | ABX | NEM | GG |
| Earnings per share | $0.78 | $0.59 | $0.41 |
| Share price (July 27th) | $32.35 | $44.53 | $36.25 |
| Gold production (million ounces) | 1.74 | 1.18 | 0.58 |
| Gold production outlook for 2012 | 7.3-7.8 | 5.0-5.1 | 2.35-2.45 |
| Market cap (billion) | $32 | $22 | $29 |
From this table, we can see that Barrick Gold is the cheapest in earnings per share and gold production.
2. Production is expected to be higher in the second half of 2012
From the second-quarter earnings report:
Barrick maintains its full year gold production guidance of 7.3-7.8 million ounces. As previously indicated, production is expected to be higher in the second half of 2012 compared to the first half as production commences at Pueblo Viejo and as Goldstrike and Lagunas Norte contribute to a greater proportion of production.
The company expects its gold and copper production base to be 8+ million ounces by 2015 and 600+ million pounds by 2013, respectively, representing a high quality and profitable core from which to expand further.
3. The company has seen strong earnings growth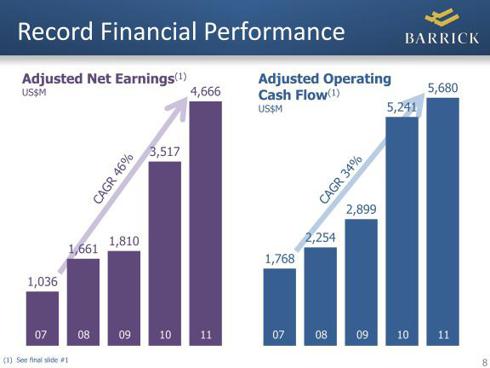 The company has grown its earnings significantly in the past years and I expect the earnings to grow for at least 3-5 years going forward with the rising gold prices. The company has currently a forward P/E of 5.9.
Conclusion
The stock price is currently very depressed, but I do not expect there to be much downside left. Last week, we saw the Gold Bugs Index rally 3.27%.
Disclosure: I am long ABX.