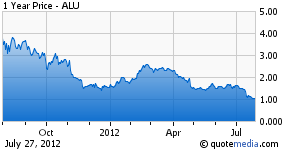 When I last wrote on Alcatel-Lucent (ALU) a quarter ago, longs certainly didn't appreciate my skepticism on this company's near-term prospects. Nevertheless, the stock has dropped almost another 40% since then, and now questions are popping up regarding whether the company can cut enough costs to remain a viable contender.
Margins Not Improving Fast Enough
Alcatel-Lucent warned the Street more than a week ahead of its official earnings release, so the actual numbers were not all that shocking. Revenue rose about 11% sequentially, but fell 7% from last year. Virtually all of the revenue line-items showed double-digit sequential growth, but only IP sales rose from the year-ago level, as optics and wireless were quite weak.
Margins followed a similar trend - gross margin improved sequentially, but fell significantly (three points) from the year-ago level, and the company's operating profit was likewise better sequentially and worse annually.
Deeper Cuts, But Liquidity Will Get Tight
With another disappointing performance, management announced even more restructuring efforts. In addition to an earlier program targeting nearly half a billion euros in cuts, another EUR 750 million has been added to the cost-cut target, while the company is looking to place greater focus in general on profitability.
While that is an entirely rational notion for a company with margin issues, it does raise the question of whether of the balance sheet can support it. Alcatel-Lucent has burned about EUR 4 billion over the past five years, and there are going to be about EUR 800 million or so in incremental cash costs from this restructuring. While the company's reported cash position is around EUR 5 billion or so, close to EUR 1 billion of that is trapped in subsidiaries and the true net cash can be measured in the hundreds of millions.
There are debt maturities of EUR 850 million, 585 million, and 925 million or so coming up over the next three years, and cash could get quite tight if there are any operational missteps. Given the present debt market, I wouldn't automatically assume that Alcatel-Lucent can roll that debt and shareholders ought to prepare themselves for potentially highly dilutive capital raises.
Can Alcatel-Lucent Find A Profitable Niche?
Alcatel-Lucent management discussed a greater focus on margins and profitable contracts, and I would also hope that the company would consider jettisoning unprofitable businesses. Unfortunately, I don't know that this leaves Alcatel-Lucent with a workable growth profile.
Asian telco demand ought to be strong for the majority of this decade, but the margins could be problematic. What's more, it's unclear that the company can develop the cost structure to compete with Ericsson (ERIC), a somewhat rejuvenated Nokia (NYSE:NOK) Siemens (SI) Networks, or Chinese rivals Huawei and ZTE (OTC:ZTCOF). On the flip side, I think competition from Cisco (CSCO) and Ciena (CIEN) is going to be a real problem in the optical business and erode what ought to be a source of relatively positive margins.
I know that there will be Alcatel bulls that point to the company's patent estate, and it's true that Alcatel scores well on that metric. It's also true, though, that Motorola (NYSE:MMI), Xerox (XRX), Eastman Kodak (EKDKQ.PK), and Nortel (OTC:NRTLQ) had good patent estates at various points, and investors can see how much good that did them - patents are indeed important, but the transition from bench to patent to profitable product is another matter altogether and an area where Alcatel-Lucent's track record is less impressive.
The Bottom Line
As is probably clear, I have little faith in Alcatel-Lucent's ability to profitably compete over the long-term with the likes of Cisco, Ciena, and Ericsson. Moreover, guidance from companies like Acme Packet (APKT) and Tellabs (TLAB) doesn't point to an especially accommodating near-term environment.
It's been a long time since Alcatel-Lucent has delivered positive free cash flow, and I think it will be another couple of years before that's a real possibility. Granting a return to free cash flow in 2015 and mid single-digit growth thereafter, these shares could be worth something around $1.50. While a 50% return from today's price may sound like a good return, I seriously question whether Alcatel-Lucent can restructure and downsize itself into a competitive company for the long term.
Disclosure: I have no positions in any stocks mentioned, and no plans to initiate any positions within the next 72 hours.