2012 has been quite volatile for the broad stock market and the European situation is further threatening investments. With the economic and political climates only becoming more tumultuous I have been concentrating on high yield opportunities to mitigate risk. We all know about the blue-chip dividend companies but there are attractive funds with high yields that are going ex-dividend every week. This strategy can work in one of two ways: either you buy before the ex-date to receive the dividend or buy after if the stock declines far below the after-tax amount of the dividend. Regardless of your short-term strategies, these funds can be attractive longer-term investments depending on your individual circumstances.
Buying the stock to receive the dividend is intuitive but many have contacted me requesting further details on the second strategy. Investopedia has a great example of how this works. To explain this, I will use AT&T (T) as an example. AT&T declared a $.44 dividend to shareholders of record on July 10, 2012. On the ex-dividend date the stock price should decline by the after-tax dividend amount, with an assumed tax rate of approximately 15% because many dividends qualify for a preferential tax rate. It is true that you can personally avoid immediate taxation by owning the security in an account with beneficial tax treatment but this serves as a benchmark.
As a result, an investor would expect the stock price to decline by $.37 = [$.44 * (1-.15)]. If AT&T declined by more than $.37 in the absence of negative news you might have an attractive opportunity. Executing this strategy can generate returns over short periods of times but should only be performed on companies that you would be comfortable owning.
To focus on these opportunities I ran a screen with a focus on relative safety for the investments. I began with a specification of a dividend yield greater than four percent and an ex-dividend date within the next week. To provide some layer of safety I narrowed down the environment by looking at companies with market capitalizations greater than $1B, P/Es between zero and 20, and institutional holding percentage in excess of fifteen percent (except ADRs). The overall objective is to concentrate on liquid companies that are affordably priced While not a precise requirement, I prefer companies that have underperformed the S&P 500 year-to-date as it indicates reduced downside relative to peers. With the impending European crisis I now pay additional attention to a company's geographical dependency and will avoid companies with significant European exposure. This is summarized below:
Dividend Yield ≥ 4.0%
Ex-Dividend Date = Next Week
Market Capitalization ≥ $1B
P/E Ratio: 0-20
Institutional Ownership ≥ 15%
Ideally Modest S&P 500 Underperformance
Minimal European Exposure
After applying this screen I arrived at the equities discussed below. Although I envision these as short-term trading ideas, you still need to be exercise caution. The information presented below should simply be a starting point for further research in consultation with your professional financial advisor before you make any investment decisions. My goal is to present new companies to you and provide a brief overview of their recent developments and this should not be considered a substitute for your own due diligence.
Bank of Montreal (BMO): 4.85% Yield - Ex-Dividend 7/30
The Bank of Montreal is a diversified Canadian money center bank. BMO is similar to the large American banks in its service offerings and presents a different approach to gain financial exposure. I am far from bullish on the financial sector, as earnings have been underwhelming overall but Bloomberg believes that Canadian banks are generally strong. Unfortunately in this environment even the soundest banks can be victim to financial contagion. BMO surpassed earnings estimates this quarter but prior quarterly releases have suffered from low-earnings quality. In addition to being bearish on the sector, BMO faces additional technical headwinds as the stock recently surpassed its 200 day moving average, which makes it a poor dividend capture choice.
New York Community Bancorp (NYB): 7.91% Yield - Ex-Dividend 8/3
NYB primarily engages in generating deposits and originating loans. When I last wrote about NYB it was trailing the S&P 500 by a wide margin and has declined by seven percent this quarter. I continue to recommend NYB because it has a "very sleepy business model compared to underwriting, trading, and the like" that have recently causes volatility for other financial stocks. Essentially this is a bank in the traditional sense of the word and offers a robust dividend to compensate patient investors. Earnings in 2012 continue to impress in this environment and important negative metrics such as past-due (non-performing) loans have been declining. In addition to being a solid company, NYB is always a good company to monitor because it provides insight into the broader real estate market. Two separate SA contributors continue to recommend the stock (Robert Wong and Matt Shilling).
TC PipeLines, LP (TCP) 7.00% Yield - Ex-Dividend 8/1
TC PipeLines is a master limited partnership (MLP) that owns interests in companies that operate thousands of miles of natural gas pipelines spanning the Midwest U.S. and Canada. This is a highly lucrative business considering its low relative risk: TCLP's profits are not overwhelmingly tied to energy prices as the pipeline operators charge for the privilege of using the pipelines. Volume will differ as the underlying resources prices change, but not dramatically. Recently reported earnings indicated yet another decline in profits as revenue sagged while the dividend was raised marginally once again. Cash flows are key for MLPs and they have been growing but it is only a matter of time before the negative trend in earnings causes the dividend to decline. The stock trades at 16.2 despite underperforming the S&P 500 by 13% this year, signifying that there is still some potential downside. For now I would consider TCP but please monitor the situation closely.
Plains All American Pipeline, L.P. (PAA): 4.96% Yield - Ex-Dividend 8/1
Plains All American is an oil and well servicers that specializes in the transportation and storage of refined products. The business model is similar to TCP discussed above; however, PAA focuses more on petroleum products. PAA is one of the largest players in the industry while still trading at an industry average PE with a respectable yield. The company has been one of the best performers in 2012 with 8% S&P 500 outperformance. PAA was recently declared by Credit Suisse as one of the more defensive MLPs that can handle a decline in the economy.
Hasbro, Inc. (HAS): 4.08% Yield - Ex-Dividend 7/30
Hasbro is one of the largest toy companies in the world and produces familiar products such as Monopoly, Battleship, and Transformers. The company has declined nine percent in the past year despite rising fourteen percent thus far in 2012. This recent increase is likely driven by the positive summer movie cycle which will drive sales. Since I last covered Hasbro things have certainly taken a turn for the worse. The Battleship movie was met with underwhelming sales and the GI Joe movie was pushed back to 2013.
Hasbro inked a deal with Zynga (ZNGA) that allows Hasbro to make physical versions of Zynga's online games and other toys. The first product, a FarmVille themed memory card game, was released this week - it remains to be seen how much this will impact Hasbro's earnings. Generally I think this is a good partnership and is exactly the type of idea that the company needs to stay relevant going forward; however, Zynga's recent abysmal earnings could have fallout for all associated companies. Taken in conjunction with Hasbro's declining earnings I cannot recommend Hasbro's stock.
FirstEnergy Corp. (FE): 4.43% Yield - Ex-Dividend 8/3
Southern Company (SO): 4.08% Yield - Ex-Dividend 8/2
I recently wrote a detailed explanation of how I analyze utility companies and in brief I focus on the number of customers and geographic location. Larger companies enjoy scale benefits and are able to profit more from smaller rate increases. While geographical differences exist for regional utilities, underlying operations are essentially the same: a stable, cash-cow business that returns most profits to investors via dividends and share repurchases.
FirstEnergy and the Southern Company are utility company with 6.0M and 4.4M customers in the Midwest and Southern United States, respectively. The Southern Company reported second quarter earnings last week that rose slightly due to an insurance recovery gain but residential sales continue to slump. FirstEnergy reported strong first quarter earnings in May as the prior period was negatively impacted by acquisition charges. As I have said in the past, I am a big supporter of utility companies as they were the best performing industry in 2011. The combination of capital gains and dividend income make them an asset class that you should not ignore. SO is on the expensive side for utilities with a PE ratio of nearly 20 but I still consider this a candidate worth considering.
The information presented has been summarized below. Yellow and red represent "avoid" and "consider" classifications, respectively.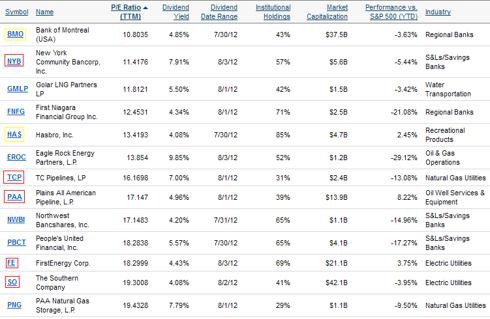 Disclosure: I am long T.