It defies all logic.
Gloomy economic data continues to pour in, raising the specter of another recession. The Chicago Fed National Activity Index and the ISM Manufacturing Index are two of the latest to disappoint.
Yet the most recent data out of the real estate market keeps surprising to the upside. Yes – the real estate market!
Here's a rundown on the latest developments and, more importantly, the significance for U.S. GDP growth and joblessness should this nascent real estate recovery gain momentum.
A Clear Sign of a Recovery
Lagging indicators are dubbed such because they, well, lag. But when lagging indicators kick into action, then it's an undeniable sign that a recovery is afoot. And that's exactly what's happening in the real estate market.
Real estate prices (which I told you would be the last fundamental in the sector to rebound) are, indeed, rebounding.
The latest data out of the Federal Housing Finance Agency (FHFA) reveals U.S. house prices rose 0.8% on a seasonally adjusted basis from April to May. That's the second month-over-month increase. (The FHFA House Price Index rose 0.7% from March to April.)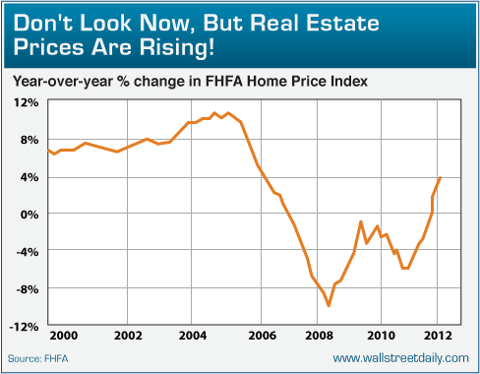 Granted, we're talking about microscopic increases here. But a trend is clearly developing. Not to mention, after the 30% to 50% drubbing some real estate markets suffered, any increase is a good increase.
The latest data gets really encouraging when we compare it with last year. Based on the FHFA Index, real estate prices are up 3.7%. That's significant enough to qualify as progress. Especially when you look at it graphically.
Make no mistake, the real estate market has bottomed out.
Of course, the naysayers are bound to point out that the Index only tracks purchase prices of homes with government-backed mortgages. Fair enough. But again, any price increases, even if it's only in one segment of the market, are certainly welcome.
Besides, it's not limited to one segment of the market…
More Than Just An Isolated Phenomenon
The good news is, real estate prices are increasing across the board. Consider:
The Zillow Home Value Index, which tracks median home price values and is a broader indicator than FHFA's Index, rose for the fourth consecutive month in June. Year-over-year, the Index is up 0.2%.
Real estate research firm, DataQuick, reports that median home prices increased 6% year-over-year for the week ending July 5. Its report analyzes over two-thirds of the U.S. real estate market.
Last week, the National Association of Realtors reported that median home prices rose for the third month in a row in June. Compared with June 2011, prices are up 7.9%
Remember, too, the S&P/Case-Shiller 20-City Composite Index rose 1.3% in the month of April. And 19 out of 20 cities saw an increase in home prices during the month. When the latest Case-Shiller reading is released on July 31, I expect it will show another increase.
As Zillow Chief Economist, Dr. Stan Humphries, says, "After four months with rising home values and increasingly positive forecast data, it seems clear that the country has hit a bottom in home values."
Indeed. But once again, despite the proof, naysayers are bound to object, arguing that any price increases are unsustainable. And once a new flood of foreclosures hits the market, prices will drop again.
Time to shoot holes in that thinking, too…
Banks: Selling Short Instead of Foreclosing
According to DataQuick, the number of California homes entering the formal foreclosure process hit a five-year low in the second quarter.
A total of 54,615 Notices of Default (NODs) were recorded from April to June. That's down 2.9% quarter-over-quarter and 3.6% year-over-year.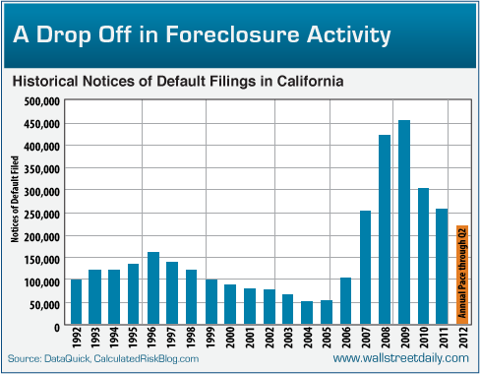 "The decline stems from a combination of factors, including an improving housing market, the gradual burning off of the most egregious mortgages originated from 2005 through 2007, and the growing use of short sales," says DataQuick.
The "growing use of short sales" is the key takeaway here.
The number of short sales is up 13% quarter-over-quarter and 10.2% year-over-year. And in the last quarter, foreclosures accounted for 27.9% of all resale activity in California, down from 33.6% in the previous quarter and 35.6% a year ago.
I realize short sales aren't exactly positive since they keep a lid on prices. But their impact on prices is less severe than a flood of foreclosures.
I also know we're only talking about activity in one state. But California is a good proxy for the rest of the country. Not just because of its significant size, but also the fact that it served as ground zero for the real estate collapse.
Once again, naysayers are bound to reach for the latest new home sales data to rebut and ignore me. (In June, new home sales dropped 8.4% – after two months of gains.) But that's a flimsy argument, too.
Why? Because new home sales data is notoriously volatile. Focusing on one month's worth is a dangerous proposition because it ignores the more reliable long-term trend, which in this case is clearly improving.
Case in point: Despite the dip in June 2012, new home sales are actually up 15.1% compared with June 2011.
And this uptick is an undeniably positive development for the U.S. economy…
Real Estate Saves the Day?
As you might suspect, the real estate sector contributes to employment and economic growth in a major way. Two major ways to be precise: Through residential investments (e.g. – buying homes, remodeling and brokers' fees) and spending on housing-related services.
The first historically accounts for about 5% of U.S. GDP. Meanwhile, the second accounts for 12% to 13% of GDP. But following the real estate market collapse, those percentages dropped.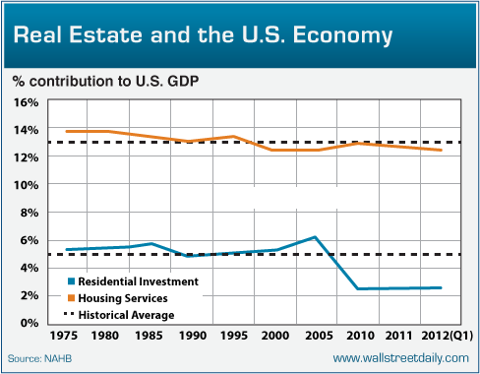 In fact, residential investments dropped by more than 65%, from a high of 8.9% of GDP in 2006, to 2.5% of GDP in 2011, according to the National Association of Homebuilders (NAHB).
Bottom Line: The real estate sector traditionally accounts for a meaningful 18% of the U.S. economy, on par with healthcare spending. But right now, it's resting well below that average at 15%. So if the nascent recovery continues – and the data suggests it's going to – the housing market could save the labor market and, in turn, the economy.
There I go again making crazy predictions. Now, it's your turn to send me nasty emails about why I'm completely off base with my analysis. And then we can sit back and wait for the market to tell us who's ultimately right.