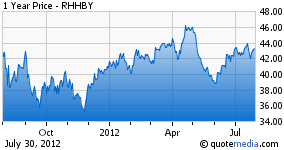 It's not all that unusual for analysts and investors to accentuate the negative when it comes to Big Pharma, and Roche (OTCQX:RHHBY) is no exception. Although this company has a pretty clean patent cliff over the next few years, leading positions in lucrative markets and solid upcoming pipeline products, more attention has gone to some pipeline setbacks and a big R&D restructuring. Although Roche may no longer be the most compelling European pharmaceutical, it's still a quality name worth considering on dips and pullbacks.
Surprising Solid Results For Q2
While other euro pharmas like Sanofi (SNY), Glaxo (GSK), and AstraZeneca (AZN) have reported pretty modest growth, Roche actually did pretty well and also happened to beat expectations.
Revenue rose 4% in constant currency for the first half of the year, with 4% growth in pharmaceuticals and 5% growth in diagnostics. On a quarterly basis, the growth was even better - up 8% in drugs and 7% in diagnostics, and the company continues to build its sequential momentum. The growth drivers in the pharma business were as expected, with Avastin up 8%, Herceptin up 15%, and Rituxan up 14%, while diabetes care was down 2% on ongoing pressures in Europe.
Overall profitability was okay. Core operating profit rose about 5%, with solid 7% growth in pharmaceuticals and a 6% decline in diagnostics due to bad debt expense in emerging markets and an elevated level of system placements (which carry lower margins/profits).
Building Strength Upon Strength
Roche is already a global giant in biologics, particularly in oncology and macular/retinal disease, and looks to only be getting stronger. The company has launched Perjeta (pertuzumab) in first line HER2+ metastatic breast cancer at a 30% price premium to Herceptin ($5,900 per month for an 18-month course), based in part on results from the CLEOPATRA study that showed a 38% risk reduction. With other drugs like Zelboraf and T-DM1 on the way (Zelboraf is approved, T-DM1 likely will be in 2013), Roche looks poised to stretch its lead on Novartis (NVS), Sanofi, and AstraZeneca in oncology.
What's more, while Regeneron's (REGN) Eylea may bite into Lucentis' market share in AMD, approval in diabetic macular edema could help reignite performance. That's not all, though. Recent study results showed Actemra to be more effective than Abbott's (ABT) Humira as a monotherapy in rheumatoid arthritis.
At first blush, that sounds great - Humira is a nearly $8 billion drug, while Actemra is sub-$1 billion at this point. Don't expect a sudden reversal of fortunes, though; while I do believe this study will help Actemra growth, the study compared a high dose of Actemra to a low dose of Humira and doctors are not going to change therapies overnight if their patients are currently doing well on Humira.
But Not Everything Is Going Perfectly
Roche has its challenges as well. The failure of dalcetrapib (a CETP inhibitor for cholesterol) was disappointing not only for the lost revenue potential, but also as it supports a bear thesis that Roche struggles to develop drugs outside of oncology (see also the embarrassing failure of diabetes drug taspoglutide in Phase III). That leads to the question of just how much hope investors should have in drugs like aleglitazar, the Glyt-1 inhibitor and the anti-PCSK9 that the company is developing.
Likewise, the company has reoriented its Hep C development program around emerging markets. While this makes a certain amount of sense given the size and growth potential of these markets (as well as Roche's solid position in emerging markets), it also reads like a concession that the company doesn't have much chance of competing with the likes of Gilead (GILD) and Abbott.
Last and not least is the non-drug business. Roche's diabetes business is holding up reasonably well relative to Johnson & Johnson (JNJ) and Abbott, but investors don't pay much for "holding up". Likewise, the company still needs to do something with its life sciences platform - I like the company's long-term prospects for molecular diagnostics and personalized medicine, but they need to get better in sequencing. Since a deal for Illumina (ILMN) seems dead for now, it's worth asking if the company will come knocking at the door(s) of PacBio (PACB), Complete Genomics (GNOM), and/or Oxford Nanopore.
The Bottom Line
Sentiment has definitely improved on Roche, but I don't necessarily believe that the Street is really giving the company much credit for its non-oncology pipeline. Admittedly, until one of these drugs becomes a blockbuster in its own right, that skepticism isn't completely unfair. Likewise, I think the Street is basically assuming that the company is going to do a dilutive deal at some point - whether to bulk up its non-oncology pipeline or its life sciences and diagnostics operations (or both).
On the assumption of mid-single-digit free cash flow growth, I see fair value for Roche shares in the low to mid $50s. With that sort of valuation, Roche is more or less in the same value bucket as Pfizer (PFE) and Sanofi and not quite as cheap as less impressive names like Glaxo and AstraZeneca. While Roche is not a get rich quick stock, it's a quality pharmaceutical name that is still worth owning.
Disclosure: I am long OTCQX:RHHBY.