When Congress acted fast to get better-protected vehicles out to Iraq and Afghanistan, major sums of money in contracts were offered to Force Protection (NASDAQ:FRPT), and the stock market thought it would be a huge winner.
Well, Spartan Motors (NASDAQ:SPAR) signed a deal with FRPT, and its stock went through the roof too. FRPT would build the vehicles around the Spartan chassis. Spartan seemed to be in quite well for a situation where it looked like FRPT would get all of the smaller MRAPs. This was important since the first contract, for $490 million, went to FRPT. At the time, the only thing known was that there were going to be at least $7 billion in contracts to produce the vehicles.
Then it was found that Oshkosh (NYSE:OSK) was going to do all of the large vehicles, and Navistar (NAVZ.PK) was awarded a contract for almost $700 million. The Government stated that they needed the contracts quick to save the lives of our military and they were afraid FRPT would not be able to keep up with production, and might not be able to maintain them.
Force Protection signed a deal with General Dynamics (NYSE:GD) to help get more contracts but it didn't help; FRPT stock was pulverized. Along with it, Spartan was also crushed.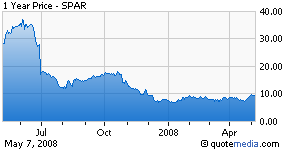 Since June 6th of last year, Spartan stock has fallen over 67%. This seemed rational, but what was unanticipated was that Spartan would get more work from the additional General Dynamics contracts and also from BEA Systems (BEAV). Spartan is now providing these specialized chassis for almost all of the smaller MRAPs.
Spartan has just begun to realize the benefit of these military contracts. They just reported earnings for the first quarter of 2008 and they blew it out. They beat earnings estimates by over 64%. Net sales increased 11% over the fourth quarter. EPS was up 80%. Gross margins increased over 20%. They also had a great quarter before as they beat by over 30%, which was a large surprise after missing badly for two quarters previous. Year over year the company's revenues increased 84% and earnings over 105%.
Spartan has stated their $237 million backlog will all be finished by the end of the year. In April of 2008 they were awarded another $45 million contract that they will start work on in 2009. Most importantly they have more work other than just military in their chassis business. Their motor home chassis work decreased over 31% and backlog sits at $17.5 million. Sales of their emergency truck chassis decreased 3%, but backlog is about $71 million. They stated in their conference call that emergency vehicle orders are improving and the RV market seems to have bottomed. They also anticipate orders from our allies as they begin to add these vehicles to their militaries. Overall backlog was down 5%, but I don't see that as a bad thing, as they are finally picking up the pace to get their production up as they are expanding facilities.
A few months ago the Street thought they were crazy for starting a 250,000-share buyback plan; these new earnings lead me to believe they saw this coming and I am excited about this company's future. Even after a good week, the company still trades for just 10 times forward earnings. Even more important, the company's earnings estimates seem to undervalue the company. Current estimates have revenue at $193 million per quarter for the next three quarters (on average). That is $372 million in backlog or two-thirds of current backlog figured in. With these numbers, the current one year PEG ratio sits at .3 without any modifications to analyst expectations. This stock is an excellent trade for the next six months, as additional deals are bound to come through.