I recently came across a cheap satellite network solution provider that had a significant sell off recently but looks ripe to rebound. It has a cash rich balance sheet, good growth prospects and a fund just passed the threshold of a 5% ownership level.
"Globecomm Systems (NASDAQ:GCOM) engages in the provision of satellite-based network solutions to government, communications service providers, commercial enterprises, and media and content broadcasters in the United States, Europe, South America, Africa, the Middle East, and Asia." (Business description from Yahoo Finance).
Seven reasons GCOM is undervalued at $10 a share:
The company has over $40mm in net cash on its balance sheet (approximately 18% of market capitalism).
Discovery Equity Partners has put together a stake of over 5% of the company after acquiring another 700,000 shares in the last two months.
The company has beat estimates each of the last three quarters and consensus earnings estimates have gone up 20% over the last three months.
The stock is selling near the bottom of its five year valuation based on P/B, P/CF, P/E, and P/S.
GCOM has a five year projected PEG of less than 1 (.61) and is selling at just 9% above book value.
Only three analysts cover the stock and they have a price target range between $15 to $19.50, all substantially above the current stock price of $10.
The stock looks like it is trying to bottom here (see chart).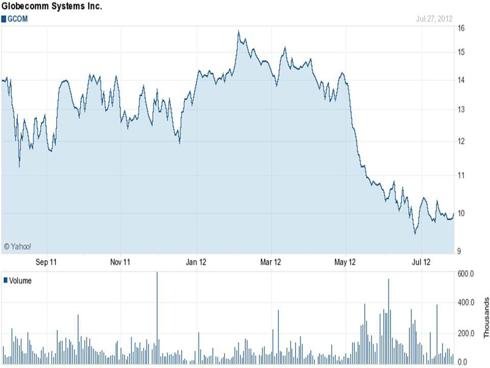 Disclosure: I have no positions in any stocks mentioned, but may initiate a long position in GCOM over the next 72 hours.