LinkedIn (LNKD) recently traded at astronomical price-to-earnings multiples between 600 and 700. It is an amazing company, which provides a social network for professionals to connect to one another. Essentially, it's like Facebook (NASDAQ:FB) for business. Unfortunately, the novelty of LinkedIn just doesn't justify its valuation multiples. When compared to its peers, it is readily apparent that investors should stay away from LNKD shares at current price levels, even after considering growth projections. Its high price multiples should dissuade investors from buying at current prices until its valuations descend closer to those of its peers.
Computing Future Valuations from Growth Projections
Regardless of how shiny a stock is, investors should never buy a stock because the company is fancy, disruptive, or because it is fun to read about. Instead, investors should be focused on growing the value of their assets. Stories, drama, the next big thing, and other distractors cannot justify paying one dollar for fifty cents.
Instead, investors should buy stocks trading at prices which make them good deals. A poor company trading at a dismal price may be an excellent trade. LNKD shares are trading at the other extreme: LinkedIn is a great company trading at incredibly enthusiastic valuations which should be avoided. Its metrics are provided with other internet information providers:
| | | | | | |
| --- | --- | --- | --- | --- | --- |
| Ticker | Company | P/E | Earnings Growth Est. | P/S | Sales Growth Est. |
| LNKD | LinkedIn Corporation | 646.4 | 76.5% | 17.3 | 49.2% |
| FB | Facebook, Inc. | 76.5 | 26.9% | 13.7 | 31.6% |
| | Baidu, Inc. | 37.0 | 41.7% | 16.9 | 40.5% |
| | Google Inc. | 18.8 | 17.9% | 4.8 | 27.9% |
| YHOO | Yahoo! Inc. | 18.1 | 13.7% | 4.0 | 2.3% |
Future valuation multiples of LNKD and its peer stocks were modeled by combining expected growth and trailing valuation multiples. Graphs of future price-to-earnings and price-to-sales ratios based on analyst earnings growth estimates and historical sales growth follows:
Click to enlarge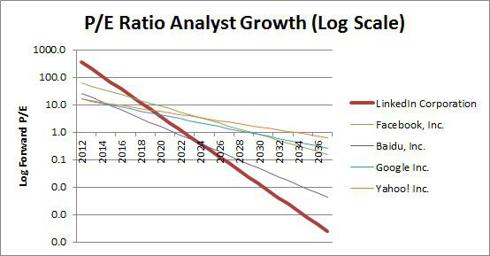 Click to enlarge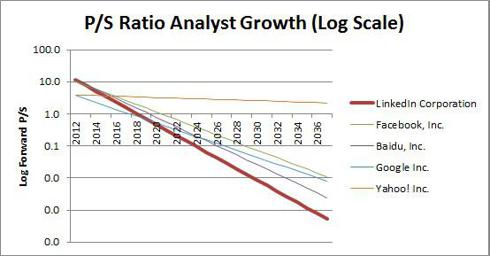 The projected crossover dates span well into the future, which demonstrates how LNKD shares are overpriced. Even assuming that long term analyst growth rates will continue indefinitely (which is itself ridiculous), it would take seven years of sustained, phenomenal earnings growth for LinkedIn's current price-to-earnings ratio to be equivalent to that of Google or Yahoo.
These projections illustrate the absurdity of current valuations for LinkedIn. Analyst estimates for faster-than-economic growth are not predictive after three years or so, yet somehow investors are paying prices for LNKD shares which imply they can see the distant future. Investors are more likely overenthusiastic than psychic.
Estimated convergence years were calculated below for LNKD:
| | | |
| --- | --- | --- |
| Company | P/E Equivalence | P/S Equivalence |
| Facebook, Inc. | N/A | 2012 |
| Baidu, Inc. | 2024 | 2012 |
| Google Inc. | 2019 | 2019 |
| Yahoo! Inc. | 2019 | 2014 |
Investors should avoid LinkedIn at current prices. Instead, they should consider other companies on this list as more reasonable alternatives which can be justified without the absurdity of a decade and a half of sustained, phenomenal growth. In particular, Google is trading at better valuations, which are attractive when contrasted with its more expensive peers. Google's valuations start at much lower multiples than LinkedIn. Moreover, its growth trajectory maintains its dominance over LinkedIn for years beyond the reliability of analyst projections
Please read the article disclaimer.
Disclosure: I have no positions in any stocks mentioned, and no plans to initiate any positions within the next 72 hours.