In my recent article published on 6/11/2012, which was the Miscellaneous Industrials installment of my "Yield, Value, Safety" series, I had identified Eaton Corporation (NYSE:ETN) as a desirable holding, based upon the first-pass review presented in the article. While I did not own the stock at that point, based on my analysis and the opportunity afforded by a price decline below my stated buy price of $39, I initiated a position on 6/21/2012 at $38.85. I subsequently added to the position on 7/10/2012 at $37.55. Both of these moves were noted in my Daily Blog on the next day's posting at my website, which can be viewed here. In this article, I will present an update from my earlier conclusions based on what I have learned about the firm from additional study. While there are a couple of caveats to be aware of, which I will point out in this article, I came to the conclusion that ETN was a worthy candidate under the guiding principles of value investing that I strive to adhere to, and I bought in as described.
Highlights from the Recent Quarterly Earnings Report and Price Movement
On 7/23/2012, Eaton reported results for the quarter ending 6/30/2012. The company reported revenue of $4.07 billion, which was below the analysts' consensus revenue estimate of $4.23 billion, and also was slightly below the corresponding prior year quarter's $4.09 billion. However, EPS came in at $1.15, which was above the analysts' consensus estimate of $1.09, and also was considerably above the prior year quarter's $0.97. The improvement was due to improved margins across the board -- gross, operating, and net. Guidance for the next quarter and full year was cautious, but indicated that management believed the firm's business will hold up reasonably well in the challenging environment that is expected.
The market reacted favorably to the report, with the shares gaining over $3.00 since the earnings release. Looking back further, ETN has exhibited a wide range of prices over the years, which is not surprising for a cyclical stock. The stock hit a low of $15.01 on 3/6/2009 during the financial crisis, and then recovered to a high of $56.49 by 2/11/2011. More recently, the stock declined to a low of $33.09 on 10/4/2011, during the 2011 August to October swoon, then recovered to $53.06 by 2/29/2012. Since then, the stock has declined on fears of a global economic slowdown. It dipped below $40, and even below $37 briefly, before recovering modestly to the current $41 to $43 range.
A new buyer needs to realize that, as a cyclical, this stock can fall hard if the global economy slows, so one should not buy in the first place if a price drop is going to cause alarm. While not as much of a bargain now as it was earlier this month, ETN is still in value territory, and is one of the few quality names available today that meets the value criteria.
General Information
Eaton was started in 1911 in New Jersey, and then moved to Cleveland in 1916, where the company headquarters remains today. The company went public in 1923, and a comment on its website states that the firm has paid a dividend regularly since then. The firm has a market capitalization of $13.8 billion, and has approximately 72,000 employees. There are 336 million common shares outstanding, and there are no preferreds.
The GICS classification is Industrials, Industrial Machinery. The firm can further be described as a Diversified Power Management company, supplying components for Power Distribution and Control. Business segments and sales by segment are: Electrical - 45%, Hydraulics - 18%, Aerospace - 10%, Trucks - 16%, and Automotive - 11%. The firm operates in 150 countries, with over 50% of sales occurring outside the United States. Business is distributed geographically as follows: United States - 45%, Non-U.S. Developed World - 28%, and Emerging Regions - 27%.
The firm has relied mostly on acquisitions for growth in recent years. While most acquisitions have been of relatively small firms, Eaton currently has a deal in progress to acquire Cooper Industries (CBE), a firm almost as large as itself. I will have more to say on this subsequently.
Eaton is in the S&P 500 Large Cap Index, is a component of the SPDR Industrials ETF (NYSEARCA:XLI), and is a major holding of more than 40 Mutual Funds. In short, Eaton is a major industrial stock. As noted, it is a cyclical stock, which by definition means earnings are affected by the general health of the worldwide economy.
Revenue and Profitability
Note that all fundamental values and ratios as presented were obtained from the MSN Money website.
The most recent quarterly results were noted earlier, and the stock has rebounded a bit since the 7/23/2012 earnings report. To get a clearer picture of the recent results by quarter, consider the results for the last five quarters: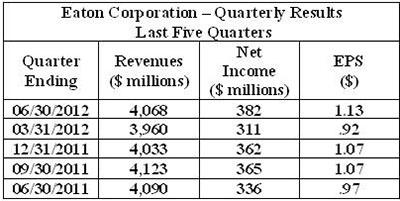 As can be seen, revenue for the most recent quarter was below the comparable year-ago period, but net income was higher, indicating improved margins, as noted above. Recent margins / five-year averages are: Gross Margin, 30.26% / 28.3%; PreTax, 9.94% / 7.3%; and Net, 8.78% / 6.7%. Recent returns / five-year averages are: ROE, 17.65% / 14.9%; ROA, 7.7% / 6.0%; and ROIC, 9.7% / 7.7 %. These numbers indicate that the firm is performing today at a high level, as compared to the past five years.
Taking a longer range view -- the 10-year history of annual results, considering Revenues, Net Income, and EPS -- shows steady increases year by year for all three, except for a dip in 2009, coincident with the financial crisis. Progress resumed in 2010, and by 2011, Eaton had posted new highs in Revenue ($16.05 billion), Net Income ($1.35 billion), and EPS ($3.94), recovering fully from 2009.
Dividend Information and History
The current quarterly dividend is $0.38 per share, which generates a yield of 3.52% at a price of $43.16, the closing price from 7/26/2012. The most recent increase was on 2/2/2012. Just looking at the most recent five years, the dividend has increased by 117% over this period. The Payout Ratio is only 34%. Eaton is not, however, an S&P Dividend Aristocrat, nor is it one of David Fish's Dividend Champions, nor a Mergent Dividend Achiever.
Surprised by these findings, I took a look at the detailed dividend history going back twenty years, which is as far as my resource (TD Ameritrade) allows for. I believe that I have found the reason Eaton is not on these distinguished lists -- the dividend has not increased each and every year. Specifically, although there have been thirteen increases since 11/3/92, the time lag between increases has been anywhere from six months to as long as six years. Additional details are shown in the chart below: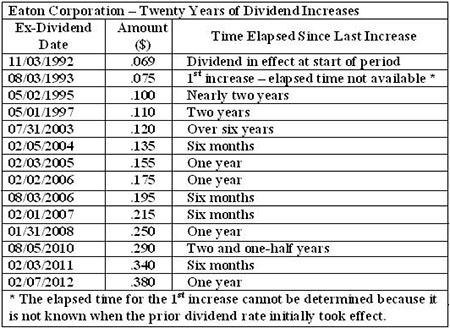 While not as regular as one might prefer, this record tells me that management will increase the dividend when conditions warrant. Considering the decent yield to begin with, this is not a show-stopper for me. The irregularity of dividend increases is the first of two caveats I mentioned at the beginning of the article, and as noted, I can overlook this item given the yield and history.
Another positive is that Eaton has had eight stock splits since 1948. Its most recent was a two for one split on 03/01/2011. While this does nothing for the shareholder in theory, my experience with splits has been very positive through the years. It almost seems like investors forget that the split occurred, and a year or two later, the stock is bid back up to the price level that existed before the split. Of course, it is not the split that worked the magic, but a growing, prosperous firm.
Financial Position and Debt
The MSN Money website data for ETN shows its Leverage Ratio as 2.3, Debt to Equity Ratio as 0.55, and Interest Coverage as 15.2 -- all very satisfactory numbers. Looking at the balance sheet from the most recent quarterly filing, I calculate the ratio of Long-Term Debt to Total Capitalization as 19.8%, the ratio of Stockholder's Equity to Total Capitalization as 42.8%, and the ratio of Total Liabilities to Total Capitalization as 57%. While I would prefer that the equity ratio exceeded 50%, and that the corresponding total liabilities ratio was less than 50%, neither of these numbers is far enough away from the desired levels, at this time, to be of concern.
But, with another $5 billion to $6 billion of debt likely to land on the balance sheet after the Cooper acquisition is consummated, the balance sheet is going to be significantly weakened, beyond the present less than ideal condition. All that I have read about the acquisition has been more or less positive, with a general concurrence that there are synergies, and that the businesses will be complementary. It's just that Eaton will be exposed for a time, possibly several years, by virtue of having a weak balance sheet. If the severe downturn that some pundits are predicting should come to pass in the next year or two, the Cooper acquisition will likely be viewed as bad timing, at best.
Eaton's current corporate debt ratings are A- from S&P, A3 from Moody's, and A- from Fitch, and are all comfortably into the investment grade ranges. These ratings could be lowered after the Cooper deal, although I have not seen anything hinting at this so far.
At this point, I would have to say the Cooper acquisition and its impact to the balance sheet is the major concern I have about Eaton as an investment. This is the second caveat mentioned at the beginning of the article, and it is the more serious concern, in my opinion. I am not passing on the stock over this issue, but I am taking a more cautious approach because of it, holding off on buying additional shares until we see how the Cooper acquisition works out, and how it affects the balance sheet.
Valuation and Technicals
ETN's price ratios are typical of a value stock in most cases. The current valuation metrics, and for reference, the levels for a value stock, are:
ETN: P/E = 9.8, Price/Book = 1.74, Price/Sales = 0.85, and Price/Cash Flow = 7.2.
Value Stock: P/E < 15, Price/Book < 1.5, or at least not > 3.0, Price/Sales < 1.50, and Price/Cash Flow < 10.00
The stock has a beta of 1.5, implying it is a little more volatile than the general market. The charts basically tell the story already observed, that the stock has been in decline since the end of February 2012, with a slight rebound in the last several days.
Ratings and Sentiment
As is typical for a well known large cap stock, analyst coverage is extensive. S&P rates the firm as only a Three-Star, i.e. a Hold, with Medium risk, and with an Earnings and Dividend Quality rating of A, the next-to-highest available for that category. Morningstar rates it a Three-Star stock. Thomson-Reuters indicates that there are 17 analysts following the firm, with seven rating ETN a Strong Buy, four a Buy, five a Hold, and one at Under Perform. Various other ratings of interest are: Credit Suisse - Hold, The Street - Buy, Ford Equity - Hold, Columbine Capital - Hold, EVA Dimensions - Hold, Zack's - Neutral, and Thomas White - Buy. The ratings are none too positive, which is what a value investor wants to see, evidence that the stock is not "over-loved." Popular stocks, especially those favored by nearly all of the rating analysts, are usually fully priced by the time the ratings turn positive.
I always do a search on Seeking Alpha as part of my stock research on a firm, to see if any articles are available that might offer further insights. There are several recent articles available on ETN, including:
I would recommend all of these articles to an investor contemplating an investment in ETN. All are informative, presenting relevant facts and figures from various perspectives. All are relatively positive on the firm as a long-term, dividend growth stock investment.
Conclusion
Before I conclude, in the interest of full disclosure, I want to note that I am not a financial professional, nor am I certified in any way as a financial advisor. I am an independent, individual investor, focusing on dividend-paying stocks exclusively.
I believe the recent weakness in ETN shares, which is beginning to slip away, presents an opportunity to acquire shares of a solid industrial stock at a value price. When one considers the alternatives -- with fixed income at all-time lows, and with most dividend stock categories approaching bubble territory -- buying ETN at this level would seem to be a reasonable bet.
If an economic slowdown occurs in next few months, it is likely that the recent gains ETN has seen will be given back, and lower prices on all stocks, especially cyclicals, will result. While there are always macro risks, it seems to me there are more of them than usual at this juncture.
Further, there are also risks specific to Eaton, namely the risk of difficulties integrating the Cooper acquisition and / or of entering a recession with a severely weakened balance sheet. All that being said, as a dividend-focused value investor, I have to ask myself; if I would pass on ETN under $40, what would I buy today? The answer is, not much. In closing, I will offer a paraphrase of the old Lee Iacocca Chrysler commercial; if you can find a better dividend-paying value stock, buy it!
Disclosure: I am long ETN.