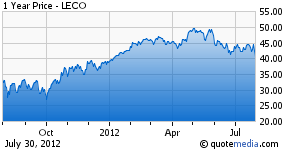 Lincoln Electric (NASDAQ:LECO) has been an exceptionally well-run industrial company for decades, building itself into one of the world's largest suppliers of welding equipment and consumables. But no company is perfect, and Lincoln Electric posted a surprisingly large miss at a time when rival Illinois Tool Works (NYSE:ITW) doesn't seem to be sharing in the weakness.
A Rare Miss For A Dependable Mid-Cap
Lincoln does not miss often, making this quarter's disappointing performance even more surprising.
Revenue rose about 6% as reported, with organic growth of a little less than 4% (led by 2% volume growth). Business in North America remained strong, growing 29% as reported and nearly 17% on an organic basis. Volumes plunged in Europe and Asia, though, driving reported revenue down 18% and 17%, respectively. While organic performance of "basically flat" and negative 7% are marginally better, Lincoln Electric was clearly weaker than Illinois Tool Works this quarter (with 4% growth in international markets, and 1% growth in Europe).
Although revenue was disappointing (missing the average estimate by 7%), the company still continued to expand its margins. Gross margin improved about 30 basis points, while reported operating income rose 13% (and adjusted operating income rose 23%). Margins improved everywhere but South America for the second quarter.
Seeing The Slowdown
Lincoln Electric boasts strong customer relationships with major equipment companies like Caterpillar (NYSE:CAT), Deere (NYSE:DE), and Volvo (OTCPK:VOLVY), and so it's not entirely surprising that management at Lincoln Electric is starting to echo the same sort of messages we've been hearing from Caterpillar and the rest - namely, that North America remains strong, but Europe and China seem to be weakening at an accelerating rate.
Likewise, with numbers heading lower for industrial gas suppliers like Airgas (ARG) and Air Products (NYSE:APD), it's hard to argue that this isn't a broad secular decline in industrial markets. The problem is the numbers from Illinois Tools Works and Colfax (NYSE:CFX). Both showed higher core growth than Lincoln this quarter, even with Colfax's higher European exposure. Is this a byproduct of channel management, a reflection of end-market exposure, or a sign of significant market share shifts? I'm disinclined to believe that Lincoln Electric is really under-performing the market to a significant extent, but it's hard to resolve the differing growth experiences this quarter.

Building The Business, But Changing Leadership
Lincoln continues to expand and round out its welding business. The company is rolling out products in nickel and cobalt welding, TIG orbital welding, and CNC cutting - all logical extensions of the business. Likewise, the deal for Wayne Trail makes sense from the standpoint of bulking up its capabilities in welding automation and tooling. I like these product line/technology extensions, but I also wonder if the company should consider a deal to expand its emerging market presence - say like a deal for a Chinese competitor like Golden Bridge or Big Bridge.
The company will also soon have new leadership. Christopher Mapes will be replacing John Stropki as the CEO of Lincoln Electric. While the company has been through plenty of leadership changes over the years, I'm surprised that the company would go with someone (Mapes) who has relatively little experience at the company - having joined LECO from AO Smith only about a year ago. This is no slight on Mr. Mapes, who has a long track record at industrial companies, but I do believe that Lincoln Electric's corporate culture is a real component of its long-term success and I'm not sure how much of that can be learned and absorbed in a year. I also worry that switching CEOs going into an economic slowdown may put even more unneeded pressure on the new CEO, but time will tell.
The Bottom Line
I don't want to overreact to one bad quarter, or perhaps what may even become a tough year or two. The growth potential for Lincoln Electric in the BRIC countries alone is significant for many years to come. That said, it can be painful to buy into an industrial company just as the cracks are starting to appear.
Lopping 10% off of revenue for 2012, but assuming that the recovery begins in 2013 and that the company continues to gain share and improve free cash flow conversation, leads to a low-to-mid teens estimate for long-term free cash flow growth - hardly a conservative estimate by most standards. If that level of free cash flow production is realistic, fair value would be in the low $50s and this stock should be attractive at today's prices. That said, while I admit to being very tempted to buy a stock that seldom gets cheap, I can't completely rule out the possibility of another miss and another leg down before estimates reset for the global slowdown.
Disclosure: I have no positions in any stocks mentioned, and no plans to initiate any positions within the next 72 hours.