Tough call today…

The pre-markets (8am) look good but that would be good when compared to our horrible finish yesterday, not good at all compared to Tuesday's top. Oil is still at $123 as both the ECB and BOE decided to hold rates steady, not the best outcome for the dollar. There seems to be a consensus that AIG is going to take down the markets this evening but I don't see it happening and we may even pick up some AIG calls if they get any cheaper.
TM took down the markets in Asia with a 28% drop in profits as the weak dollar and weak US auto consumer took their toll on the World's top auto company. Raw materials are, of course, also up leading Toyota to post their first decline in profits in 7 years. TM says they expect to earn just 1,250,000,000,000 Yen ($12Bn) for the year or about 100Tn times more than GM. Small cars are still flying off the lot with Prius sales up 23% and Yaris sales up 58% in the US, mainly the company miscalculated on their truck roll-out (last year's Superbowl). We're going to be happy to take out our callers and stick with this one.
Myanmar continues to be a concern in Asia and rice went limit up in morning trading as the death toll rose to over 100,000. The Nikkei dropped 1% and the Hang Seng gave up 0.6% despite a bounce on the mainland exchange (2%) on the rumor that the government would step in and help the markets (doubtful).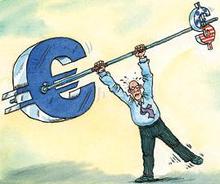 Europe opened low but is coming back to flat ahead of the US open now that they have gotten past the rate decisions. The Euro is falling against the dollar and the Yen as EU economic data is indeed more sucky than ours: "The euro-zone retail sales result overnight was a shock to us," said Jun Kato, a senior dealer at Shinkin Central Bank. "The result suggests the region's economy may also be slowing down. Some players have started to price in a change of the bank's view on the economy in the near term." Euro-zone retail sales fell 0.4% in March instead of rising 0.2% as expected.
Italy's Finmeccanica (OTCPK:FINMF) is buying DRS Technologies (DRS), a major military supplier with about $3Bn in sales so expect a lot of protectionist screaming on this one. Speaking of which, here's a great article about outsourcing the Presidency (if only!). At least we don't have to worry about Vladimir Putin's continued employment as Russian legislators confirmed him as Prime Minister the day after he stepped down from the Presidency. There were 56 dissenting votes out of 448 and memorial services will be held after their untimely deaths next week.
We're getting a string of better than expected (low expectations) retail sales reports with our ANFs doing very well (up 6%) and our WMTs up 3.2%, leading the pack. Neiman Marcus (Pending:NMG) has a 1.9% dip and Limited Brands (LTD) got hit with a 5% dip in same-store sales. Victoria's Secret (part of LTD) was down 4% as $50 bras went up in smoke with each tank of gas. Art Cashin had this take on sales: "People are buying milk, bread and gasoline on their credit cards and it's their last lifeline to reality."
Eduardo Castro-Wright of Wal-Mart (NYSE:WMT), where discount Sam's Club sales were up 6.6%, noted, "The economy continues to get tougher and the 'paycheck cycle' is more pronounced for customers than in past months. As money gets tighter for them toward the end of the month, sales drop more than we have seen in the past." Yeah, that's not actually a good sign folks! And oil was "only" $109 on average in April. ...
In addition to our fun with Crocs (NASDAQ:CROX) today, Energy Conversion Devices (NASDAQ:ENER) posted some amazing results but guided Q4 in-line so the exuberance pre-market may be a bit irrational, and I'm considering a naked sell of the $45s at the open as they seem more than fairly valued up there.
I don't see any really great reasons to go up or down today. That takes us into the Friday before a big data week, so it's very possible we stay flat through the weekend around 12,850, which means we're going to want to be well covered with May callers to burn off those premiums.
We're already well covered but let's see which way the wind blows today.