Trading BioPhama Small Caps before a catalyst event - if done correctly, can be a very profitable proposition, but if traded in a wrong manner, can cause losses. I remarked in an article from March of this year that Horizon Pharma (HZNP) was a good catalyst trade heading into its PDUFA 7/26/12 of LODOTRA, a proprietary modified delayed-release formulation of prednisone for the treatment of rheumatoid arthritis.
In the article from March I remarked:
I recommend Horizon as a strong buy for the short and midterm swing trade. As the company nears its PDUFA date for LODOTRA, the price should be nearing $7 a share as I do not see insiders selling before this point. It appears to me they believe the drug will gain approval based on their heavy insider buying.
Short term price target: $4.25
Midterm price target: $7.00
At the time of my write-up, the stock was trading at $3.69 a share. My goal of $7 was reached long in advance of the actual decision, in which LODOTRA gained FDA approval. However, after trading as high as $8.72 on July 3rd, the stock sold off on investor fear that the company might not have enough money to properly market the drug, raising concerns of a possible secondary offering - shareholder dilution. Horizon currently trades at $5.80 a share.
I suggested in an article I wrote in May that Progenics Pharma (PGNX), at that time trading for around $8.10 a share ($274.61M market cap), was a good catalyst trade with my price target opinion of $9.50 to $10 a share. The stock traded as high as $11 before being halted in advance of the FDA decision on its Supplemental New Drug Application (sNDA) for RELISTOR (methylnaltrexone bromide). RELISTOR is a subcutaneous injection for the treatment of opioid-induced constipation (OIC) in adult patients with chronic, non-cancer pain.
However, at approximately 5:00 p.m. ET on Friday of last week, the company received a Complete Response Letter (CRL) from the FDA, delaying potential approval of the SNDA. The stock has sold off quite a bit since the news, trading as low as $5.30 a share - closing yesterday's session at $5.40, down $5.40 (50%).
The key to biopharma catalyst trades is not to hold these stocks through FDA decisions. Holding these stocks through the decisions brings tremendous risk into play. We can clearly see that even with an FDA approval, as in Horizon's case, stocks can still sell-off.
Both Horizon and Progenics had strong price appreciation run-ups - as I correctly predicted, before their actual decision dates.
Amarin (AMRN) received FDA approval last Friday for its drug Vascepa, for the treatment of people with high levels of triglycerides. I incorrectly predicted a run up of $18 to $20 a share on that one. It is likely that I did not take into consideration multiple factors that caused my wrong opinion. One thing I did not consider is the CEO Joseph S. Zakrzewski's constant talk over the past 2 years basically advertising that his company is for sale. This effectively loses leverage in any acquisition talks with larger pharmas.
Other factors I did not consider about Amarin include:
A lack of any real partnerships to market and manufacture Vescepa - Amarin will not be able to market and manufacture Vescepa on its own. Vescepa will be in huge demand and studies have shown the drug to be a more effective high triglyceride treatment than GlaxoSmithKline's (GSK) Lovazza.
Vascepa is Amarin's only real valuable tangible asset, and its only real play will be to accept a buy-out offer - which is certainly going to be less than what it could have been if the company properly prepared itself. Vescepa easily has the potential to generate over a billion in sales a year - in the hands of the right operator.
New Chemical Entity (NCE) certification delay - the FDA normally publishes NCE certifications in the middle of the month in its Orange Book, but sometimes will grant NCE at the time of approval. Short sellers were much smarter in their analysis than I was concerning this factor.
If you are in the "red" holding Amarin, it is my opinion you should not be too concerned, as the money flow indicators show that shorts are clearing out, and re-accumulation likely to take place soon. I expect $18-$20 on news of NCE certification, which I believe will be granted for Vescepa. Yesterday's closing price for Amarin was $12.71, down $0.80 (5.92%).
One such company that has properly prepared itself for a large market is Arena Pharma (ARNA), who in June of this year received FDA approval for its anti-obesity drug Belviq. Arena has a solid partnership with Eisai Pharma to market the drug, a good corporate structure, and a solid pipeline of pre-clinical drugs - Amarin does not. Furthermore, I believe Arena might be a very good long term investment - albeit still a speculative one.
For this series of articles entitled "The Small Cap BioPharma Catalyst Trade Pick List," I will give picks that I feel offer traders the best chance at big profits heading into FDA approval decision dates and other catalysts such as clinical milestones and updates.
Cornerstone Therapeutics (CRTX), pps:$7.65 Market cap: $196.94M
Cornerstone is a specialty pharmaceutical company focused on commercializing products for the hospital, niche respiratory, and related specialty markets.
On March 13th the company announced that the FDA accepted a New Drug Application (NDA) for CRTX 080, indicated for the treatment of hyponatremia. The FDA has assigned a PDUFA date of October 29, 2012, with an advisory committee meeting scheduled for September 13th which will decide whether or not to recommend the drug for approval.
Hyponatremia affects up to six million people in the U.S. with direct medical costs estimated to range between $1.6 and $3.6 billion annually. CRTX 080 is a highly potent, non-peptide, oral capsule that works by reducing the action of a hormone (vasopressin) that blocks fluid excretion. CRTX 080 acts specifically on the vasopressin-2 receptor in the kidneys, causing water to be excreted while sparing sodium without affecting other electrolytes.
CRTX 080 was one of the assets that Cornerstone gained with the acquisition of EKR Therapeutics earlier this year. According to their Q1 conference call, Cornerstone feels great about their meetings with the FDA and thinks CRTX 080 will be launched in early 2013. Along with this advanced pipeline drug, Cornerstone also received Cardene as part of the deal. This drug is already FDA approved and indicated for the short-term treatment of hypertension when oral therapy is not feasible or desirable. Prior to the acquisition, Cardene made up a large portion of the $58 million in net revenue that EKR Therapeutics attained in 2011.
Craig A. Collard, Cornerstone's Chief Executive Officer recently remarked:
We believe this transaction delivers on our promise to transform Cornerstone into a leading specialty pharmaceutical company that provides hospital and related specialty market products. We expect that the combination of Cornerstone and EKR will generate synergies, while the addition of the EKR sales force will significantly expand our reach in the U.S. hospital market. With the launch of CRTX 080 (lixivaptan) and the re-launch of RETAVASE in 2013, our sales force will be actively promoting four products within the hospital channel. From a revenue growth perspective, we believe that annualized sales from Cardene I.V. could exceed $50 million.
With this acquisition, Cornerstone is in position to "go-it-alone" which should grow strong sales quickly. Below are the company's current fundamentals and income statement showing the most recent four quarters:
Income Statement

Revenue (TTM):

93.59M

Revenue Per Share :

3.63

Qtrly Revenue Growth (yoy):

-26.10%

Gross Profit :

63.60M

EBITDA :

11.29M

Net Income Avl to Common :

-4.26M

Diluted EPS :

-0.17

Qtrly Earnings Growth (yoy):

N/A
Balance Sheet

Total Cash (mrq):

74.20M

Total Cash Per Share (mrq):

2.87

Total Debt (mrq):

0.00

Total Debt/Equity (mrq):

N/A

Current Ratio (mrq):

2.65

Book Value Per Share (mrq):

6.72
We can see that Cornerstone has plenty of cash to get its advanced pipeline drugs successfully to market. In fact, this acquisition demonstrates what we have been looking at today in part - a company such as EKR Therapeutics feeling that they might not be able to get its drugs to market and selling to a company with more financial strength such as Cornerstone - into the hands of a better situated operator. Below, we can see the share structure for Cornerstone which in my opinion creates an undervalued market cap, especially after its recent acquisition.
| | |
| --- | --- |
| Shares Outstanding: | 25.84M |
| Float: | 8.28M |
| % Held by Insiders: | 67.42% |
| % Held by Institutions: | 13.80% |
| Shares Short (as of Jul 13, 2012): | 268.65K |
| Short Ratio (as of Jul 13, 2012): | 5.50 |
| Short % of Float (as of Jul 13, 2012): | 3.20% |
Cornerstone has a small float of a little over 8 million shares which should help with stronger price appreciation to the upside. Currently, shorts are not too wild about this one, holding only a little over 3% of the trading float. However, we can expect short selling to increase right before the actual decision date as shorts tend to gamble on small cap biopharma failure - a losing proposition so far this year.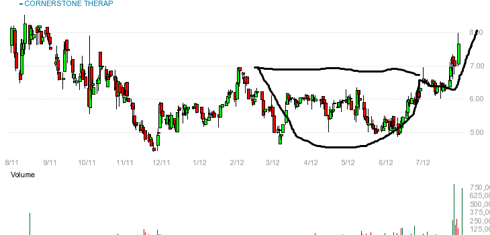 The chart clearly shows a nice cup and handle formation, which is very bullish for Cornerstone. The stock has just begun its run-up in my strong opinion.
My run up price target opinion: $9.50 to $10 a share.
Disclosure: I have no positions in any stocks mentioned, and no plans to initiate any positions within the next 72 hours.
Additional disclosure: Family member owns CRTX.
Disclaimer: This article is intended for informational and entertainment use only and should not be construed as professional investment advice, but rather my opinions as a writer only. Trading stocks are risky--always be sure to know and understand your risk tolerance as in any given trade/investment you can incur substantial financial loss. By reading this article, you agree and understand that I am not giving recommendations on stocks to trade. Any trade you make-- wins, losses, or break even--are entirely your decision and responsibility. You also agree and understand that I have no material insider information--just opinions. Always do you own complete due diligence before buying and selling any stock, and/or consult with a licensed qualified broker dealer and/or certified financial adviser.