Hansen Natural (HANS), which makes Monster energy drink, reported lower-than-expected quarterly results as cost increases drove down profitability, sending its shares down 13 percent after hours.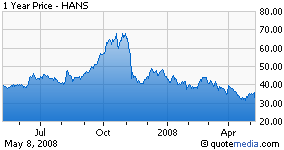 The company posted a first-quarter net income of $28.8 million, or 29 cents a share, compared with $20.2 million, or 21 cents a share, a year earlier. Analysts expected the company to earn 35 cents a share. Hansen lost sales as customers made early purchases in the fourth quarter to beat price increases.
It also demonstrates the short attention span suffered by most investors, as this was all discussed on the conference call three months ago. At the time, I said "Hansen Natural is giving back the last month's gains today after reporting higher than expected sales and lower than expected margins. Both were explained by customers stocking up ahead of a price increase."
Early this year I felt that growth was available on the cheap at Hansen. According to the Stock Market Beat models, the current situation is as follows:
Earnings momentum: Neutral
Earnings quality: Negative
Price momentum: Neutral
Free cash flow: Neutral
Return potential: Positive
Disclosure: At time of publication, William Trent has a covered call position in shares of Hansen Natural (HANS).