Shares of Macy's Inc. (NYSE:M) have dropped 13% from their 52-week high of $42.17 in May. I believe the recent plunge has created a nice buying opportunity in this quality dividend stock, as the current valuations at 5.6x the NTM EBITDA and 10.6x EPS are very fascinating, relative to the company's strong fundamentals.
In this article, I will run you through the rationales supporting my bullish view on the stock. My relative value analysis includes Target (NYSE:TGT), Kohl's Corp (NYSE:KSS), JC Penny (NYSE:JCP), and Sears Holdings (NASDAQ:SHLD) as M's comparable peers. The estimated stock value is then determined by equally weighting the valuations calculated by five peer-average multiples - EV/Sales, EV/EBITDA, P/S, P/E, and EV/FCF.
Macy's has an above average growth potential with revenues, EBITDA, and EPS estimated to rise by a 2-year CAGR of 3.5%, 5.2%, and 13.2% over the current and next fiscal years. It is noted that the predicted EPS growth is substantially faster than the peer average. Accounting for that, M trades at 0.9x PEG, fairly in line with the peer average of 0.8x (see comparable analysis table below).
In terms of profitability and investment returns, Macy's outperforms its peers in all of the related metrics I listed. Investors should note that M's gross margin and ROE are at the highest level in the peer group (see comparable analysis table below).
Moreover, M's FCF margin is also significantly higher than average. Despite the above-average leverage, the company is still able to maintain a healthy interest coverage rate f 5.5x owing to the high profitable businesses. Both of the current and quick ratios are fairly in line with the group averages (see comparable analysis table below).
Click to enlarge

As such, it makes perfect sense that a premium valuation for Macy's should be warranted. Nevertheless, the current stock price of $36.66 only implies a 3.7% valuation discount to the five peer average multiples, suggesting there remains an upside potential for the stock. Applying a more reasonable 15% valuation premium, the stock price would be 23% higher at $42.93 (see relative valuation table below).

Investors should also note that Macy's has a decent dividend yield of 2.2%, and it appears that M's robust fundamentals will likely at least sustain the current dividend payout level. The company's EBITDA margin has been steadily improved over the past few years, and the consensus estimates predict the margin to continue expanding over the next few years. Since Macy's has a stable historical EBITDA to operating cash flow conversion rate of about 0.5x to 0.7x, it is expected the free cash flow would likely be somewhat stable down the road (see charts below).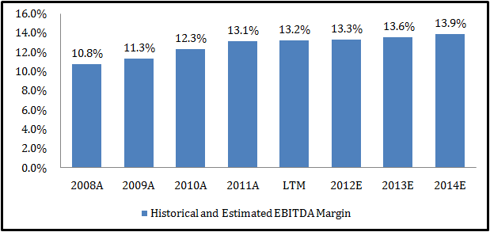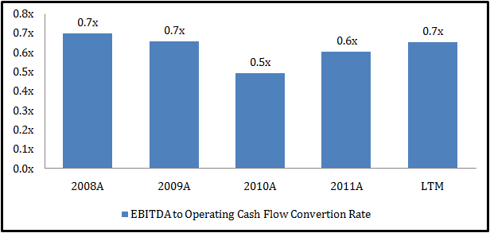 The chart below shows that historically the annual dividend payments only represent a very small portion of the annual free cash flow, suggesting that Macy's has an ample cash capacity to continue raising dividends and potentially spend the rest of FCF on increasing the scale of share buyback.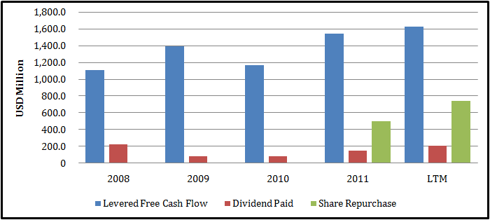 The stock is also trading strongly on a technical point of view. Based on a 3-year price chart with a 50-day simple moving average line, there were multiple times that the price dropped below the 50-day moving average. Following that, the stock usually had a couple times trying to bounce back and break through the line. And once it successfully rose above the average line, the 50-day moving average began to serve as a technical support for quite a while - the period when the stock continued trending up. At this point of time, Macy's has just bounced back through the moving average line after a couple of tries, indicating a potential up-trending momentum ahead (see technical chart below).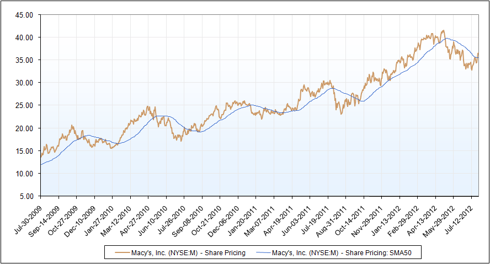 Bottom line, in the light of the attractive valuations, healthy fundamentals, decent dividend yield, and a solid technical support, I strongly encourage investors buying the shares at the current price.
Technical Price Chart is sourced from Capital IQ, all other tables and charts are created by author, and all financial data is sourced from Capital IQ and Morningstar.
Disclosure: I am long M.