We noticed that Supervalu (SVU) has fired its CEO and President Craig Herkert and replaced him with its Non-Executive Chairman of the Board Wayne Sales during the morning of July 30th. Since Supervalu has seen its sales momentum regress over the last 5 months, we believe that replacing Craig Herkert with Mr. Sales seems apropos in this situation. We saw that the market reacted positively to this news as trading volumes for July 30th were nearly 35% above its average 3 month daily trading volume and the stock jumped by more than 12.5% during the day.
We genuinely agreed with Sales in that we appreciate the efforts of Craig Herkert during his three plus years of service as Supervalu's CEO. Herkert inherited a tough situation when he left Wal-Mart (WMT) and he achieved a number of accomplishments in order to reduce costs and to pay down its high level of debt left over from the Albertson's acquisition. Based on the improvements in sales momentum achieved in FY2012, we were anticipating similar results during the first quarter of FY 2013. Unfortunately, the company took a significant step backward during this period as it was caught flat-footed by its competitors with regards to promotions, price investments and marketing activities. In a business that is filled with irrational cut-throat competition, this is absolutely inexcusable. In retrospect, we would have expected Herkert to have been more aggressive about reducing prices considering he came from Wal-Mart and that Wal-Mart is the home of "Everyday low prices". For the purposes of this report, we won't begin to go into the negative externalities that Wal-Mart benefits from at the expense of society:
Wal-Mart pays its employees poverty level wages and how the taxpayers spend an average of $943 for Medicaid, Supplemental Nutrition Assistance Programs (Food Stamps) and cash assistance.
Wal-Mart gets billions of dollars of taxpayer subsidies to open new stores.
Wal-Mart imports much of its merchandise from China. In order to meet Wal-Mart's "Low Prices" Mandate, the only way manufacturers can do is by closing factors in America and using coolie labor in China.
We mention how Wal-Mart profits at the public's expense because as true as it is, investors don't want to hear it, analysts don't want to hear it and I'm pretty sure the board doesn't care much as this point. We also believe the public doesn't know about it, probably hasn't been shown it and even if they have, they probably don't care about it since Gain Laundry Detergent 77oz containers have been rolled back to $9.97 from $10.97 at the Lynnway Wal-Mart. If anyone from the grocery stores pointed those facts to us, we would say "That true. We know all about them. We are opposed to them and we would offer our support to help you eliminate or mitigate these competitive headwinds. In the meantime, what are you going to do to deal with these headwinds because these factors did not spring up overnight and won't be going away overnight?"
Wayne Sales has been a member of SVU's board since 2006. In 2010 he was made the non-executive chairman of SVU's board. Wayne Sales had over 35 years of active retail industry experience. He had served in senior leadership positions with Canadian Tire (OTCPK:CDNAF) from 1991 until his retirement in 2006. Sales had served as Canadian Tire's CEO and President from 2000 until his retirement in 2006. While serving as CEO of Canadian Tire, Sales created and oversaw transformational strategies for Canadian Tire Retail, Canadian Tire Financial Services, Canadian Tire Petroleum and Parts Source, as well as the acquisition of Mark's Work Warehouse. Sales also leveraged Canadian Tire's unique value proposition to reposition the Corporation in the face of entry of key U.S. competitors. These strategies revitalized Canadian Tire and led to retail sales increases of nearly $3 billion and annual share price appreciation of nearly 19 percent. Sales' accomplishments earned him several industry awards, including Distinguished Retailer of the Year in 2004 by the Retail Council of Canada and CEO of the Year by Canadian Business Magazine in 2005. In 2009, Sales was also inducted into the Canadian Marketing Hall of Legends.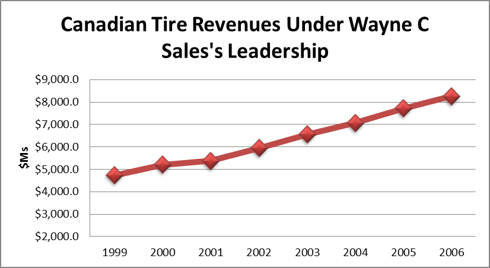 (Click to enlarge)
Source: Canadian Tire 2006 Annual Report
We can see why the market was positive about Wayne Sales being the new CEO. Note only did Sales lead Canadian Tire to positive results, he was able to strike a balance between articulating the challenges that SVU is facing and delivering a positive message to motivate SVU's front-line team members. Our confidence in SVU's leadership was shaken when it reported such weak results for Q1. It is true that Kroger (KR) and Safeway (SWY) also saw the same headwinds to each company's respective operating margins and that the only reason why those companies grew EPS was through share buybacks. However, those companies did not write down a multi-billion dollar debt financed acquisition like SVU, nor did those companies see declines in identical store sales. We were especially displeased that SVU's wunderkind subsidiary Save-A-Lot also had terrible identical store sales just like the traditional grocery stores.
In conclusion, we are more optimistic about Supervalu's future. While Herkert may have been a good choice for SVU with regards to 2009 in that he was able to take steps at lowering costs, the next step in SVU's journey back to stabilization and restoring its competitive position will come from stabilizing its weak sales momentum. After SVU began its strategic review, it was determined that Herkert would not be the best man for the job with regards to stabilizing its revenues and to execute SVU's new strategy. We were pleased that Sales is resigning two of his other board memberships in order to focus increased attention on his new, hands-on roles as SVU's President and CEO. As much respect as we had for Herkert with regards to cutting costs and stepping up paying down debt from the Albertsons's deal, we could see that his best just wasn't good enough based on his defensive deflective behavior at the SVU annual meeting. It was a far different attitude and mindset based on his initial performance at the Q1 2010 conference. We believe that Sales will be able to enable the company to restore shareholder value either through his leadership, or through selling off its stores. Despite the fact that company's sales have been weakening, we believe that there is value for traditional grocers like Kroger or Safeway to acquire stores from Supervalu. Here are the synergies we see to the acquisition of Supervalu:
Increased purchasing power scale which would allow it to renegotiate prices with manufacturers and wholesalers and better compete with Wal-Mart.
Reduced competition which would enable firms to exhibit some rationality with price.
SVU may have pledged its stores owned as collateral for its new asset-backed credit line, but they still own those stores. We previously mentioned that SVU owned 38% of its stores and we believe that selling a portion of those stores to other companies could enable it to receive enough cash necessary to make significant pay-downs in debt.
SVU still generated $400M in recurring free cash flows last year. 80% of the stores have been remodeled in the last 5 years and because acquirers would be getting the company real cheap, would be able to pay down the debt quickly using cash flows generated from SVU's operations
A company who acquires SVU's stores wouldn't have to spend as much on CapEx to build new stores.
Kroger operates Food-4-Less and could generate additional scale with it by acquiring Save-A-Lot.
SVU's wholesale grocery business would provide additional scale to C&S Wholesale Groceries or Nash Finch.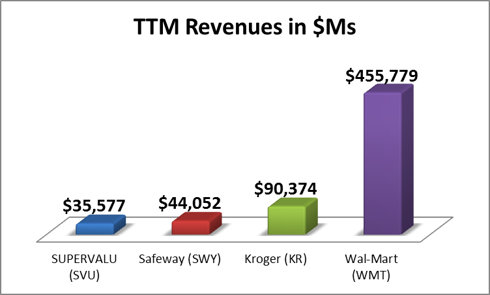 (Click to enlarge)
Source: Morningstar Direct
Disclosure: I am long SVU. Saibus Research has not received compensation directly or indirectly for expressing the recommendation in this report. Under no circumstances must this report be considered an offer to buy, sell, subscribe for or trade securities or other instruments.