Cisco Systems, Inc. (NASDAQ:CSCO) designs, manufactures, and sells Internet Protocol - based networking and other products related to the communications and information technology industry worldwide. It offers routers that interconnect public and private IP networks for mobile, data, voice and video applications.
Fighting Macro Headwinds: Cisco's Restructuring Initiatives
The European debt crisis is causing customers to remain cautious in their capital spending. Cisco has warned that technology spending could take a hit in the coming months due to the macro-economic uncertainty surrounding the European debt crisis. The company has taken some innovative restructuring initiatives for making a turnaround.
Focusing on IT Services
Enterprise routing has been a stronghold for the company with as many as 500,000 customers who have deployed its routing solutions worldwide. The company has a significant market share in the global enterprise router market.
Cisco introduced Cloud Connecters software as an integral part of its cloud solutions technology. This restructuring initiative should help Cisco leverage its enterprise lead to become a leading software company. Cisco is now actively focusing on cloud and its turnaround efforts have realigned the company's focus on key growth areas in its services business. (For more information on Cisco's cloud strategy, read directly from Cisco Blog)
Cutting Global Workforce
As a part of its restructuring and turnaround initiative the company recently announced to cut 2% of its global workforce. The reduction will mean a layoff of about 1,300 workers. That's based on a total workforce of 65,223, which was released by company officials in a conference call held in May about the company's third-quarter earnings. The company said in a statement that the cuts are part of a continuous process of simplifying the company and assessing the economic environment in certain parts of the world. (Source: Comcast)
Operating Margins Started to Stabilize
As a result of the restructuring initiatives, the company has been able to keep its expenses low and make operations more efficient. This will help meeting its guidance of being able to grow earnings at a faster rate than revenue. In the third quarter of its fiscal year, the company reported that its total revenue was up about 7 percent year-over-year to $11.6 billion. Its net income in the quarter was up 20 percent year-over-year to $2.2 billion.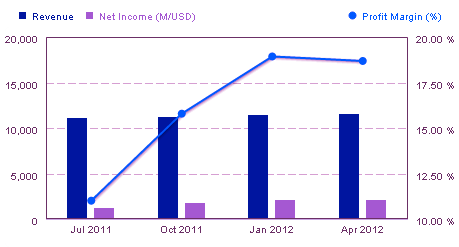 The quarterly result showed that the company's operating margins that were fluctuating widely as a result of the restructuring started to stabilize, as Cisco reported its second consecutive quarter of solid operating margin of around 24% after fluctuating between a low of 13% and a high of 24% in the recent past.
Short-Term Outlook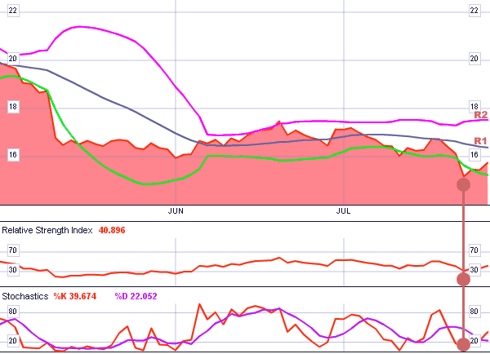 Cisco's share price is currently trading near $16. We believe that the share price has bottomed out last week just below $15. Take a look at the chart, along with the RSI and Stochastics indicators. Both have confirmed that a short term bottom is in place as indicated in the chart.
The stock will face strong resistance (R1) near the 20-Day SMA at $16.40. If it's able to cross that hurdle the next resistance (R2) is at $17.55, which is the upper band of Bollinger Bands and also the June high.
Longer-Term Outlook
The longer term outlook for Cisco looks strong not only due to an industry-wide change of fortunes once the uncertainty eases but also the company's bigger market share within the industry. The company's strong market position has helped it outperform rivals Juniper (NYSE:JNPR) and Alcatel-Lucent (ALU) in an uncertain economic environment so far, and will help it even further when the concerns subside.
Analysts expect Cisco to deliver a yearly EPS of $1.84 in FY 2012 and $1.92 in FY 2013. The stock is currently trading at a one year forward PE of just 8.33 which looks reasonably cheap. The stock could trade above $20 within the next 6 to 12 months.
Cisco's Earnings vs. Expectations
| | | | | | |
| --- | --- | --- | --- | --- | --- |
| | Jul 2011 | Oct 2011 | Jan 2012 | Apr 2012 | Jul 2012 |
| Estimated EPS($) | 0.38 | 0.40 | 0.43 | 0.47 | 0.46 |
| Reported EPS($) | 0.40 | 0.43 | 0.47 | 0.48 | NA |
| GAAP($) | 0.22 | 0.33 | 0.40 | 0.40 | NA |
(Source: smartmoney.com)
Cisco has lots of cash, more than a third of its current market capitalization. It has also been generating huge positive cash flows in the order of billions from operations every quarter despite a challenging economic environment. A positive cash flow will ensure that the company is able to return cash to shareholders through regular dividends and share repurchases.
Disclosure: I have no positions in any stocks mentioned, and no plans to initiate any positions within the next 72 hours.