Sirius XM Radio Inc. (SIRI) broadcasts various channels of audio from its satellites. The Company provides its services throughout the continental United States for a monthly subscription fee. Sirius delivers various streams of commercial-free music in every genre, as well as streams of news, sports, weather, talk, comedy, and public radio.
Sirius has reported rising profits and cash flow in the past several quarters. The stock has remarkably recovered from its lows of about 15 cents in November 2008 backed by the improving fundamentals of the company.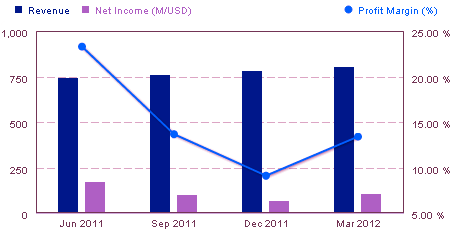 Sirius XM to Retire $186 Million of Debt
Sirius XM Radio recently announced that, on September 1, 2012, it will redeem all of its outstanding 9.75% Senior Secured Notes due 2015, at a redemption price of 104.875% plus accrued interest. As of July 25, 2012, $186,112,000 of the 9.75% Senior Secured Notes due 2015 is outstanding.
"Our strong cash position and growing free cash flow profile have put us in a position to retire these notes three years ahead of their maturity, at the first available redemption date," said David Frear, Executive Vice President and Chief Financial Officer, Sirius XM. "The early retirement of these notes will reduce interest expense and eliminate the only remaining piece of secured debt on our balance sheet." (Source: Bloomberg)
US Sales of Cars and Light Vehicles Rising
The performance of Sirius is closely tied to the automobile industry, which has recently experienced a modest recovery. According to data by German automotive industry association VDA, US sales of light vehicles (passenger cars and light trucks) rose by 22 per cent in June to reach 1.28 million units. With growth of nearly 25 per cent, there was a disproportionately large climb in passenger car sales to 645,100 units. Sirius has been making an aggressive push into the used automobile sector, which could provide a substantial growth opportunity moving forward.
Sirius XM: Long Term Outlook
Ahead of the quarterly earnings announcement due on 08/07/2012, trading activity in shares of Sirius has been sending a bullish signal to investors. The stock rose nearly 20 per cent in the past one month. Investors are expecting a positive surprise in the forthcoming second-quarter financial results of the company.
According to Craig Hodges of the Dallas-based Hodges Fund, shares of Sirius may quadruple to as much as $8 in the next three years as the satellite-radio company adds subscribers without many new costs.
"As a $2 stock, it could be worth $6 or $8 in a few years. It could be that type of a winner," Hodges says of Sirius XM. "I would say that it's a two- or three-year stock, though, if I were a buyer today."
"If you're a short-term player, it's not an expensive stock," Hodges says. "It's not cheap, but if they can continue to grow EBITDA at 20 percent, I wouldn't say it's overpriced." (Source: CNBC)
Sirius XM: Short Term Outlook
The stock looks extremely overbought on the charts, and the technical indicators including the RSI, Stochastics and MACD have turned bearish. A dip near $2.05 would be an excellent buying opportunity.
The stock is undergoing a strong uptrend backed by improving fundamentals of the company, and positive news flow. Aggressive investors can buy even at current prices, because a dip may not come despite technical sell signals.
Disclosure: I am long SIRI.