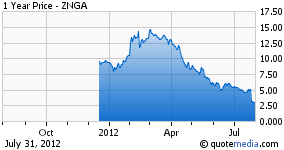 This past week, online social game designer and publisher Zynga (ZNGA), the most popular company associated with Facebook (FB), announced just an absolutely disgusting quarter. The quarter was so bad, and the action in the stock leading up to the earnings report so peculiar, that a plethora of law firms are looking to investigate and determine why the stock has plummeted. ZNGA is a new public company, having just gone through their initial public offering in December, 2011. Less than four months later, In April of this year, ZNGA had a secondary stock offering, which raised about $516 million in cash for the company. That sale was underwritten by Goldman Sachs, Morgan Stanley and Bank of America. The stock had been on a steady decline from this point up into earnings last week.
On Wednesday, ZNGA announced losses of nearly $23 million on earnings of $323 million, or earnings of 1 cent versus the estimated 5 cents. That's an 80% miss. ZNGA also guided down miserably, estimating that yearly earnings would come in around the 4 cent to 9 cent area. Expectations were significantly higher for around 23 cents to 29 cents per share. The company now expects its full year bookings to be in the range of $1.15 billion to $1.23 billion. ZNGA earlier projected bookings to be in the range of approximately $1.43 billion to $1.5 billion. ZNGA attributed this to a significant decline in interest in existing games on the FB platform. There was really no good news out of this quarter. The stock fell over 40%, taking shares of FB down with it 8%, prior to FB's own disappointing first report as a public company.
It should be noted that FB's potential for monetization is there in my opinion, though it will be difficult. It is exploring new approaches to create revenue on the mobile side and considering opening the site to those under 13 years of age. This could help ZNGA's business, however, ZNGA's business model reminds me of someone trying to sell new brands of sand in the Sahara. Seems nice at first until you realize, why am I spending money on this? Such is the model of selling virtual goods. It is not sustainable long term.
So why the legal action independent of the lack sustainability of ZNGA's business model? It has to do with the massive sell-off in the months before this awful earnings report. In the months leading up to the report, 43 million shares, or approximately half a billion dollars worth of ZNGA's stock were sold. As if this wasn't enough for individuals who held their shares through this selling, a bulk of shares were sold by some of the company's officers, general legal counsel and some principal large scale investors, according to the Daily Ticker's Henry Blodgett. Finally, it is my opinion that the company should have stood by their investors and pre-announced that things were not going well. Instead, investors got absolutely blindsided, to the tune of a 40% haircut overnight and hurting FB investors 8%, prior to their disappointing report. All the while, the insiders profited.
The following is a sample of the insider and large investor selling leading up to the quarterly report:
Marc Pincus, ZNGA CEO, sold 16.5 million shares for $200 million.
David Wehner, ZNGA CFO, sold 386,000 shares for $4.6 million.
John Schappert, ZNGA COO, sold 322,000 shares for $3.9 million.
Reginald Davis, ZNGA General Counsel, sold 315,000 shares for $3.8 million.
Institutional Venture Partners, ZNGA investor, sold 5.8 million shares for $70 million.
Union Square Ventures, ZNGA investor, sold 5.2 million shares for $62 million.
Google (GOOG), ZNGA investor, sold 4 million shares for $48 million.
SilverLake Partners, ZNGA investor, sold 4 million shares for $48 million.
Reid Hoffman, ZNGA investor, sold 688,000 shares for $8.2 million.
And so now here comes the legal onslaught. On July 27, Business Wire announced that a large number of law firms across the country have begun looking into "possible violations of federal securities laws and breaches of fiduciary duty."
Something tells me this is just the beginning of this legal battle. A lot of people lost a lot of money, while the people with inside knowledge of potential issues, seemed to sell out before it was too late. Time will tell. Its going to take some serious work on ZNGA's part to get their business going and to regain investor trust. The actions of management and moves in the stock lead this author to believe ZNGA bought the Farmville with this quarter.
Disclosure: I have no positions in any stocks mentioned, and no plans to initiate any positions within the next 72 hours.