InterDigital (NASDAQ:IDCC)announced its First Quarter 2008 results on Wednesday. The King of Prussia-based company beat analyst expectations this quarter, addressed the Nokia (NYSE:NOK) and Samsung litigations, as well as hinted about its 3G iPhone presence.
The total revenues for the First Quarter 2008 were $56mn down from $67.8mn in First Quarter 2007. Last year's number however includes $18mn royalty audit findings and 2G royalties from Sony Ericsson (NYSE:SNE). This year's revenues include $55.5mn in recurring revenues, $53.3mn of which comes from patent licensing royalties. The net income was $7.3 million, or $0.15 per diluted share. This is almost double of the analyst consensus of $0.08 per diluted share.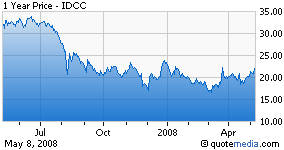 InterDigital's operational expenses for the quarter were at $45.1. The company has a healthy cash position of about $240mn and continues its share re-purchase program. LG, Sharp and NEC together account for 54% of the recurring revenues while Research In Motion (RIMM), High Tech Computer Corporation, Sierra Wireless (NASDAQ:SWIR) and Option Wireless Technology also have solid licensing deals with the company. While it did not give the revenue outlook for the next quarter yet, InterDigital forecasted that the non-litigation operating expenses (associated with SlimChip R&D and marketing) would grow sequentially between 4-8%.
On the product front, the company executives are positive about the technology IP licensing agreement with the 'growing Asian semiconductor company' that it hopes will increase its footprint in the Asian markets. The company's HSDPA technology to NXP Semiconductor is moving into production and would now expand its presence given NXP's merger with STMicroelectronics (NYSE:STM). Even while it continues IOT and performance testing with its current product, InterDigital asserted that its next product scheduled for 2009 was also well into development. This cost-down, better performing product targets not only the data-card and embedded market but also the smart-phone and the high-end feature-phone market.
On the licensing front, InterDigital continues to battle Nokia and Samsung. It has moved to sever the two cases with the ITC. It reiterated that it has made 'substantial progress' with the Nokia licensing negotiations. The executives suggested that the Finnish-handset maker's current offer was unacceptable even if it were 'a bird in the hand.' Optimistic about a positive resolution, it stressed that InterDigital now has the scale to assert its IP using its financial position to create more value. With a growing list of over 25 3G licensees and with 3G itself burgeoning, the company is looking to leverage its IP optimally.
I also looked to pick up clues on the impending 3G iPhone during the call. CEO William Merritt was bullish in his prepared remarks mentioning "based on public report, [Infineon's] good positioning for the iPhone 3G business." This, as Bill points out, is attractive for InterDigital due to its per unit 3G software licensing deal with Infineon (IFX). The company was also hopeful that Infineon would win the 3G iPhone socket since it will be "a nice contributor to revenue." My take is that the CEO would not mention the iPhone in his prepared remarks unless he is confident about Infineon. It appeared to me he was playing it safe, and but also wanted to give the InterDigital investors a clue of what was in the offing. I see this as yet another ratification of my 3G iPhone-Infineon-InterDigital thesis which you can read here.
The company's product marketing strategy also struck the right chord with me. It mentioned that it was in talks with application processor companies. The plan is to bundle its SlimChip solution with powerful application processors for the smart-phone market. This is something that I have been advocating that InterDigital has to do. As I have mentioned here, there is a great synergy with Texas Instruments (NYSE:TXN). It will serve the best interests of both these companies to partner for 3G. This TI+InterDigital bundle (or even a custom-OMAPVox solution) can find itself in Nokia smart-phones.
All in all, it was a good quarter. There were no red flags. On the contrary, I see the company positioning itself to realize maximal value out of its 3G IP and product offerings.
Disclosure: The author was long InterDigital at the time of writing. All thoughts expressed here are those of the author's, and do not necessarily reflect those of either Atheros Communications or TensorComm Inc.