By Brendan Gilmartin
Overview
MasterCard (MA) is slated to report 2Q 2012 earnings before the opening bell on Wednesday, August 1. The actual results are typically released between 8:00 and 8:10 a.m. EST and will follow with a conference call at 9:00 a.m.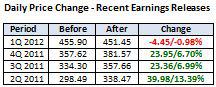 Outliers & Strategy
MasterCard shares are within earshot of the all-time high ($466.98 intraday high on May 1), despite evidence of a weakening U.S. consumer spending backdrop. The high closing price is $457.58 on April 27. Key measures: Earnings Per Share & Revenues.
MasterCard is expected to report earnings of $5.58 per share (range is $5.36 to $5.82) on revenue of $1.88 bln, a Y/Y increase of nearly 13%. (Source: Yahoo! Finance). EPS have topped estimates by an average margin of 8.0% over the previous eight quarters.
Last quarter, MasterCard posted EPS of $5.36, marginally topping the estimate of $5.30, resulting in a slight pullback in the share price, indicating the bar is set pretty high for the credit-card issuer.
On July 13, MasterCard announced it agreed to settle the current U.S. merchant class litigation. As a result, the company will incur an additional $20 million pre-tax charge in its second quarter 2012 financial statements.
MasterCard's closest rival Visa (V) reported on July 25 that 2Q earnings came in at $1.56 on an adjusted basis, ABOVE the Street estimate of $1.45, citing solid global growth in payments volume and transactions outside the U.S.
Recent News
07/16: Deutsche Bank reiterated a Buy rating and a $515 price target on MasterCard, according to a report on Benzinga.com. The firm cited the settlement in the U.S. merchant class litigation suit, which enables MasterCard and Visa to maintain dominant market positions.
07/09: UBS downgraded Visa AND MasterCard from Neutral to Sell according to a report on Barron's Online. The firm cited a weaker global consumer spending backdrop and mostly positive sentiment surrounding both companies.
06/05: MasterCard declared a cash dividend of $0.30 per share payable on August 9, 2012. The Board also approved a new share repurchase program totaling up to $1.5 billion of its Class A common stock.
Technical Review
MasterCard shares are up more than 8% from the July 24 low near $400, an impressive gap upward headed into the 2Q earnings release. Despite the recent surge, however, the shares stalled out right at resistance near $445/$450, implying a strong earnings release may be priced in at these levels. Should earnings blow past consensus estimates, resistance will be at the all-time closing high of $457.58 (May 1 - intraday). Support is at the 50-Day SMA near $420, with downside risk to $410 and the recent low near $400. (Chart courtesy of StockCharts.com)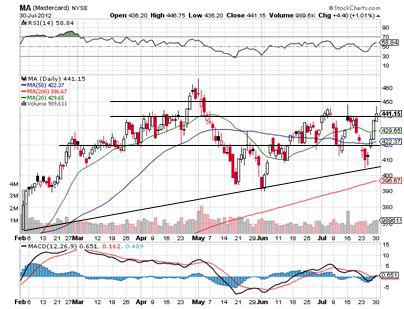 Summary
MasterCard shares have been surging over the past several sessions amid speculation that the Federal Reserve and governing bodies in Europe and China are prepared to undertake efforts to support economic growth. The shares are also rallying after reaching a settlement in a series of lawsuits as part of a broader U.S. merchant class litigation. The market views the decision as positive for Visa and MasterCard - enabling the two to maintain their dominant market position. Given the relatively high expectations, MasterCard needs to deliver earnings toward the high end of Street estimates (range is $5.36 to $5.82) for the shares to make a push back toward the all-time highs established in late April. Other risks include further litigation and antitrust complaints, along with any shock to the global economy, including potential inaction from the world's central banks to support global growth.
Disclosure: I have no positions in any stocks mentioned, and no plans to initiate any positions within the next 72 hours.
Disclaimer: By using this report, you acknowledge that Selerity, Inc. is in no way liable for losses or gains arising out of commentary, analysis, and or data in this report. Your investment decisions and recommendations are made entirely at your discretion. Selerity does not own securities in companies that they write about, is not an investment adviser, and the content contained herein is not an endorsement to buy or sell any securities. No content published as part of this report constitutes a recommendation that any particular investment, security, portfolio of securities, transaction or investment strategy is suitable for any specific person.