OCZ Technology Group, Inc (NASDAQ:OCZ) is a company involved in solid state drive technology and computer components, specializing in high-speed memory technology as an alternative to traditional rotating magnetic hard disk drives. OCZ shares are up 30% on speculation of a buyout by Seagate (NASDAQ:STX). Per finviz.com, the mean analyst recommendation prior to the merger rumor was 2.10 (1 = buy, 5 = sell). Per barchart.com, all the short-term signals indicate buy.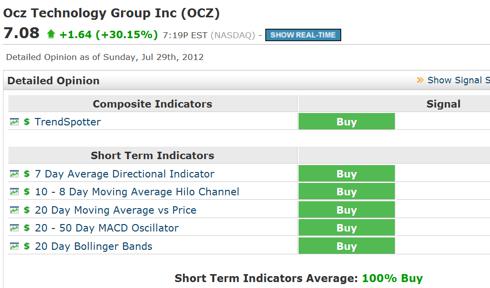 An Aug 8.00 covered call produces a basis of 5.93 and a return of 34% in 20 days or 617% annualized. Buying the Aug 5.00 put for additional downside production still allows a profit of 26%.
The covered call ratio spread is a conservative strategy similar to a collar. The difference is that the long put position is funded by selling further OTM puts, usually for a small net credit or debit. Deploying a covered call ratio spread for OCZ involves also buying one Aug 7.00 put and selling two Aug 6.00 puts for a credit of $0.15. Assuming fills at the mid, selling an Aug 8 call, buying an Aug 7 put and selling two Aug 6 puts produces a profit if called away of 41%. Placing a 6.00/5.00 ratio spread requires a small net debit but still yields a 20 day profit of 29%, although it does not capture a move below 7.00.
The 3-month chart indicates support at about $5.00.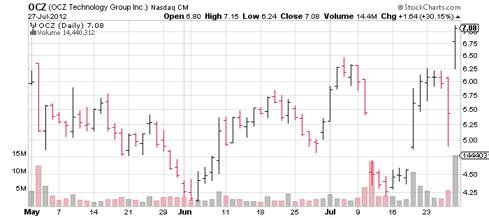 With support at 5.00, the credit from the Aug 6.00 puts of about 0.80 and acceptance of assignment produces a position with a basis of 5.20, a very reasonable entry point for this stock based on future expectations. The long-term outlook is very favorable. Rumor has it that Western Digital (NYSE:WDC) and Micron Technology (NASDAQ:MU) are both interested in OCZ if Seagate is not.
Disclosure: I am long OCZ.