One of the principal reasons for asset allocation is risk management.
Market risk is generally defined as return fluctuation – volatility. That is different than issue risk (the risk of owning a single stock or bond issue), which includes not only volatility, but also the risk of company bankruptcy or default on bonds.
While most investment professionals understand and take the risk reduction aspect of asset allocation for granted, that is not the case for all investment advisory clients. We have been asked on more than one occasion, how we know that to be true, and for some evidence of that truth.
There are probably many ways to respond to that question, one of which is with a practical example with real market data. We have created one such example for this article.
The image below shows the relative weekly return and weekly rate of change of six index investment funds representing six major asset classes, and an arbitrary equal parts asset allocation among those six index funds.
The six indices, asset classes and funds are:
The individual asset classes are all shown in thin black lines, and the equal parts allocation is shown in a bold blue line.
This is not a recommendation for equal parts weighting, just an uncomplicated way to graphically demonstrate the risk reducing and return stabilizing attributes of asset allocation.
The period covers about 80 weeks and does not utilize rebalancing.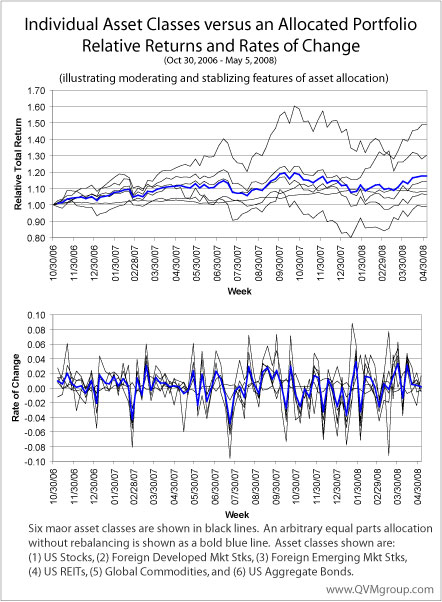 The upper chart clearly shows that the allocated portfolio generates an intermediate return, compared to the separate asset classes. The line is a less volatile (less risky) line than all but one asset class (the bond class – not labeled).
The lower chart shows that the amplitude of the weekly rate of change for the allocated portfolio is lower than the amplitude of the separate asset classes (except for the bond class – not labeled). That chart is an alternative way to show that an allocated portfolio is less risky (less volatile) than most of the separate classes that compose the portfolio.
If you were capable of successfully predicting which class would create the highest return each period, and if you could emotionally handle the higher volatility that the highest return asset class typically generates, then asset allocation is not necessary or attractive. The problem is that few if any people can do that consistently, period after period. That makes asset allocation the prudent thing to do with your money.
Asset allocation is more likely to produce consistently satisfactory results in terms of both return and volatility over the long-term than any other approach you might consider.