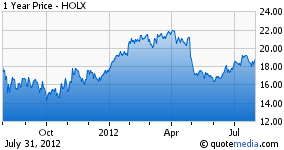 Big deals carry big risks, and Hologic (HOLX) does not have a great record with big deals. Couple that with a difficult hospital spending environment and I can understand why Hologic shares trade at a discount to fair value. That said, investors who want to buy into women's health and diagnostics could certainly do worse than to consider this name.
Fiscal Third Quarter Results In Line With Warning
Given that Hologic had warned the Street about this quarter about three weeks ago, there weren't a lot of surprises in the quarter. Solid diagnostic performance continues to be balanced with underwhelming breast health performance, while management looks to tie up the remaining loose ends with the Gen-Probe deal.
Revenue rose 4% from the year-ago period and were basically flat with the fiscal second quarter. In constant currency terms, revenue rose 5%. Revenue growth was led by nearly 11% growth in diagnostics, fueled by strong international Thin Prep performance. Breast health remains the largest business, but revenue rose just 3% as Dimensions 3D placements continue to disappoint.
Margin performance was solid, though. Gross margin improved a bit both annually and sequentially, while operating income rose 11% from last year.
3D Or Not To Be, There's Still A Question
The biggest uncertainty with Hologic, apart from whether management can handle the Gen-Probe acquisition correctly, revolves around uptake for the company's Dimensions 3D tomosynthesis system. In essence, this is a 3D mammography system that offers improvements in sensitivity and selectively over older 2D systems - meaning that it is an incrementally more accurate identifier of breast cancer.
Right now, though, there are still a lot of issues with adoption - as management discussed on the conference call. The market is not fully convinced that the advantages between 3D and 2D justify the cost, and reimbursement hasn't yet incentivized the change. Worse still, as we've seen from companies like Stryker (SYK) and Varian (VAR), hospitals are still reticent to spend on capital equipment, and Intuitive Surgical's (ISRG) robots appear to be a higher relative priority.
But wait, there's more. Arguably the most frustrating part of this story is that hospital buying delays are eroding Hologic's first-to-market advantage. General Electric (GE) and Siemens (SI) are working on tomo systems and are probably a year or two away from market. Later, Philips (PHG) and Fujifilm are likely to enter the market at some point as well. With 10,000 conventional mammography systems in place, it would seem that there is significant upgrade potential, but competition and a trend towards fewer mammograms could spoil the story.
Mixed Developments On Gen-Probe
As this nearly $4 billion deal wends it way toward completion, there have been some developments for investors to consider. On the negative side, the company doubled up the high yield component of its debt package (from $500 million to $1 billion). Much more positively, the company has signed Gen-Probe's CEO to an agreement that will keep him on board for the next 15 months - a development that should meaningfully reduce the near-term deal risks.
Long term, I still like this deal. Hologic is paying a lot, but it absorbs a potentially serious threat to Hologic's HPV testing franchise and brings in high-quality molecular STD testing capabilities. More to the point, I think this deal seriously ramps up the pressure on Qiagen (QGEN) (due to its inferior position in automation) and could this an interesting race between HOLX/GPRO, Becton Dickinson (BDX) and Roche (OTCQX:RHHBY). By the same token, don't rule out Cepheid (CPHD) - it's not an apples-to-apples comparison with Hologic, but women's health looks to be an increasing priority for this fast-growing diagnostics up-and-comer.
The Bottom Line
It's convenient coincidence that there is a solid overlap in my expected revenue growth and free cash flow margins for Hologic and Gen-Probe. Add in some synergies and Hologic ought to be looking at a decade of solid free cash flow growth potential.
Bizarrely, 30% seems to be a magic number in med-tech today. Hologic, Covidien (COV), St. Jude Medical (STJ), and Stryker all look about 30% or undervalued relative to their fair values. Covidien is definitely the clean growth story of the four today, but Hologic is a solid choice for investors looking for a reasonably-priced play on quality diagnostics growth.
Disclosure: I am long OTCQX:RHHBY.