India produces some of the brightest minds in technology, science and medicine yet has not demonstrated any truly large scale and breakthrough innovations in those fields.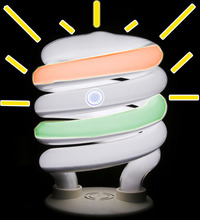 The giant India corporations of Reliance, Tata (NYSE:TTM), Wipro (NYSE:WIT), and Infosys (NASDAQ:INFY) have huge revenues but produce very little innovative intellectual property [IIP]. Yet, India has critical "Country Development" issues that can only be addressed through the immediate and creative application of technology, which in turn requires massive technology innovations in a variety of fields.
Fields requiring immediate and large scale innovation run the gamut from clean energy (energy independence), housing the burgeoning middle class, providing affordable housing for the vast pool of have-nots, elementary, primary and secondary education, health-care, national infrastructure (water, power, transportation) and finally, equality of opportunity. Solutions developed by India will be uniquely Indian, but potentially applicable to the huge swath of global population mired in poverty and living limited lives, with little or no hope.
India can lead the way because it now knows how to develop global solutions that work on a very large scale, especially those that are technology intensive (witness India's response to Y2K). Interestingly, India still is a chaotic, third world country, so it understands the need to adapt First World solutions to the chaotic environment of the Third World. India just needs to put in place the culture, ecosystem and infrastructure needed to release the latent potential of its huge entrepreneurial pool of business people. In turn, India will not only create valuable companies that make shareholders wealthy, but could also pave the way for a more just and economically stable life for other third world countries.
So first, we will explore why India is not successful innovating on a large scale. Subsequently, we will examine two areas of technological innovation India should own and control in order to sustain its growth and accelerate its contribution to the evolution of an economically and environmentally sustainable planet.
Let us address the myth that I have heard repeatedly by pundits in the media or those with a Western centric view. That myth or some variation thereof is that Asian's lack the culture or mindset for true technological innovation. For the purpose of this document, I do not plan to debate the myth head on as there are many examples of Asian innovation. However, I do want to illustrate why an "Innovation Ecosystem" is the principal catalyst for fostering rapid innovation and the translation of these innovations into large scale, successful businesses. In fact, the data suggests the ecosystem is the primary reason for the success of innovation or lack thereof.
For example, Jas Dillon was born in India and came to the United States at the age of 19 to study Electrical Engineering, and subsequently completed a graduate program in business at the University of Southern California. After heading up telecommunications strategy at KPMG, he founded a truly innovative company called BlueLine Online (now CTScape.com), in the heart of Silicon Valley, CA. In fact, BlueLine Online Inc. was pioneering large scale Software as a Solution (SaaS) as it went live in October 1996. It was also the first internet based infrastructure and construction project management solution online. It was real innovation in the industry because previous to Blue Line Online the industry was passing architectural and complex engineering documents around via fax or email or worse, Fed-ex or DHL. If asked today, Jas will tell you that it would have been impossible to create Blue Line Online in India because of the lack of an environment that led to innovation, what I call an "organized innovation ecosystem".
The biggest advantage Western entrepreneurs have over Asian, and specifically Indian entrepreneurs, are that their innovation support systems are mature and systematized. By that I mean if an entrepreneur has a "killer app" and wants to make it a reality, they have access to the resources, support, funding and mentorship to create a solution, build a company around it, structure the appropriate corporate governance, line up the relevant strategic partners and take their product and/or service to market.
Fragments of this ecosystem exist in India, but compared to the US, India's innovation infrastructure lacks the organized components to create a Google, Apple, FaceBook, Microsoft, GE, Microsoft, or even the next generation of MySpace, YouTube or Twitter.
To highlight the innovation gap, let's examine a major indicator of inventiveness – the number of patent applications filed. In 2005 (see Table 1), there were only 14,500 patent applications recorded in India, however, by the end of 2007 that number had reached 35,000 patent filings. Yet over 60% of those were filed by foreigners! In contrast there were 417,508 patent applications in the US in 2005, and a further 456,154 patent applications in 2007.
Interestingly, further diligence revealed that one out of ten US patents in 2006 had an owner or co-owner with an Indian name helping to prove that Indians are exceptionally innovative, given the opportunity in an ecosystem that supports risk taking and innovation.
Table 1: 2005 Patent Statistics by Country [pdf file]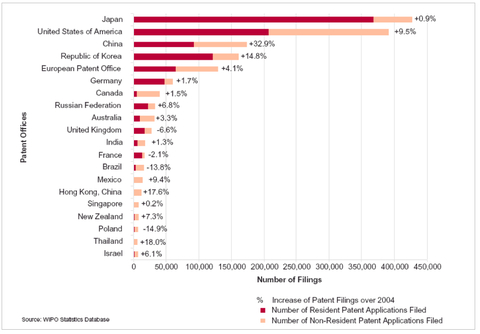 Clearly something is amiss. While there are many reasons for the disparity in the quantity of patent applications filed in the two countries, clearly this is at least one significant indicator of the innovation difference between the two countries. So what are the reasons for the lack of India innovation today?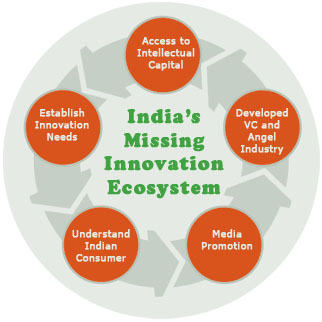 The missing ingredients required to jump-start India's innovation ecosystem are;
Access to intellectual and relational capital. There are plenty of brilliant people in India with world-changing ideas. However, they have no way to act on these ideas because they are all Lone Rangers, with limited or no access to business and mentoring networks, required to take ideas from concept to companies. In other words, I have a great idea but I can't assemble the necessary people with the required skill sets to help me execute it. In fact, talent that existed in-country moved outside of India to more innovative ground in order to realize their visions. Fortunately, this trend is reversing as Non-Resident Indians (NRI's) are moving back to India.
A well developed Angel and Venture Capital industry does not exist in India. Sure, there are the global players with India outposts, but for the most part they are only investing in profitable companies with a well established track record. India's Angel and Venture Capital industry today looks more like Private Equity in the United States.
An active segment of the Press focused on promoting early stage ventures and building Entrepreneurs into Business Celebrities. In the United States there are publications and news channels (print, radio, TV, and online) that specifically target almost every conceivable industry segment, the emerging Stars in that segment, as well as the established movers and shakers in the target segment. Additionally, there are clearly defined process and businesses that work actively to network entrepreneurs into the media and are vested in their success. In contrast, the business press in India is limited and solely focused on promoting the majors. An active "emerging business media segment" could do wonders in elevating entrepreneurship to a higher level and be instrumental in catalyzing the maturation of evolution of the India innovation ecosystems. The key message this media segment would send to the younger Indian generation is that it's OK to take risks, it's desirable to dream big, it fine to fail and try again until you succeed – in other words, using the motto of the British Air Service (the very first Special Forces Group in the world) -- "He Who Dares Wins."
A Comprehensive Understanding of the Indian Consumer and the lack of formal Government support to promote Entrepreneurship and Innovation. There is a significant (if not complete) lack of understanding of consumer trends inside India. The challenge in India is that there are almost 3 different civilizations (and their associated populations, cultures, and needs) coexisting simultaneously in India today. There is the India of the ultra-rich, ultra-mobile and super educated (they are the Indians who impress the World at Davos); there is the India that works in call centers to serve the West, and then there is the India that lives on $2/day. There are massive opportunities within each of these segments but actual market data is lacking. This is where a public/private partnership would be the most interesting. Western Market Research companies and the Indian Government could work hand-in-hand to create a national blueprint and schedule that would accelerate India's transition. This blueprint would also serve as a guidepost for areas of entrepreneurship and innovation. Furthermore, the Indian Government could select specific regions of the Country where they would create Small Business Investment Corporations (SBIC's) – the entities that jump started the US Venture Industry. The SBIC's would be chartered to promote innovation, entrepreneurship and investment in specific, critical national areas, primarily by promoting the growth of small, aggressive and agile technology companies that are targeting the blueprint.
Establishing Compelling Reasons to Innovate: Unfortunately, most Indian companies are not in a hyper-competitive domestic market thus reducing the pressure on them to Innovate or Die. Opening up all the maximum of highest priority sectors of the Indian economy to global competition will force these incumbent players to start innovating aggressively in a variety of ways – products, services, business models, organizational structures, operational execution etc. Internationally, Indian companies are competing and winning using a low pricing model and not with new innovative ideas. As India continues to open its market to foreign competition, the pressure to innovate will increase, and this will only be "good" for accelerating the development of the Indian Innovation Ecosystem. We are already witnessing this in the real estate industry as demand for higher quality buildings is increasing due to foreign developer competition.
Innovation Unleashed --- Key Mission and First Idea
To unleash the power of innovation, to establish an agile, rapidly evolving Innovation Ecosystem, and to accelerate India's innovation engine from nascent to unstoppable India needs to establish an Innovation Platform. This platform would be a synthesis of public/private partnerships, the key Indian institutes of higher learning, and Indian diaspora spread across the planet in positions of power and influence.
This innovation platform would have one mission – "to unleash the creativity and dynamism of the average Indian to solve pressing public sector and private sector challenges, while simultaneously creating valuable, globally competitive private enterprises as the vehicles to deliver and profit from these solutions."
One guaranteed way to ignite the development of this innovation platform would be for the Indian Government to create an I-Prize Innovation Foundation (IPIF), funded with $1 Billion US that would offer outright, unrestricted cash prizes to individuals, institutions, and/or companies providing solutions to critical, time sensitive problems required to accelerate India's continued growth. The I-Prize would target specific domain areas e.g. energy, transportation, communications, education, ethics, health care, rural development, job creation etc. The prize would be open to Indians, Indian Companies or global companies willing to operate in India.
The IPIF would start at the federal level but would rapidly establish offshoots at the state level, similar (but different) to the US SBIC program. The IPIF could be complemented with additional low interest business loans, tax incentives, or subsidies to encourage large scale commercialization of winning solutions. At the very least the IPIF will provide a tangible reward for solving a particular problem, with protection to the Innovators in order to allow them to succeed in commercializing their innovations. This could potentially jump start the creation and formalization the innovation ecosystem, and start attracting a constant flow of people into the entrepreneurial world as they would be able to see a more defined path to see profits, recognition, and career advancement.
Imagine a gifted inventor receiving a 40 crores (US $10 million) reward for inventing a solar powered mobile phone or even a smaller 1 crore (US $250,000) prize for inventing a very safe, zero emission, 3-4 passenger vehicle. The I Prizes would invigorate inventors in waiting and provide them a clear path to become wealthy and widely recognized while helping to solve challenges critical to India's continued growth. The possibilities are endless.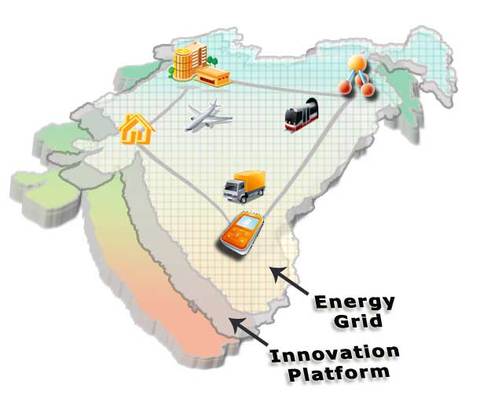 Fundamental Innovations Required for Sustaining and Accelerating Growth
Amongst all the opportunities in India, I can identify six areas where the Indian Government urgently needs quantum leaps in capability in order to insure stability and long term economic growth. The Indian Government or leading Indian companies should establish IPRIZES or other incentives for fundamental innovations in each of these areas and unleash the creativity and entrepreneurial spirit of Indians. Specific innovation areas are:
Clean, Renewable and Reliable Energy Sources and a National Energy Grid that insures a continuous, expanding, and uninterrupted supply of energy to meet India's soaring energy requirements. This should be the highest priority as without clean, secure and plentiful power India will never be able to pull the majority of its population into the 21st century. The Indian Government needs to immediately engage it's huge pool of intellectual talent in the experimentation, development and trials of multiple forms of renewable energy, with the objective of finding one that is clean and eliminates the reliance on fossil fuels. Think it can't be done, just look at Iceland – the first truly (almost 100%) hydrogen and thermal energy economy, where public/private partnerships are starting to produce amazing results.

Communications, Transportation and Logistics: Once you have established a reliable energy grid you need to insure real-time fault tolerant communications, insure the ability to physically (and reliably) connect the far reaches of the vast Indian sub-continent country via a working road, rail and air transportation system and associated transportation hubs, and insure the development/implementation of a logistics management system that insures the smooth flow of people, goods and service from any point to any point within the India and to points outside.

As an example the innovation in communications requires a platform that is ubiquitous, high bandwidth, relatively cheap, and impervious to the vicious Indian weather patterns. This logically leads us to an ultra high speed wireless network created by the government in partnership with mobile operators. At the end of 2007, India had 233 million mobile phone subscribers, an incredible 56% increase year over year. If your neighborhood experienced 56% growth last year and the government didn't improve the infrastructure to allow new roads, retail establishments, and businesses you'd probably vote them out of office. However, if the government in cooperation with Indian mobile companies produced an ultra high speed cellular network, innovative Indian entrepreneurs would create entirely new forms of mobile video on demand, wireless education programs, gaming, mobile commerce, and location based applications that can immediately be leveraged by 20% of India's population. This market alone is larger than the US mobile network.

Unfortunately (to date) it is not evident that there is an Indian mobile industry group pushing for a subsidized high speed mobile phone information highway that allows new innovative mobile businesses to be built on top of this infrastructure? As an analogy South Korea implemented a high speed broadband wireless telecommunications network as a foundation to build a "knowledge-based society" in the 1990's. Since then there have been numerous businesses built on top of the network that never would have existed without the foundation. South Koreans' became innovative because there was a subsidized high speed wireless network to build and profit on.

Think it can't be monetized successfully? There are already free mobile solutions subsidized by advertising that are working in the UK. National or local businesses, merchants and retailers could subsidize mobile phone use while giving India's poor the opportunity to participate in the India growth story. Better, you now allow the poor to create innovative mobile business opportunities that target the poor - a group that is largely being ignored today. What will power this phenomenon is not just the subsidy, but the ability to innovate and improve in ways that generate profits, knowledge, or an improved brand or company.

Elementary, Primary and Secondary Education: Long term national security, economic opportunity, and economic prosperity requires the development of a world class education system with a dedicated teacher core, focused on providing India's masses with strong grounding in education fundamentals. It also requires the development of a national network of physical education infrastructure, standardized curriculum, and measurement systems. Getting primary education right is critical for jump starting economic advancement --- the AESAN countries have done an incredible job here, thus changing the lives of entire populations for the better. India should create an IPRIZE here and solicit input from the huge pool of talented Indian educators, professionals and private enterprises as to what it would take to create a world-class, fair and equitable education system. The Government could play the role of insuring or subsidizing physical infrastructure and educational standards while leaving the actual teaching to the private sector.

Affordable Housing: As I stated in my previous article on the global credit crisis, India is in a short-term real estate cyclical downturn in some areas (mainly Tier I cities). Nevertheless, there is clearly a need for low cost, high quality housing that is resistant to any real estate downturn now or in the next decade. I recognize there are some current attempts to address this market but it's a small pebble in a large ocean of opportunity. India needs a set of innovative technology housing solutions combined with a government subsidized platform of tax incentives, innovative financing, low cost land, and guaranteed utility (gas, electric, water, access roads, etc.) infrastructure. In principal, a high density Special Residential Zone [SRZ] with clear rules and goals for all participants. Once that platform is guaranteed by the local or national government, innovative developers will create low cost housing solutions because they will be assured of a reasonable profit.

Iqbal Jumabhoy, who by the way was born in India and now lives in Singapore, is constantly pushing our team to develop green technology solutions to incorporate into our commercial buildings. Iqbal is a firm believer in developing innovative solutions to complex problems and is resolute in his quest to develop a better India. Due to Iqbal's guidance and a market need, we've managed to budget in innovative green technology solutions without affecting the cost of construction. If real estate developers were able to see a reasonable profit by developing low cost housing on top of a government subsidized platform, I can assure you the innovations in this area would render even Steve Jobs speechless. Of course the quality of construction will need to be monitored along with some necessary training, but the opportunity in this area for real estate developers is too rewarding weighed against any inconvenience of maintaining quality and attending training courses.
Why India Needs to Innovate
India needs to quickly develop its innovation ecosystem in order to maintain growth projections. Threats to India's outsourcing business are on the horizon. New emerging lower labor cost countries show signs of appearing and may cut into India's lucrative outsourcing business. Combined with a weakening dollar and Indian salary inflation, the cost savings to Western countries grows less every day. Fortunately, the use of English in India is allowing India to maintain its outsourcing lead and growth, but eventually this advantage will no longer be enough to sustain India's outsourcing lead.
We know that many Indians living outside of India are extremely innovative and like Jas Dhillon have developed innovative solutions because the US and Europe provide an innovative ecosystem. We also know that some US companies like Lockheed Martin are utilizing young Indian innovators to create new products. These foreign sponsored programs have shown early success and help prove that if an innovative platform opportunity exists, Indians rise to the challenge.
In the end, India can't keep competing on low cost labor alone and needs to develop a new innovation strategy. Innovation capability must be slowly ingrained into the DNA of the society while the government provides a level playing field to promote innovation. India can start small, build a few platforms with well defined goals and rules, and then let Indian creativity burst into producing the next mobile banking application, energy neutral housing, or solar powered mobile phone. In my next article I'll discuss how India's social graph can be leveraged to create new products and services faster. I believe as NRI's return to India, they will demand and implement an ecosystem that encourages innovation. Yet, India must give them more reasons to return.
Do you know of any innovative India companies? Please comment below and share them with the readers.