OAO Rosneft Oil Company (OTCPK:RNFTF), the Kremlin's main national oil company [NOC], is the leader of Russia's petroleum industry, and ranks among the world's top publicly traded oil and gas companies. The company is primarily engaged in exploration and production of hydrocarbons, production of petroleum products and petrochemicals. Rosneft has been included in the Russian government's list of strategic enterprises and organizations. The state holds 75.16% in the company through OJSC Rosneftegaz, while approximately 15% of shares are in free-float.
Russia holds the world's largest natural gas reserves, the second largest coal reserves, and the eighth largest crude oil reserves based on present proven reserves levels. Russia surpassed Saudi Arabia as the largest producer of crude oil in 2009. Russia is the second-largest producer of natural gas.
Under Putin, the Kremlin has tightened its grip on the Russian oil and gas sector, through nationalizations in the petroleum sector and reforms in the constitution related to foreign ownership in fossil fuel development. Government presence is felt on the boards of all the Russian national oil companies. The other Russian NOCs include OAO Gazprom (OTCPK:OGZPY), Gazprom Neft (OTCQX:GZPFY), and OAO Transneft.
The government also has close relations with and considerate influence in the operations of non-government owned Russian oil companies OAO Lukoil (OTCPK:LUKOY), TNK-BP, and Surgut-Neftegas (OTCPK:SGTZY).
In the mid-2000s Russia nationalised its biggest private oil firm, Yukos, and put its main owner, Mikhail Khodorkovsky, behind bars on charges of fraud and tax evasion. The move sparked predictions that the world's top oil producer would lose its dominance and Western investors would flee. Rosneft became Russia's leading NOC in terms of extraction and refining after purchasing the majority of Yukos' assets at state-run auctions. Rosneft has been growing production by double digits, allowing Russia to hold its ranking and pump more than 10 million barrels per day [bpd].
Click to enlarge.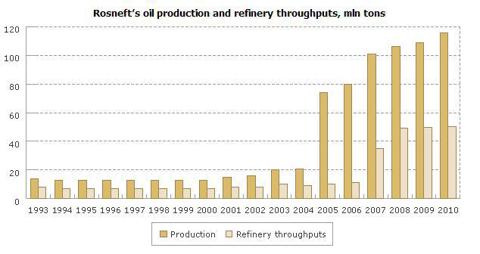 Rosneft is widely engaged in exploration and production across all regions of Russia: Western Siberia, Southern and Central Russia, Timan-Pechora, Eastern Siberia and the Far East. In addition, Rosneft participates in several exploration projects in Kazakhstan and Algeria. Rosneft's seven major refineries are located throughout the country, from the Black Sea coast to the Far East, and the company's retail network covers 41 regions of the Russian Federation. Rosneft also owns 50% of Ruhr Oel GmbH, which holds stakes in four refineries in Germany.
Unlike many of its competitors, Rosneft has a vast and high-quality reserve base, with total proved hydrocarbon reserves of 22.8 billion barrels of oil equivalent [BOE], among the largest for a publicly traded oil and gas company, and fast-approaching Exxon Mobil's (NYSE:XOM) reserves level. Exxon has total proved reserves of 24.9 BOE as of Q1 2012 with a proved reserve-to-production ratio [RPR] of 15 years. Rosneft's RPR stands at 25 years. Rosneft operates mainly conventional reserves, so the company is well-placed for efficient increase in production. In addition, Rosneft currently has access to 12.5 bilion BOE of probable reserves and to 10.5 billion BOE of possible reserves at this time, which will become the main source of proved reserves.
In the 1970s, international oil companies [IOCs] held about 85% of the world's known hydrocarbon reserves. That has fallen to less than 10%. To regain a foothold, IOCs must now be able to offer the ability to manage complex large scale projects and cutting-edge technology.
On January 15, 2011 Rosneft and British Petroleum (NYSE:BP) announced a deal to develop the East-Prinivozemelksky [EPNZ] field on the Russian Artic shelf. As part of the deal Rosneft was to receive 5% of BP's shares and BP would get approximately 9.5% of Rosneft's shares in exchange. The BP-Rosneft deal was blocked in court by the Alfa Access Renova consortium [AAR], BP's Russian partners in the TNK-BP joint venture, in relation to breach of contractual arrangements between BP and AAR.
On August 30, 2011 Rosneft announced that instead of BP the partner for EPNZ-1, EPNZ-2 and EPNZ-3 in the Kara Sea, with recoverable hydrocarbon reserves estimated at 85! billion BOE, would become Exxon.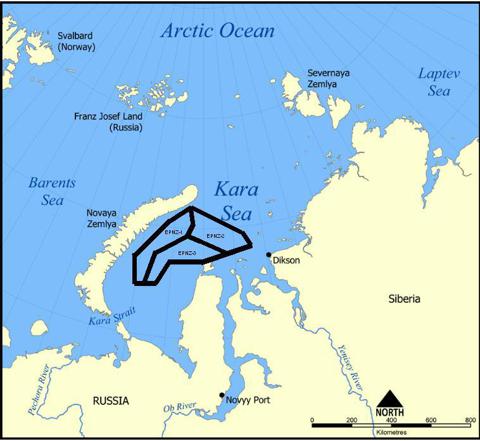 On April 18, 2012 Rosneft and Exxon unveiled the details of their offshore exploration partnership. If the reserve base is confirmed, total investments could exceed $500 billion in the coming decades to develop these vast energy reserves in the Arctic and Black Sea. Rosneft has a 66.6% stake in the JV, with Exxon owning 33.33% and covering the initial exploration costs. A final investment decision on the projects in the Kara Sea, in the centre of Russia's north coast, is expected in 2016-17. Three-dimensional seismic surveys of 20 locations within the Tuapse block of the Black Sea have found estimated recoverable reserves of 9 billion BOE.
Exxon's CEO, Rex Tillerson, said that the Russian government's commitment to reforming offshore energy taxation by abolishing export duty and slashing mineral extraction tax, and to keep taxation stable for 15 years, had been crucial to unlocking the deal, as it showed a clear commitment to see these areas developed.
Under the deal, Rosneft will get also 30% minority stakes in Exxon-led projects to develop hard-to-recover reserves in West Texas, the Canadian province of Alberta and the U.S. Gulf of Mexico, and further international projects could follow. The partners will also seek to transfer the know-how they gain in North America to Western Siberia, where Rosneft controls an estimated 1.7 billion tons in reserves of 'tight' oil, trapped in non-porous rock.
Next to the pact with Exxon, Rosneft signed deals with Italy's Eni (NYSE:E) and Norway's Statoil (NYSE:STO) in recent months to jointly develop offshore reserves in Russia's Barents Sea, Black Sea, and the Sea of Okhotsk. The deal with Eni grants the Italian firm a 33.33% stake in a joint venture for developing two big blocks in the Barents Sea and the Val Shatsky field in the Black Sea. Combined, the fields have estimated recoverable reserves of 36bn BOE.
Under the agreement with Statoil, the partners will set up joint ventures, with Statoil holding 33.33% in each. The companies will jointly explore the Perseevsky block in the Russian part of the Barents Sea, and the Kashevarovsky, Lisyansky and Magadan-1 blocks, north of Sakhalin Island in the Sea of Okhotsk. The same area where Shell's (NYSE:RDS.A) (NYSE:RDS.B) Sakhalin-2 project is located. The Sakhalin Energy consortium, consisting of Shell, Gazprom, Marathon Oil (NYSE:MRO), McDermott Int (NYSE:MDR), and Mitsui & Co (OTCPK:MITSY), built the first LNG plant ever constructed in Russia on Sakhalin Island, which went operational in March 2009.
These larger deals give clear insight into why Rosneft is expecting to increase output by 4% a year to 3.7 million bpd of oil equivalent in 2020 from 2.7 million barrels per day in 2012. The company also plans to quadruple gas production to 45-55 billion cubic meters by 2020, according to company presentations from earlier this year. Those figures include associated gas, or the gas produced alongside oil.
On May 2, 2012 Rosneft published its consolidated IFRS financial statements for Q1 2012. Revenues were up 27.2% compared to the same quarter a year earlier, net profit grew 55.6% compared to Q4 2011, EBITDA increased 11.5% compared to the previous quarter, hydrocarbon output was up 2.7% year-on-year, and refinery throughput increased 25% year-on-year. Rosneft will publish its Q2 2012 result tomorrow, August 1, 2012.

One week ago, on July 24, 2012, Rosneft announced that in connection with BP's recent statements regarding its intention to pursue a potential sale of its 50% stake in TNK-BP, Rosneft had informed BP of its interest in a potential acquisition of BP's participation in Russia's third-largest oil producer:
As a result, the parties agreed to commence negotiations on this matter and signed a non-disclosure agreement. Rosneft has been informed that the other TNK-BP shareholders have also indicated their interest in acquiring part or all of BP's participation and that BP has an obligation under the shareholders' agreement to negotiate in good faith with the other shareholders. Rosneft believes that an acquisition of BP's interest in TNK-BP would be in the best interest of both Rosneft's and BP's shareholders and would lead to further development of TNK-BP.
A month earlier, Igor Sechin, Rosneft's current CEO after serving as deputy prime minister and oil tsar during Putin's premiership, said the company would pay extra dividends for 2011 in addition to the earlier declared R3.45 ($0.11) per share, to bring the payout ratio to 25% of net profit. The payout level of 25% is now viewed as a long-term target after Putin had 'asked' Sechin if it was possible to raise the payout from the planned 11.5 % payout. Rosneft also completed its $2 billion share buyback recently.
Based on the released 2011 net income of R316 billion - $10.8 billion - the full-year dividend would be R8.2 per share, +R4.8. However Sechin said 2011 dividend will total R7.53 per share, +R4.1 per share, probably due to adjustments for financial income. Total dividend yield will now become approximately 4% based on current prices.
It's clear that Putin and Sechin would like Rosneft to officially join the ranks of global oil and gas majors, as they openly compare the company with Exxon, and that requires an attractive dividend policy that's at least on par with, if not better than, its U.S. counterparts. Exxon's annual dividend yield is now 2.3%, while Chevron's (NYSE:CVX) 11% increase brought its annual yield to 3% at current prices.
"Rosneft Oil Company OJSC GDR" currently trades on the London market [LSE] with a P/E of 3.9, P/B of 0.9, P/CF of 3.7, at the lower end of its 1Y and 3Y trading range and valued well below the industry average. The recent deal with Exxon has given Rosneft what it cherished most, a way to break out of Russia and become a truly global player.
Many see a wave of consolidations to hit the Russian oil sector as the state sets its sights on the difficult offshore areas needed to replace the dwindling Siberian output. Russia stands on the threshold of a mergers-and-acquisitions era similar to one that transformed the global oil industry 15 years ago. Russia, welcome to the new land of opportunity!
Disclosure: I am long OTCPK:RNFTF, BP.