The April announcement that Japanese drug maker Takeda Pharmaceutical would buy Massachusetts-based Millennium Pharmaceuticals (MLNM) (which sells the anticancer injection Velcade) for $8.8 billion sent Millennium shares markedly higher.
The acquisition also lifted expectations for a run of biotech M&A, boosting much of the sector.
Such a run could be especially good news for the small- and medium-cap stocks that make up nearly 80% of the PowerShares Dynamic Biotech & Genome ETF (NYSE:PBE).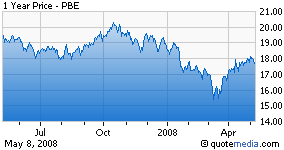 PBE posted a one-month gain of 3.6% that beat the S&P 500 (through May 5), and the ETF outperformed at least 71% of health care ETFs for one-month, three-month, year-to-date and 12-month returns, a sign that beaten-down biotech stocks could be turning the corner in troubled economic times. The ETF rose eight spots on our PowerShares Momentum Tracker Sector Momentum Table in four weeks.
The acquisition of now top-holding Millennium may have keyed the positive bump. Takeda will pay a 53% premium for Millennium, which saw shares jump 65.8% year to date and 121.8% in 12 months (through May 5).
In the past 12 months, according to forbes.com, $80 billion was spent acquiring health care technology companies, 60% of it by foreign companies, as measured by FactSet MergerStat. Sanford Bernstein analyst Geoffrey Porges told SmartMoney the deal shows that "buyers are willing to step up and take advantage of temporary market dislocations to secure assets," with expected premiums of 60% to 70%.
Of course, this isn't the first time a run on biotechs has been predicted, even with the newer catalyst of foreign suitors buying up U.S. firms, thanks to the weak dollar and sagging stock prices for many biotechs. In 2007, the S&P Biotech Index fell 2.6%, compared to a 3.6% gain for the S&P 1500.
Some analysts expected a run last spring, in fact, after AstraZeneca (NYSE:AZN) bought Medimmune (a PBE top 10 holding prior to the deal) for $15.6 billion. But the wave hasn't come, even though Big Pharma is sitting on a pile of cash and struggling with weak pipelines.
S&P has a favorable long-term outlook for M&A, with pharmaceutical firms and larger biotechs seeking smaller companies to make up for slowing pipelines and expiring patents. Indeed, PBE would likely benefit from such a scenario.
Bulls also see the industry as ripe with bargains, especially among smaller-company stocks, which have lagged behind their larger brethren. PBE does count biotech giant Genentech (DNA), with its $71.6 billion market cap, and Genzyme (GENZ) ($18.8 billion) among its top ten, but the fund's average market cap is just $3.2 billion, compared to $13.3 billion for PowerShares Dynamic Pharmaceuticals (NYSE:PJP), the only health care fund currently ranked above PBE in our PowerShares Momentum Tracker rankings.
The Wall Street Journal reports that according to Ned Davis Research, a basket of big-cap biotech stocks gained 18% in the 12 months ended April 10. PBE lost 7.6% over the same period. But Genentech and Genzyme, stung by a series of regulatory issues concerning key drugs, have seen shares fall 15% and 7.6%, respectively, in a month (through May 5).
Whether smaller biotechs truly step to the fore, and whether a wave of M&A can propel them, it's important to note that biotech is a notoriously volatile and unpredictable industry.
Many of these firms are relatively young and untested. Some have yet to show a profit, and many rely on a single product, which itself is dependent upon regulatory uncertainties and what S&P calls a "conservative and overwhelmed" FDA. Only 16 drugs and two biologics gained FDA approval in 2007, the lowest number since 1983 according to portfolio.com.
While PBE, with a selection of 30 stocks and, aside from the rapidly rising Millennium, no stock accounting for more than 5.3% of holdings, spreads that risk across the portfolio, it remains a potentially volatile fund in a volatile industry.
The PowerShares Dynamic indexing system, which tries to identify stocks on the rise, reshuffled PBE's top holdings in March. Five of the fund's top 10 holdings from six months prior were removed from the portfolio altogether, so there is a lot of turnover here at times.
PBE, born in June 2005, has a relatively brief history, too short to nail down just how risky and volatile the fund will be. Still, its track record suggests that the fund may be a worthy vehicle for investing in this very narrow segment of the health care market.
That said, investors should consider that biotech stocks lost half their value early in this decade, and that PBE has posted negative returns in five of the last seven quarters. The fund should be used as a niche vehicle, as a targeted bet on the potential growth of the biotech industry, by investors with the stomach for volatility.