If you own Facebook (FB) stock, be prepared for many more sleepless nights. Over the next two quarters, over 1.7 billion shares of Facebook stock will become freely tradable as several lock-ups expire. This equates to an eye-popping 250% increase in the company's float and will put substantial selling pressure on the stock.
Sadly, many people didn't realize that such a massive avalanche of stock would be dumped on the market. Part of the problem is that normal lock-up expirations are only a modest and short-term negative for a stock. However, Facebook and other recent high-flying companies such as Groupon (GRPN) and Zynga (ZNGA) seemingly issued shares indiscriminately during their time under VC control, creating mind-numbingly large share counts. Management teams were eager to hand out stock to attract talented developers and VC's were happy to push of the day-of-reckoning until after they cashed out in the IPO.
Here's a graphic that puts Facebook's upcoming "Lock-Up Armageddon" in perspective: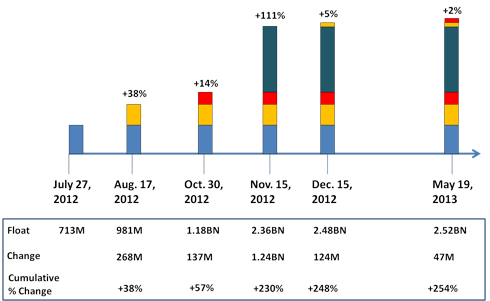 Another way to frame the amount of shares becoming tradable, let's take a look at Google (GOOG). The company has a total share count of 327 million shares and 261 million floating. At the end of 2012, Facebook will have 2.7 billion shares outstanding and 2.5 billion floating. (We used Yahoo! Finance for the Google data and the Facebook S-1 for the Facebook data). Therefore, Facebook has approximately 10x the shares tradable in the stock market than Google. This dynamic certainly calls into question Facebook's valuation as there is little scarcity value for owning the company.
Google trades at 13x forward EPS while Facebook trades at 37x forward EPS. Does Facebook deserve to trade at such a premium? We don't think so, especially since you consider that Facebook is struggling to figure out how to monetize the fastest growing segment of their business - mobile.
While it's hard to estimate the precise impact of the lock-up expiration on a stock price, let's look to recent examples for guidance. This first chart is for Groupon and the second is Zynga, both companies with recent IPOs and massive lock-up expirations.
Groupon Stock Chart: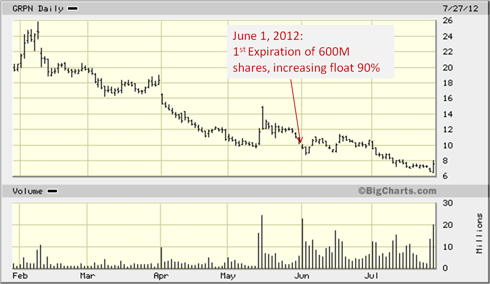 Zynga Stock Chart: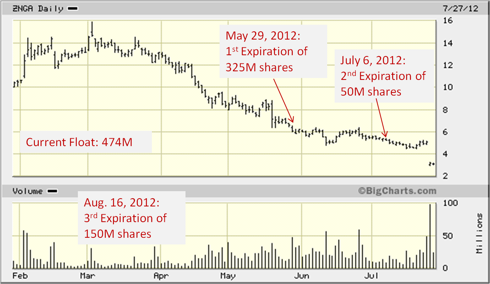 The supply of stock entering the market will equate to a falling a stock price, all else equal. In the terms of Facebook, since the float will more than double over the next 6 months, the is a possibility for the stock to fall substantially over this period.
Now that the IPO has failed and business performance is lackluster, shareholders are realizing that their ability to sell to a "greater fool" has quickly passed and people are now staring at "Lock-Up Armageddon" with disbelief.
Another reason the nightmare will linger is that every single investor that has purchased the stock post-IPO is losing money on their investment. This means that investors will be eager to sell into any rally, placing additional selling pressure on the stock.
The risk to our thesis is that Facebook discovers the right approach to mobile and restrains operating expenses. This combination would restore faith on Wall Street and the stock's multiple would expand.
Overall, we are staying away from Facebook until the avalanche of stock is absorbed into the market. If there is any meaningfully rally over the next few weeks we would be looking to short the stock. We think a fair valuation is $18.00, or 30x our 2013 EPS of $0.60. This implies about 24% downside.
Disclosure: I have no positions in any stocks mentioned, and no plans to initiate any positions within the next 72 hours.