Oil prices have bounced nicely since recent lows. Natural gas prices are also behaving better now that some majors like Chesapeake Energy (NYSE:CHK) have curtailed some natural gas drilling and NG is back above $3 per mmbtu. Given these trends, it might be time to pick up some speculative small cap energy plays here that have had a tough year so far in 2012. One speculative name aggressive investors should consider is Magnum Hunter.
"Magnum Hunter Resources Corporation (MHR) is an independent oil and gas company, engages in the acquisition, exploration, exploitation, development, and production of crude oil, natural gas, and natural gas liquids primarily in West Virginia, Ohio, Texas, Kentucky, and North Dakota, as well as in Saskatchewan, Canada." (Business description from Yahoo Finance)
7 reasons MHR is a solid speculative play at under $4 a share:
The 13 analysts that cover the stock have a median price target of $7 on the shares, 80% above the current stock price.
Earnings are going in the right direction. The company lost 19 cents a share in FY2011 and analysts expect the company to narrow the loss to 9 cents in FY2012, before booking a profit of 24 cents a share in FY2013.
Revenues are exploding. The company is expected to have an over 140% rise in revenues in FY2012 and over 50% growth in FY2013.
Although the company is booking minor net income losses, it has been operating cash flow positive each of the last four quarters.
The company has successfully moved its production to 50% oil and 50% gas over the last few quarters after being much more tilted to natural gas previously. Production should continue to move towards liquids in the coming quarters given its capital drilling budget. 60% of the company's reserves are oils and liquids as well.
The company has grown proven reserves at better than a 70% annual rate over the past four years.
The stock looks like it is going through a bottoming process over the past few months and the stock was selling for roughly double its current price earlier in the year (see chart).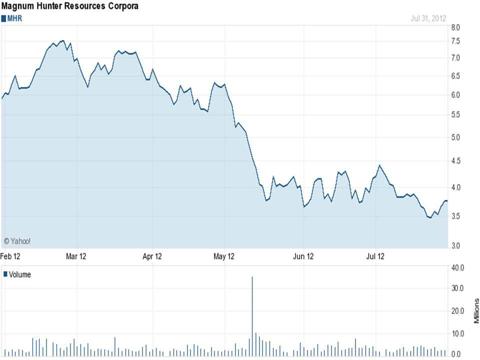 Disclosure: I have no positions in any stocks mentioned, but may initiate a long position in MHR over the next 72 hours.