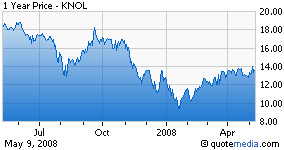 Knology (NASDAQ:KNOL) is set to report earnings on Monday, May 12th prior to the market open. Knol is a leading provider of interactive communications and entertainment services in the Southeast.
Knology is expected to lose .08 cents per share for its 1st quarter. We expect KNOL to announce earnings that will lift investors' and analysts' expectations.
Although the company has missed its estimates 4 quarters in a row, management believes they have a "shot" at profitability in 2008. Currently analysts' expectations do not reflect the company moving into the black.
Despite its lackluster quarterly reports, KNOL's shares have a history of rallying in the weeks following its quarterly checkup. Last time out, KNOL disappointed and missed expectations by .04 cents, but still managed to rally nearly 20% within 25 trading days.
We believe Knology shares are appropriate for aggressive investors. If KNOL were to reach the breakeven or better threshold in this quarter or offer guidance of certain profitability in the next quarter or two, Knology's shares could move into the $17-18 dollar range within 3 to 6 months.
Disclosure: none