A sustained monetary overhang in the United States is likely to create bubbles in various asset classes globally. This article discusses the concept of monetary overhang, its implications on the economy and asset classes and the investment strategy in a prolonged period of monetary overhang.
MZM is a good measure of the liquid money supply in an economy. It is particularly useful as it represents the money readily available in the economy for spending and consumption. I start off with the explanation of MZM as it leads to the primary discussion on monetary overhang.
The chart below gives the MZM as a percent of GDP from 1981 to the second quarter of 2012.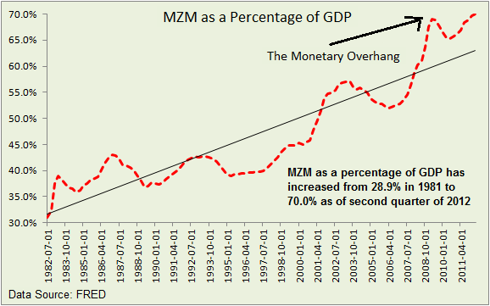 MZM as percent of GDP has increased from 28.9% in 1981 to an all time high of 70% in the second quarter of 2012. The MZM as a percentage of GDP has been significantly above its long-term trend-line after the financial crisis leading to a long period of monetary overhang.
With the fed fund rates expected to remain at near zero levels at least until 2014, the monetary overhang will sustain for a longer period. Sluggish economic growth will lead to more quantitative easing and further contribute to an increase in MZM.
The positive impact of the excess liquidity on GDP growth is a debatable point. In all likelihood, the monetary overhang will not positively impact GDP growth.
There is some evidence of this point if we look at the GDP growth and MZM as a percentage of GDP in the same chart.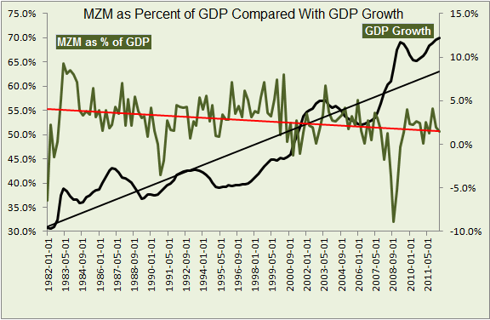 MZM as a percentage of GDP has been surging in the recent past and is way above its long-term trend-line. During the same period, GDP growth has been muted and struggles to remain above its long-term trend-line. This trend can be observed clearly from the year 2000 and not just in the current crisis.
Going forward, I expect that GDP growth will continue to be sluggish with MZM remaining robust and increasing further.
Since MZM represents the money readily available in the economy for spending and consumption, it would be interesting to analyze the flow of this money if it does not get channelized towards spending and consumption (which can boost GDP growth).
I am not very optimistic about spending and consumption growth as the U.S. consumers remain overleveraged and the jobs market remains weak (with record high duration of unemployment). Both these factors will not encourage consumers to spend as freely as they did during the housing bubble.
At the same time, banks have been tightening lending standards and liquidity might not be as easily available to consumers as it was before the crisis. The important point to mention here is that banks and financial institutions have been hoarding cash or putting the cash to use in trading various asset classes. Companies have also been building on cash in these times of uncertainty.
In the discussion below, I will try to point out certain asset classes where the excess liquidity will flow in the medium to long-term. Needless to say, investment in these asset classes will generate robust positive returns (when adjusted for inflation) for investors.
Gold or Treasury Bonds -
There has been a continued debate on gold or Treasury bonds being in a bubble. The current bull-run in Treasury bonds has lasted nearly 30 years while the bull-run in gold has been 12 years old. I believe that the Treasuries are near the end of the bull market and the Treasuries trade is already overcrowded.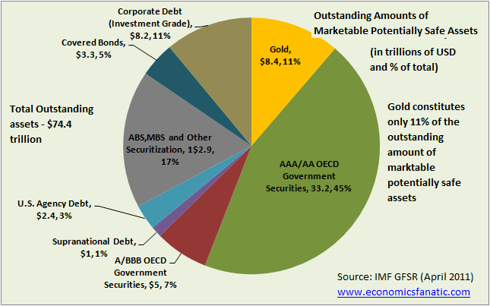 The fact that 45% of the outstanding amount of marketable potentially safe assets is invested in AAA/AA OECD government securities is an indication of the overcrowded government bonds trade. Compared to this, only 11% of the outstanding amount of marketable potentially safe assets is invested in gold.
I would therefore look to invest in gold than Treasuries for long-term and wait for the best part of the rally in gold. Physical gold is always a better investment option. However, investors can also invest in gold through the SPDR Gold Trust ETF (NYSEARCA:GLD).
Real Estate in United States or in Asia -
In one of my earlier articles I had discussed real estate investment in the U.S. as an attractive option in some regions due to the attractive rental yields.
Besides this, I remain bullish on real estate investment in some Asian countries (including India and China). The rapid level of urbanization will continue to create new investment opportunities for investors and I see significant excess liquidity flowing into real estate in Asian and other emerging markets.
The iShares FTSE EPRA/NAREIT Asia Index Fund (NASDAQ:IFAS) is one option to consider exposure to real estate in Asia. The fund has an expense ratio of 0.48%. As of July 2012, 54.63% of the fund was invested in real estate holdings and development, 22.88% in retail REITs and 12.07% in industrial and office REITs.
Investment in Industrial Commodities and Oil -
Another important characteristic of the current investment environment is swift movement of liquidity from one asset class to another. In other words, the period of transition from oversold to overbought conditions will be relatively smaller.
I mention this point as I expect commodities to be pretty volatile in the current investment environment. At the same time, I do believe that meaningful amount of excess liquidity in the system will flow into some commodities and oil. I am particularly bullish on crude oil and copper in the industrial commodities section for medium to long-term.
I did discuss the reasons for being bullish on crude in my earlier article and the monetary overhang is one of the important reasons. As discussed in the same article, I personally would prefer to be positioned in crude through quality companies in the oil exploration and production business like BP Plc (NYSE:BP), Total SA (NYSE:TOT) and Eni SpA (NYSE:E).
From a fundamental perspective and demand-supply scenario, copper looks very interesting and will attract investments in the foreseeable future. I am not just talking about investment in copper as a commodity but also investments flowing into copper mining companies.
An average single family home uses 440 pounds of copper. With 500 million Chinese and 540 million Indians expected to move to cities and towns over the next 2-3 decades, the demand for copper will be significant.
The iPath Dow Jones UBS Copper Tota (NYSEARCA:JJC) can be considered for copper investment. The ETF seeks results that correspond generally to the price and yield performance, before fees and expenses, of the Dow Jones-UBS Copper Total Return Sub-Index. The index is composed of Copper High Grade futures contract traded on the New York Commodities Exchange.
Freeport-McMoRan Copper & Gold Inc. (NYSE:FCX) is also a good option to consider exposure to copper. FCX is primarily involved in copper, gold and molybdenum mining. FCX is also the world's largest publicly traded copper company. Among the Company's assets is the Grasberg mining complex in Indonesia, the world's largest copper and gold mine in terms of recoverable reserves. FCX does look attractive with a TTM PE of 10.05 and a healthy dividend yield of 3.7%.
Farmland Investment -
A significant amount of money is flowing into farmland and is expected to flow into farmland investment in the long-term. The rising population, uncertain weather conditions, water scarcity and low global food inventory are some of the biggest positive triggers for farmland investing.
Investors can consider direct purchase of farmland as one option. Other options include investing in farmland or agriculture related stocks and ETFs.
A relatively risky, but interesting option for investors can be Adecoagro S.A. (NYSE:AGRO). As of December 31, 2011, AGRO owned a total of 293,423 hectares of land, consisting of 23 farms in Argentina, 13 farms in Brazil and 1 farm in Uruguay. The company primarily engages in planting, harvesting, and selling grains, oilseeds, rice, wheat, corn, soybeans, cotton, and sunflowers to grain traders.
The PowerShares DB Commodity Index Tracking (NYSEARCA:DBC) would be another way to consider exposure to the agriculture and farmland sector. The fund tracks an entire basket of agricultural commodities including corn, soybeans, wheat, cotton, sugar and coffee.
Equities -
I don't foresee a bubble scenario in equities anytime soon. The global sentiments will keep swaying from bullish to bearish and this will keep equities relatively volatile. Having said this, I do expect the equity markets to trend higher in the medium term. Also, fundamentally good stocks will continue to outperform the markets. In line with this, I will look to consider exposure to equities on any meaningful correction. For me, the financial sector would be an avoid for long term (it might present good trading opportunities).
Conclusion -
Easy money will continue to create bubbles in different asset classes around the world. Investors need to be positioned in asset classes, which have a fundamentally strong outlook. Also, it is best to avoid trading these markets as the flow of money from one asset class to another can be really swift. The new investment environment will make it more challenging for investors to generate superior returns. The key to success still lies in fundamental investing and patience.
Disclosure: I have no positions in any stocks mentioned, and no plans to initiate any positions within the next 72 hours.