On July 18, 2012, El Paso Pipeline Partners, L.P. (NYSE:EPB) reported its financial results for Q2 2012. This is EPB's first report since the acquisition of EPB's parent, El Paso Corporation, by Kinder Morgan, Inc. (NYSE:KMI). Revenues and net income were as follows:
Click to enlarge images.
Table 1 (figures in $ millions)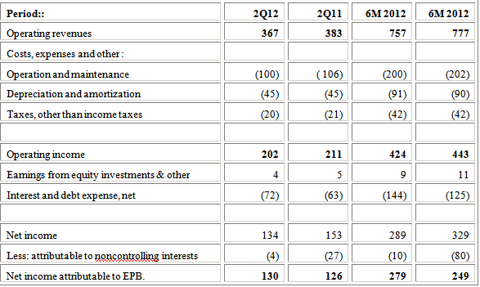 On May 24, 2012, contemporaneously with KMI's acquisition of El Paso Corporation, EPB acquired the remaining 14% interest in Colorado Interstate Gas Company, L.L.C. (CIG) and all of Cheyenne Plains Investment Company, L.L.C., which owns Cheyenne Plains Gas Pipeline Company, L.L.C. from El Paso Corporation for $635 million and the assumption of approximately $242 million of proportional debt. The transaction was with approximately $571 million of cash from borrowings under EPB's revolving credit facility and $64 million of equity from the issuance of common units to El Paso Corporation. The Q2 2012 numbers reflect the contributions from CIG and Cheyenne Plains Gas from May 24 through June 30. Despite that, revenues and operating income were down for the quarter and the six months ending June 30, 2012.
Of the Kinder Morgan entities, only Kinder Morgan Energy Partners has, to date, issued a second-quarter 10-Q. My analysis of sustainable distributable cash flow (DCF) will be completed after EPB provides additional cash flow information as part of its 10-Q filing expected very shortly. However, some information regarding cash flows for the first two quarters of 2012 and 2011 can be derived from EPB's July 18 press release:
Table 2 (figures in $ millions)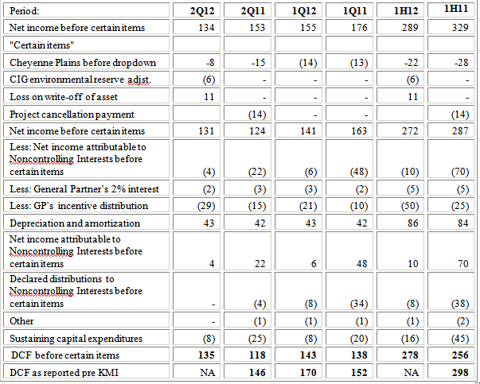 The first item of note regarding Table 2 is that, having become a Kinder Morgan company, EPB now follows the method used by Kinder Morgan Energy Partners LP (NYSE:KMP) to determine DCF. This method is detailed here, which also provides a comparison to definitions used by other master limited partnerships (MLPs). I find KMP's method (now also EPB's method) of deriving of DCF (what these partnerships refer to as "DCF before certain items") complex. It also differs considerably from the method used by other MLPs I have covered.
Perhaps more light will be shed on the improvement in DCF cited by management (up $17 million in Q2 2012 vs. Q2 2011 and up $22 million in the first half of 2012 vs. the first half of 2011) when EPB provides additional information as part of its 10-Q filing. In the meantime, note that the DCF numbers originally reported by EPB in its Q1 2012, Q2 2011, Q1 2011, and first half of 2011 were higher than those indicated by the press release from July 18. The principal reason for the differences seems to be the "certain items" that reduced the DCF in the past periods and make the current period look better by comparison.
The current period also looks better by comparison because maintenance capital expenditures were much lower (management expects $55-$60 million in total for 2012 vs. ~$100 million actually spent in 2011 and ~$94 million actually spent in 2010). I am not encouraged by these kinds of positive adjustments and was disappointed to see revenue, operating and income all comparing unfavorably with their corresponding numbers in the prior year periods. The major offsetting negative adjustment is higher incentive distribution paid to the general partner, an item that is not of a one-time nature.
The good news for investors is that EPB in creased its quarterly distribution to $0.55, up 15% from the second quarter of 2011 and 7.8% from Q1 2012, that management expects 2012 distributions to total $2.25 per unit and to end the year with excess coverage of $80 million. Also, the full impact of the CIG and Cheyenne Plains Gas drop downs has yet to be felt and EPB may benefit from cost reductions initiatives put in place by KMI for all Kinder Morgan companies.
I have seen signs of weakness that concern me, but I continue to hold EPB.
Disclosure: I am long EPB.