FMC Technologies (NYSE:FTI), a deepwater equipment manufacturer, has moved very aggressively in the past couple of trading days, hitting new 52 week highs each of the last two days. You should wait for a pull back of up to 5% before considering this growth company, but if you need some additional oil equipment exposure in your portfolio, this is a great stock and company to consider.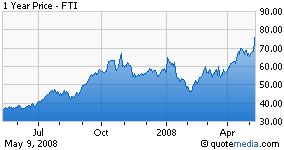 The company recently reported double-digit unit growth in the first quarter. In addition to a very good quarter that beat estimates, FMC Technologies signed a contract with Devon Energy (NYSE:DVN) for sub-sea services within the past week. In addition, the company is planning on spinning off a new company, its John Bean subsidiary, in the near future. This unit provides foot processing and air transportation technology. Owners of FTI will receive .215 shares of the new stock when the transaction occurs.
With 32% sales growth and 33% earnings growth and up trending earnings expectations going forward, you could hold this stock for the next quarter and do quite well. FMC Technologies has beaten expectations the last four quarters and analysts continue to raise their expectations from 67 cents 90 days ago to 72 cents at the current time. The price to earnings ratio is 32, which makes the stock a little on the expensive side, but it should continue to move with the recent news events, the strong uptrend in the United States Oil Fund (NYSEARCA:USO) ETF, and the company spin off that is planned.
Disclosure: none