The newest major deal in the markets is the pending takeover of Peet's Coffee & Tea (NASDAQ:PEET). The company is set to be taken over by German firm JAB for $73.50 per share in cash. JAB controls a variety of brands, including Jimmy Choo, Coty, and Bally.
Since the bid was announced, however, Peet's has traded right through that $73.50 per share offer, closing on July 31 at $75.40, making it the second-largest gap in a pending deal over $500 million. Investors are expecting rival bidders to emerge. And the logical choice is Starbucks (NASDAQ:SBUX). Chatter on Wall Street, as highlighted by the Bloomberg piece linked earlier in this paragraph, suggests that the company could jump in and bid as much as $80 per share for Peet's. We believe that Starbucks should indeed jump in and make a counterbid for Peet's, and we lay out our reasoning below.
Competition and Branding: Removing Another Player, Adding A Premium Brand
Starbucks' competition is, in essence, every coffee shop and/or product that isn't part of its brand portfolio. But while the local neighborhood coffee shop may draw visitors away from the local Starbucks, "mom and pop" coffee shops aren't a threat to the commercial coffee chain on a regional or national scale.
Peet's however, is different. Of all the companies with the potential to successfully compete with Starbucks, Peet's is the strongest. Furthermore, the company has a well laid out plan to compete with Starbucks, one that we think will be strengthened should JAB indeed complete its purchase of the company. There is no reason to take Peet's private without continuing to execute on the company's growth strategy (and JAB could do it with the added benefit of being out of the public eye).
Peet's currently has stores in 6 states, with the majority located in California. In recent years, the company has slowed store expansion to focus on the grocery business (more on that aspect later). Peet's grew its store count at a CAGR of just 3.38% over the past 5 years.
(click images to enlarge)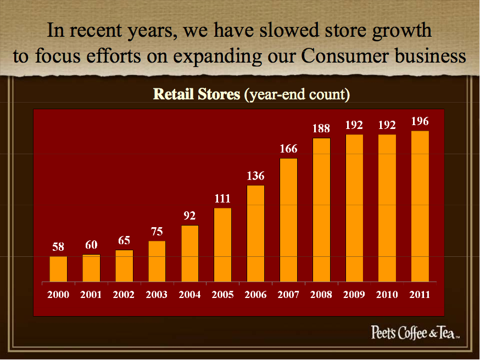 However, the company could re-accelerate store expansion once it is private, as the profitability of Peet's retail stores is growing rapidly. Peet's has grown its retail store profits by 2.5 times in the past 4 years, to $25 million in 2011, according to its most recent investor presentation.
We think that in the long-term, Peet's could pose the biggest threat to Starbucks in the retail store segment, bigger than even that of McDonald's (NYSE:MCD) or Dunkin (NASDAQ:DNKN). How can that be? Peet's has less than 200 company-owned stores (and 116 licensed stores at the end of 2011), while McDonald's and Dunkin have thousands. The answer lies in the power of Peet's brand, which would fit perfectly into the Starbucks portfolio.
Starbucks Corporations' most famous brand is, of course, Starbucks -- which has become synonymous with coffee. But it is not the only brand that Starbucks has. The company understands that to succeed in the coffee industry, it needs to cater to consumers other than the upper class demographic that is the core of Starbucks' customer base.
That is why the company bought out Seattle's Best in July 2003. Seattle's Best caters to a more working class demographic that does not usually frequent Starbucks' locations. That gives the company exposure to growth in that segment. But what Starbucks still lacks is exposure in the high-end, premium coffee sector. Enter Peet's. In the coffee market, Peet's is seen as a premium brand, with premium price points to match.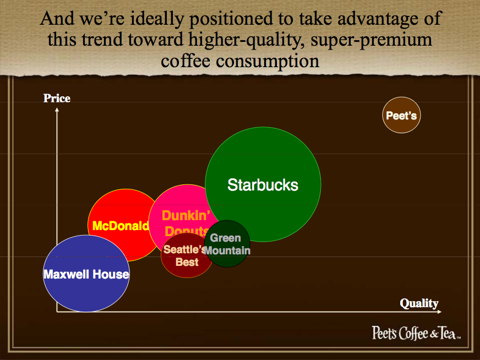 Peet's products command consistently higher prices than Starbucks', especially in grocery stores, which is where both companies are currently focused. Peet's is consistently able to charge around $1 more per 12-ounce bag of coffee than Starbucks due to the strength of the Peet's brand. Based on the graph above from Peet's latest investor presentation, Starbucks is well positioned outside of the high-end segment of the market. In fact, the graph shows that Starbucks is absent from the high-end portion of the market, something that we feel the company needs to rectify as soon as possible. The strength of the Peet's brand will help Starbucks fortify its position not only in the retail sector, but the grocery sector as well -- a sector that is fueling growth for Starbucks.
Grocery Sales and International: Starbucks' Future
In its latest quarter, Starbucks' retail stores posted revenue growth of 8.2% for company-owned stores and 23.9% for licensed stores. The company's CPG (consumer packaged goods) business, however, posted growth of 42.7% in Q3 2012 (fiscal), as the company expanded its distribution and sales network and made more products available to consumers. Going forward, CPG will become a more and more important segment for Starbucks. Adding the Peet's brand and products into the CPG business would greatly strengthen it, in our view. As Wedbush notes, Peet's premium offering and higher pricing power are things that Starbucks "covets."
However, at the moment, Peet's distribution network is nowhere near that of Starbucks. It is why specialty revenue at Peet's grew just 11.75% in the company's latest quarter, to $40.659 million (Peet's had $158 million in specialty sales in 2011). However, investing in its distribution network is a priority for Peet's, and it is one of the company's key strengths. The company's direct store delivery system allows Peet's to build a stronger relationship with grocers, ensuring fresher product. All of these factors result in premium prices.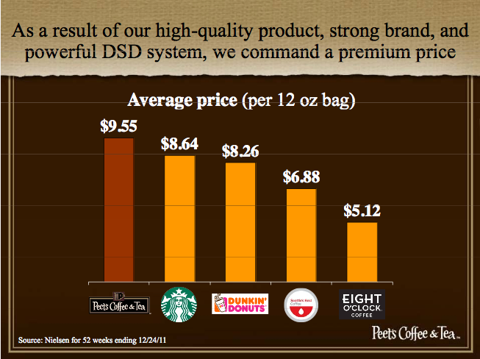 Average selling prices for Peet's coffee are 10.53% higher than that of Starbucks. And Peet's has been successful in driving market share. Nationally, Peet's is #2 in the specialty bagged coffee market, with a share of 18% in stores where it is available. Overall, the company has 9% share, due to its smaller distribution network (something that can be fixed with a Starbucks takeover). In California and the western United States, however, Peet's is the leader.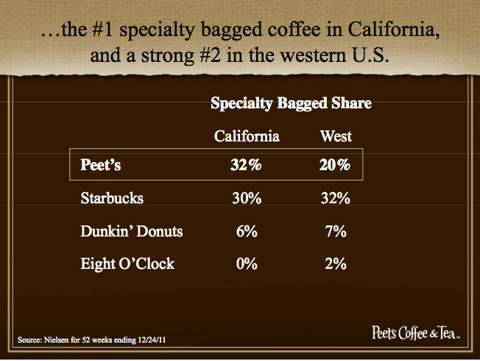 The higher-end nature of the California and western market show that the Peet's brand resonates with consumers, and that they are willing to pay up for quality. That being said, Starbucks is a close second in California. Were Peet's to be folded into the Starbucks portfolio, its increased distribution could accelerate its growth.
But what about cannibalization? Wouldn't expanding the Peet's brand simply drive customers from the Starbucks brand? We don't think so. While Peet's may have 32% share in California, as previously mentioned, it has only 18% share of the overall American specialty bagged coffee market in locations where it is sold.
Peet's position at the premium, high-end portion of the market will not put the growth of Starbucks' own brand at risk. Peet's caters to a different demographic, which is why it is much more successful in California and the western states than in the overall United States market. Should Peet's be taken private and become a part of JAB, the company will have more resources and less scrutiny, allowing it to accelerate its investment in this market, and potentially become more aggressive in competing against Starbucks, rather than alongside it. In our view, Starbucks should take control of the situation by taking control of Peet's.
Acquiring Peet's would also give Starbucks another opportunity to expand internationally. Starbucks has had difficulty in gaining a foothold in the European coffee market, for reasons other than the European economy. The Starbucks brand is not resonating with European consumers as well as it is elsewhere. As analysts at Oscar Gruss stated, "It's just intriguing given that Starbucks is having trouble penetrating Europe with the Starbucks brand. Even though people would know it was from Starbucks, having a totally separate brand from a business approach may be the trick for them." The fact that Peet's sits at the high-end of the coffee market may also help Starbucks compete in Europe.
Financing, Valuations, And Anti-Trust: Examining The Pitfalls
Peet's is already the most expensive North American non-alcoholic beverage company deal. When the company's net cash is included, Peet's is being valued at 21x EBITDA. Were Starbucks to jump in, a potential $80 per share offer would cost the company $1,060,053,040, based on Peet's 13,250,663 outstanding shares. When taking its cash and investments into account (Peet's has no debt), the cost falls to just over $1 billion, which would make this the largest acquisition in Starbucks' history.
From a financial standpoint, Starbucks can certainly afford to bid for Peet's. The company ended Q2 2012 (we are using Q2 data because Starbucks has not yet filed its 10-Q for Q3) with net cash of $1.8306 billion. And with just $549.6 million in debt, Starbucks can easily choose to finance a portion of a bid with debt if it wished.
With operating cash flow approaching $600 million per quarter (a figure that will likely grow in Q3 and the quarters to come), Starbucks' balance sheet will not be put under severe pressure by a $1 billion Peet's acquisition.
The company could also pause on increasing dividend payouts. Starbucks' current quarterly dividend on 17 cents per share costs the company $255 million each quarter, and since initiating its dividend in March 2010, Starbucks has grown it by 70%. We would much rather see Starbucks suspend dividend increases to rebuild its cash reserves rather than pass on an opportunity to acquire Peet's.
But what of the valuation already assigned to Peet's? In our view, even at over 21x EBITDA, or 34.934x 2013 EPS estimates (currently at $2.29 per share), a deal for Peet's is in Starbucks' best interest. Peet's current earnings estimates are based on its prospects as an independent company. Were Peet's to be part of Starbucks, the strength of Starbucks' distribution network and potential international sales would lead to higher earnings and sales than Peet's can achieve on its own, a point that JAB understands. In our view, the short-term costs of acquiring Peet's will be more than offset by the long-term potential of the brand as a part of Starbucks.
What about anti-trust concerns? We think that they will be minimal. Peet's stores are located in only a handful of states, and in most of the United States, the two companies don't currently compete. The only real potential for anti-trust concerns would be in the grocery market. And even there, we think that they would be minimal. Together, Starbucks and Peet's would control 33% of the specialty bagged coffee market, hardly the threshold for a monopoly.
Conclusions
Starbucks should make a counterbid for Peet's. Taking control of Peet's, even at a cost of $1 billion, would give Starbucks a presence in all segments of the coffee market, and sales growth of Peet's products will accelerate if they are combined with Starbucks' distribution network.
International markets also present an opportunity. By acquiring Peet's, Starbucks can remove potential competitive pressure on its retail stores, and dramatically increase the future success of its consumer packaged goods business.
Peet's may not seem like a threat right now, but as part of JAB, the possibility that it will become a more aggressive competitor should not be ignored. But as part of Starbucks, Peet's can be a valuable and profitable asset. If Starbucks announces a bid for Peet's, we would be buyers of the stock, especially if it sells off. In our view, there is too much potential here for Starbucks to let Peet's slip away. Starbucks has become the leader in this industry, not simply by building and cultivating the Starbucks brand. Brands like Seattle's Best and Tazo are instrumental to the growth and success of the overall company. And were Peet's to become a part of the Starbucks brand portfolio, we believe that Starbucks would realize an even brighter future than it is already on course to have.
Disclosure: I am long SBUX, MCD.
Additional disclosure: We hold shares of MCD via a mutual fund that assigns the company a weighting of 1.02%. We may initiate a position in PEET within the next several trading days.