Who benefits the most from the recently announced Sprint (NYSE:S) / Clearwire (CLWR) deal? It may not be who you think.
This massive ($3.2B) infusion of money seems like a lot, but it's just the beginning for this boondoggle. WiMAX is a nice technology that works in some circumstances, with the right business model. But then so will WiFi, and it's much cheaper. Besides, the mobile providers have a huge head start. Why buy new cards and sign a new contract when I already have what I need from my cell phone (or hotspot) provider?
In terms of becoming a successful business, WiMAX is vying for the "most hyped" award with social networks. Expect more bags of money to be tossed into the trough before long.
So who gets what?
Sprint (S) - Removes one monkey from the back of CEO Dan Hesse as he is now free to focus on why Sprint has been shedding customers for so long. Also distracts everyone from noticing the delays in its own WiMAX buildout.
Intel (NASDAQ:INTC) - Intel has been peddling WiMAX like a desperate streetwalker to anyone with an open car window. And its been seen hanging around the Clearwire convertible before. Intel wants to be the undisputed standard for WiMAX chips, a role it failed to capture in WiFi. Not to mention selling lots of new processors for next generation laptops and smart phones.
Google (NASDAQ:GOOG) - Yes, critical mass for Android will help extend its search and advertising dominance into mobile. And this network might turn out to be actually open. Despite Google's game playing at the FCC auction, the "open" spectrum Verizon won will–in practice–be anything but. Fundamentally, Google has become a VC firm. A billion here, a billion there, something just might stick. All it takes is one 10-bagger to make it work. This ain't it.
Time Warner Cable (TWC), Comcast (NASDAQ:CMCSA) - the Rosencrantz and Guildenstern of mobile will be exactly as successful here as they were with Pilot, the failed MVNO venture with Sprint. And for the same reasons.
Clearwire (CLWR) - Now we're getting somewhere. Big cash infusion, lots of media attention. The rights to resell Sprint 3G will allow it to grow its top line, giving it time to progress on the buildout. In the end, though, even with a working network it won't be enough to either satisfy consumers or to make it a viable competitor to the telecableco ISPs. (And I'm not alone in my thinking, here.)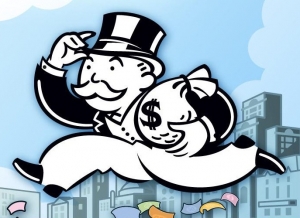 But you see, by then Craig McCaw will have made his money.
McCaw has a history of promote, build, and sell. Usually at the top. And always with someone else's money. He's going to extract himself from this before long, and come out smelling like a rose.
Or a crisp thousand-dollar bill.
Regardless of what happens, whether the network succeeds, whether or not anyone else makes any money, you can be sure of one thing: McCaw has this all mapped out. There's your winner.
Disclosure: I hold no position in any of the stocks mentioned here.