Barron's notes that of the two major dial-up ISPs still doing business -- EarthLink (NASDAQ:ELNK) and United Online (NASDAQ:UNTD) -- the latter has managed to diversify into successful new revenue streams (Classmates.com and online loyalty marketer MyPoints), while the former has not.
Now United CEO Mark Goldston is making his most creative move yet: a recent announcement to acquire global florist network FTD (FTD-OLD). FTD will cost United about $800M.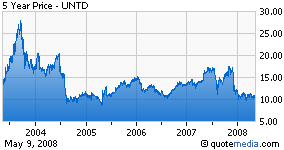 Goldston contends his acquisition strategy is thematic: Both FTD customers and Classmates.com subscribers are 65% women, largely over 35, and make north of $50K a year. How's that for targeted marketing? Between its dial-up business and its websites, United boasts a client base of 50M+ to whom it can cross sell.
The dial-up business -- a veritable cash cow -- isn't exactly growing by leaps and bounds, but nor is it shrivelling up. Operating margin last quarter was a robust 38%, and Goldston contends the churn rate is dropping.
United currently yields 7.2% (which will be halved to help finance FTD). It has repurchased $150M in shares over the past three years. It trades for under 10x 2008 revenues. At some point, Goldston will manage to pull off his aborted attempt to IPO 20% of Classmates. Barron's says shares are cheap.
==========================
Larry Dignan fails to find any synergy in the FTD deal.

On United's most recent conference call, Goldston says it's unlikely the company would pursue AOL's premium dial-up business. "The AOL business is an intriguing business, because it's a strong brand name as you know. That's the plus. The minus is they are a business that has predominately been in the premium segment of dialup, which is on the road to becoming an oxymoron, and so there are challenges there."