You need junior miners exposure in your portfolio. Period.
Check out this link to an interesting interview with the head honcho of Kinross (NYSE:KGC) published last week. He says that there are a lot of bargains in the junior/exploration miner sector, and he reasons this is because of the credit crunch that has dried up funding for these companies.
Well yeah...big DUH all round and obviously obvious to anyone that follows the industry. But to see the CEO of a big gold miner say it out loud should be a clear signal to you. It is to me.
Take a look at this chart...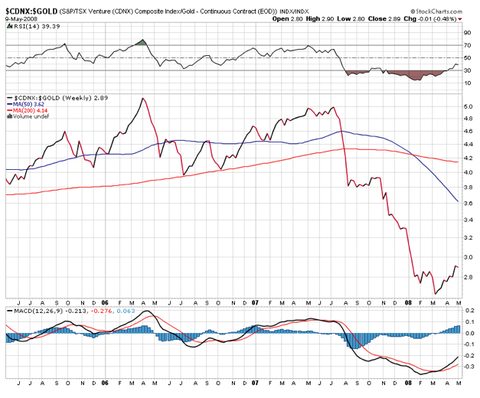 ...which shows the Canadian Venture exchange (packed to the gills with juniors) in ratio to gold. Even though there's a slight recovery already started the ratio is still way out of kilter, and there is plenty of room for the better quality junior miners to float back up on this evidence alone.
Add to the mix the persistently high metals prices (I'm calling copper to fluctuate between $3.50 and $4, so last week's move was nothing to fear). Add to the mix precious metals producers who will be looking to replace in situ assets of gold etc as their present mines deplete. Add to the mix the likelihood of credit becoming a little easier to obtain soon enough.
So stocks to consider: I'm looking at good quality, large juniors or companies that have recently started production, because these are the ones most likely to get bought out first. Here are two lists, one for precious metals and one for base metals. The lists are by no means definitive, but will hopefully give you a starting point for further DD. All of them are LatAm exposed companies, by the way. I know there are opportunities in other regions, but I'm a LatAm dude and stick to what I know.
Precious Metals Ideas
Jaguar Mining (NYSE:JAG)
Minera Andes (OTC:MNEAF)
Aurelian (OTC:AUREF)
Fortuna Silver (FVITF.PK)
Mansfield Minerals (OTC:MFMNF)
Mag Silver (MVG)
Base Metals Ideas
Inca Pacific (OTC:IPRFF)
Candente Resources (OTC:CDOUF)
Baja Mining (OTC:BAJFF)
Capstone Mining (OTCPK:CSFFF)
So there's some food for thought. If you have your own favourite junior, tell me about it. I'm not trying to lay down the law and say these are the only good ones out there.
Disclosure: long Inca Pacific, Fortuna Silver, Baja Mining and Candente.