Buy-recommended San Juan Basin Royalty Trust (NYSE:SJT) offers estimated distribution yield of 10.3% for the next year and a high quality resource position in the largest natural gas field in the U.S.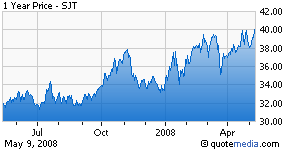 The latest monthly distribution declared on April 18 was surprisingly low because maintenance at a central processing facility caused production volume to be restricted.
Normal volume combined with higher futures prices for natural gas implies higher distributions in the months and quarters ahead. Our estimate of Net Present Value [NPV] of $40 a unit recognizes about three more years of life index than the 10.6 years implied by the conservative estimate of reserves disclosed by the trustee. During the past four years, reinvestment of 15% of cash flow has reduced the rate of normal volume decline to 6% a year.
Buy-recommended ConocoPhillips (NYSE:COP), operator of the trust's properties and largest producer in the San Juan Basin with 1.2 billion cubic feet daily of net volume, has a ten-year program of identified development projects to tap known resources.
Originally published on April 25, 2008.