Last Friday, I noticed some interesting movement with respect to the stock price and volume of Century Casinos (NASDAQ:CNTY). I found it strange as this particular stock has had bearish sentiment for some time now. The company has missed earnings for three out of the last four earnings quarters until beating by a penny last quarter. Estimates look attainable as the company is seeing revenue coming in at 5.6% more this quarter than the quarter last year at this same time. Earnings look to decrease by 50% over that same period.
Looking at Friday, we see that the money flow index was over 50 for the whole day while most of that time was spent over 80. If we look at the volume trend over the past month, May 6th had a major spike just like Friday and both were up days. Over the last week the stock has gained over 20%, so this is not for the faint of heart. On May 7th it broke through the 50 day simple moving average and continued to move higher for the next two days.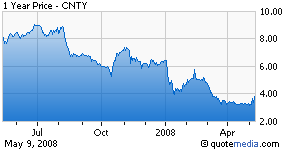 CNTY is a very interesting company as it has a very small market cap of under $100 million. It operates casinos around the world including cruise ships, Canada, South Africa and the Czech Republic. The stock is covered by only three analysts, with earning estimates of 1, 3 and 5 cents for the quarter. This is important as its estimates could vary quite a bit by one or two cents. A three cent earning per share would be 50% less than the quarterly earnings year over year. Estimates have revenue increasing over 5%.
Century Casino is a very intriguing company. It derives 86% of its revenues from casinos, and 12% from hotels. Casinos are a form of revenue that is expanding a fast clip. In 1998, global revenues were $35 billion and it is estimated that will increase to $80 billion by 2012. This growth is attributed to world wide social acceptance, job creation and additional tax revenues.
A company like CNTY has advantages to bigger companies like Wynn Resorts (NASDAQ:WYNN). It has the dexterity to expand into new markets and increase and decrease size, increasing growth faster. Even though this stock has seen hard times as of late, it still looks good on paper. The debt/equity ratio is half that the industry average and the company's book value per share is greater than its stock price by almost 20%. It has also grown almost 20% a year since 1994. 10 of its current land casinos are in Europe which benefits from strong currency exchange. Current casinos in Poland have a 50% market share and increasing, plus there is more money being spent as economic conditions increase.
I like this stock as a big turn around candidate. The chart has marked a reversal and if the trend holds, look for the stock to move quickly. It looks attractive and it would not be strange for a company this size and with this type of growth to be purchased. Analyst estimates look for growth of 15% per year for the next five, but I think it will better than its historic average of 20%. Short term, the stock could very easily jump with very little downside based on the volume trades with respect to the chart.
I am looking for $.05 per share this quarter and $.30 for the year. This equates to growth of 25% for the year and with the current PE of 19, places the stock in an undervalued position. This growth is based on a 239% increase in earnings from operations for last quarter year over year. At the multiple of 25 times earnings of $.30 for 2008 this would represent a stock price of $7.50.