GeoEye, Inc. (Nasdaq: GEOY) a provider of space-based and aerial imagery, and geospatial information, reported its fiscal 1st quarter 2008 earnings on Friday May 9th.
Taking Advantage of a Golden Opportunity
Before the analyst conference call, shares of GeoEye dipped to $16.00 a share before recovering to end the day at about $19.00 as trader's nerves were soothed by the sweet sounds of what GeoEye's management team had to say about the business, and felt, as do I, that right now may be the best chance to nab shares of GeoEye for the run-up that is to come.
I am hopeful that with my detailed and thorough look at GeoEye and its latest earnings release, you will begin to understand the GeoEye story more thoroughly, and see what an amazing, yet risky, investment GeoEye is at today's levels.
When you first look at the numbers, they don't look good, but you need to understand what is behind those numbers. This is not a repeat of the SoundBite debacle we faced earlier in the week, but rather a nervous market misunderstanding a company that is only followed by one Wall Street analyst, and gets heavy swings in momentum based on perception alone.
Things got a little rough on the GeoEye conference call, NOT because of what management did or said, but because one of the callers actually chastised management for the share price being so low, but, as with the rest of the Q/A session and prepared statements, I heard a confident, unified, and in-control management team that is doing a great job of guiding GeoEye to the next level with the launch of the next generation GeoEye-1 satellite now confirmed and on track.
What follows is a brief summary of GeoEye's earnings announcement and conference call, along with my explanation of the numbers and what you need to know about them to fully understand GeoEye.
Look for a full and detailed analysis on GeoEye in my upcoming research report.
If you are new to the GeoEye story, you can read my initial buy reccomendation here.
I'll divide this report into four parts:
Part One: Hit Me With Some Numbers
Sales Are Relatively Flat
Here are some of GeoEye's earnings highlights (growth from previous year's 1Q/analyst's estimates where applicable (note: only one analyst covers GeoEye)):
Quarterly sales of $34.4 million (down 7% , from $36.8 million in the prior year/vs. $32.97 million projected by the analyst)
Non-GAAP quarterly operating income of $5.8 million (down 47.8%, from $11.1 million in the prior year)
GAAP quarterly net income of $326,000, or $0.02 per diluted share (up from a -$30.22 million, or -$1.73 per diluted share, loss in the prior year (this was due to an impairment charge of $36.05 million for the loss of a satellite)/vs. $.24 per share projected by the analyst)
Gross margin of 42.6% (down from 48.1% from prior year)
My Take: Let's get one thing straight right away for those of you who aren't familiar with the GeoEye story: These numbers need to be taken in context.
The initial market overreaction is because these numbers look extremely bad, especially when taken against the backdrop of what GeoEye did last year, and compared to what the one analyst has projected.
But what you need to understand are a couple of things:
GeoEye's financial results were negatively affected by a couple of one time events and their ongoing analysis of the net operating loss tax issues that I described in my first post on the company.
While this ongoing investigation is continuing, GeoEye has adopted a conservative approach with respect to the its results, and as a result, the company looks worse on a temporary basis.
If we added that tax provision back in, GeoEye's earnings per share would come in at about $0.15 per share.
The reduction in revenue from the first quarter of 2007 was because the timing of new orders from the National Geospatial-Intelligence Agency [NGA], was lower, in addition to seasonality.
GeoEye's revenues are typically lower in its fiscal 4th and 1st quarter because imagery is less desirable in the Northern hemisphere due to weather-related constraints, like snow cover and the angle of the sun.
In addition, orders from NGA were lower because most of their related backlog is expectant on the launch of GeoEye-1, which they are temporarily and only partially filling, with their IKONOS satellite.
Management also stated that it believes the NGA ordering issue will be resolved over the coming months and should not be an issue once GeoEye-1 is in operation later this year.
Finally, the primary reason for the decline in margins, operating and net income (on an absolute basis, normalizing for GeoEye's impairment charge for the loss of a satellite), was due to the lower NGA imagery orders as described above.
What happens is that GeoEye, in order to fulfill some of its requirements to the NGA, its largest customer accounting for about 55% of total revenue, has to purchase imagery from other vendors and their own subsidiaries and then sell that back to the NGA. In addition, the NGA sometimes asks GeoEye to scan and "scrub" certain imagery that proves more time-intensive and costly for GeoEye because it comes in bits and spurts, rather than all at once.
All of this affects margins heavily.
Going forward, GeoEye's management stated that once GeoEye-1 is launched, and the orders get more smoothed out and the company starts to fulfill its NGA backlog, margins will jump back up, and more revenue will drop to the bottom line.
This is where the beauty lies in GeoEye's business model.
The more revenue the company generate on the top line, the higher its margins increase because it has fixed costs.
Final thoughts: What this basically means for us, is that once again, the market is discounting the effects of the future and panicking in the here-and-now. Because management doesn't provide guidance (which, by the way, I love!) the market tends to get anxious and panicky about GeoEye's results every time they are released.
If you really understand the GeoEye story, as I've tried to lay out here for us, you will see that this quarter's results are basically a wash, and are essentially meaningless to the future of GeoEye, and my investment thesis, and presents us with another excellent buying opportunity as a result of the market's overreaction.
Part Two: Other Business Highlights
GeoEye-1 Launch Date Set!
GeoEye signed a contract with Boeing (NYSE: BA) Launch Services setting the launch date for GeoEye-1 on Friday, August 22, 2008 from Vandenberg Air Force base in California.
GeoEye has completed 20 out of 24 milestones under the NGA's NextView contract, with the remaining four milestones related to launch check-out.
As of March 31, 2008, GeoEye's total backlog is $272 million up from $238 million as of December 31 2007.
Funded backlog was up $34.1 million from $96.2 million at the end of the year to $130.3 million at the end of March.
GeoEye has $212 million in cash and short term investments, vs. $164 million in Q1/2007.
Operating cash flow: $1.75 million in the quarter.
Capital Expenditures [CAPEX]: $25.1 million, used to fund capital expenditure requirements for the GeoEye-1 satellite, its related ground system and the upcoming GeoEye-2 satellite.
Free Cash Flow: -$23.36 million in the quarter.
My Take: I'll discuss this in more detail below, but the highlight of this conference call was the firm launch date for GeoEye-1.
It can take up to four years from time a company commissions a satellite to be built, to the time it launches, so this is a BIG deal as far as GeoEye is concerned, and will have a major impact on its business and ultimately, on its stock price as well.
Another point of note is that GeoEye's funded, and unfunded backlog continues to grow.
Typically, GeoEye satisfies all of its funded backlog within one year, so you can see revenues are really going to accelerate towards the back half of 2008.
Funded backlog consists of firm orders that have been placed and contracts that have already been signed. This is revenue that is virtually guaranteed.
Unfunded backlog is one notch below the funded backlog in that it has yet to be paid for, but has been signed up for on a contingent basis related to various factors, like the launch of GeoEye-1, the timing of certain imagery, etc.
Finally, it should be noted that GeoEye's capital expenditures are mostly related to the launch and finalization of GeoEye-1 as well as preliminary expenses related to the commissioning of GeoEye-2, as I'll discuss in more detail below.
Part Three: Conference Call Highlights
Further Details on GeoEye-1, Sales/Margin Declines
The following are the highlights from GeoEye's analyst conference call:
Sales/Margin Declines: As I alluded to above, it's very important that we understand why sales and margins declined in the quarter, and while management doesn't give forward guidance or pander to Wall Street, which I love, they did further expound on the reasons for this decline as well as their "expectations" in the future, without actually giving any forward guidance.
Part of this upside comes from the fact that management stated that it believed that its products and services offer some significant upside.
This is especially true in light of the fact that GeoEye's satellites are fully depreciated, and there is not an asset value against which to carry some of the expenses that will be able to be offset in future quarters, in addition to a number of one time events that were previously mentioned.
The CFO went on to explain that as they "ramp them up," meaning its new products and services related to GeoEye-1, as well as new value-added services which carry a higher margin, it expects that margins will also continue to increase.
An analyst then asked the CFO if we should continue to expect the 10% operating margin level for the next several quarters, and he stated that, although the company doesn't provide financial guidance, he believed that 10% was an anomaly to the low side.
My Take: When I break down GeoEye's financial statements and numbers looking back for years, I see the same pattern. Basically, the 1st and 4th quarters are the weakest, and the 2nd and 3rd are the strongest.
When you add in the one-time items like the tax loss carryforward issue, the fact that all of GeoEye's satellites are basically fully depreciated and therefore cannot offset cash flows any longer, the fact that GeoEye-1 has not yet launched, among other one-time issues, and you can see where the market grossly overreacted with the sell-off and misunderstanding of the company and where it is headed.
GeoEye-1 and GeoEye-2 Updates: Management went into great detail to explain the status of their soon-to-launch GeoEye-1 satellite and their beginning stages of development for GeoEye-2.

As I already stated above, GeoEye-1 has been tested and cleared for launch on August 22nd, 2008. All that remains are 4 more milestones related to launch and check-out, and their associated payments, and this bird is free to fly.
It's worth noting that GeoEye-1 has four ground stations not including customer ground stations, that will reduce the time from when an image is taken to when it can be delivered to a customer who relies on GeoEye to deliver its products.
In addition, management stated that the GeoEye-1 program remains fully funded, which is important because it takes a lot of money to pay for one of these satellites, and while the NGA program pays for a little more than half of the costs associated with launching and building one of these satellites, the remainder of the balance comes from GeoEye.
As of the conference call, GeoEye has expended approximately $415 million of the $502 million associated with the program, most of which has been capitalized.
The $415 million of expenses includes payments of $366 million and accrued but not yet paid amounts to contractors of $49 million. In other words, GeoEye already has expensed these line items, but has not yet actually paid them, so they won't be affecting earnings in the future.
Furthermore, on a cash basis, there is $136 million remaining to be paid under the GeoEye-1 program, which includes the previously mentioned $49 million of accrued, but not yet paid expenses, and $87 million consisting of amounts to contractors for milestones not yet completed, insurance premiums, interest to be capitalized and remaining unused contingencies.
To cover these expenses GeoEye has $212 million of cash left on its balance sheet, and $41 million of remaining NGA milestone payments. So in total, the company has $253 million of cash from these sources providing a significant cushion, in addition to having access to the cash flow that GeoEye generates from operations.
Regarding GeoEye-2, GeoEye's next satellite that is still up to 4 years away from being launched and has not yet been built, GeoEye has commenced long lead items for this satellite, but still not signed a contract for the construction, launch or insurance of the satellite.
In addition, GeoEye is still evaluating its financing options for GeoEye-2, and will be taking "appropriate steps" to finalize its plans in conjunction with the selection of an integrating contractor for the satellite.
My Take: What this means for shareholders essentially, is that GeoEye is most likely going to have to tap into the equity markets for more cash with a follow-on offering, more debt, or both.
Either way it adds up to dilution for shareholders, and is one of the risk factors for any investment in shares of GeoEye.
However, I expect that GeoEye's management team will look to create value for its shareholders, and will always look to fund these projects the best that it can from current cash flow, as well as with shareholder-friendly financing and follow-ons that will be the least damaging possible, as it has also done in the past.
Discussion of the Imagery Market, Online Portals, etc.: Management talked about the market potential and demand for GeoEye's current offerings, as well as the expansion of its business into new markets and possible deals with online portals like Google (Nasdaq: GOOG), Yahoo (Nasdaq: YHOO), and Microsoft (Nasdaq: MSFT).
First off, management talked about how GeoEye has received strong interest in its imagery products in some new markets like China, Russia, and India. The CEO further commented that GeoEye's sales in China have grown particularly fast and that it is one of its fastest growing international markets.
Demand for GeoEye's value added imagery products also remains strong, and confirms the ability of its strategy of focusing on creating products and solutions in addition to selling imagery.
GeoEye commented on how its high-quality standards have led to increased revenue from its value added products created for NGA at the company's St. Louis facility.
In fact, GeoEye is expanding its St. Louis facility and hiring more staff there, as well as expanding its production space in Denver to meet the growing demand.
For instance, the CEO talked about GeoEye's airport mapping product line in which it has delivered over a 100 airport mapping databases since 2002, and has over 1000 more on back order.
He also stated that to give us an idea of the growth potential in that segment, there are about 14,000 airports in the world.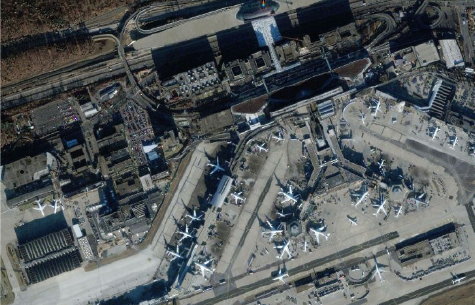 GeoEye IKONOS Image of the Frankfurt airport.
Another area of commercial growth that GeoEye talked about, is its sales to the online industry.
The CEO stated that this sector continues to show significant interest in its products and that the visibility that comes from GeoEye's relationships with the online portals is also growing, and the increased market awareness that this visibility offers may in fact exceed the revenue value of the deals.
We've all seen the Google (GOOG) maps, Google Earth, and all the related products online. This is exactly what GeoEye is talking about in terms of expanding their relationships going forward.
When asked about the online customers and who they were, and if they were growing, the CEO stated:
We don't talk about our customers by name, because…the online people are so competitive right now that, none of them wants us to mention in public who they are. I will say that our new satellite, because it's going to be the best commercial satellite out there and because it has color, has attracted interest from all of the online providers and we're talking to all of them.
My Take: So while the online stuff might provide some incremental revenue, the CEO was quick to point out that the value of having the cache´ and relationships with those vendors would far outweigh any monetary value that these deals would deliver.
It sounds to me like GeoEye might be stealing some market share away from its largest rival DigitalGlobe (NYSE: DGI).
Testy Shareholder: One of the more amusing parts of the call was when a presumable shareholder started going off on management, and its inability to manage Wall Street properly, and GeoEye's stock in particular.
At one point, in the midst of the caller chastising management, the CEO stated that he: "shares his pain" to which the caller abruptly interrupted the CEO, and stated that there was no way the CEO could share his pain because he owned a lot more stock than the CEO does!
The CEO then stated that that may be so, but the he made a big bet on GeoEye, and he has most of his net worth tied up in the stock.
My Take: Regardless of the entertainment value of the exchange, there was some important points that we all need to be aware of and understand that add to the GeoEye story.
First off, GeoEye is not a widely followed stock, or company. It does have a market cap that at times has approached mid-cap levels, but for the most part it's a small-cap company that trades largely out of Wall Street's view, and is only followed by one analyst.
As such, the company has to be more proactive in terms of dealing with shareholders and Wall Street in general, and how they manage the perception and interpretation of its business, financial results, and other internal problems that may or may not turn up.
Similarly, I LOVE the fact that GeoEye does not give guidance, since it never does any good anyway and usually winds up getting companies in trouble.
This allows GeoEye to run its business, instead of managing its stock price, BUT with that being said, the company has to get ahead of possible misconceptions as happened on Friday when its results came out less than stellar.
For instance, instead of releasing a full press release detailing the earnings and what was going to be discussed on the analyst conference call, GeoEye merely released its 10-Q and held its conference call "in the dark" where no one even knew what was going on and why the stock was going down.
I can assure you, this was a primary reason why the stock declined so heavily on Friday before the call started (11 AM Eastern, the market opens at 9:30 AM), and the resultant recovery in shares of the stock during and after the conference call.
Now, while I love a management team that doesn't pander to Wall Street, give guidance, or try and manage its stock price, I DO want to see a management team that explains its business better, releases press releases when the company releases earnings, explaining what happened this quarter and any one-time items, etc., and then gets ahead of any rumors or speculation that weigh down on misinformed and panicked shareholders.
It isn't always easy to understand GeoEye's business, heck I have taken the last month or so getting my ducks in a row in preparation for my buy recommendation, and my full research report, but I believe that while the aforementioned stockholder perhaps was a little callous in his attack on the conference call, some of his points are valid.
I believe a happy medium needs to be struck between management not feeling as if they are giving guidance or pandering to Wall Street, while still giving us enough information to understand the business, interpret less than stellar results, and know where GeoEye is headed to make a sound and informed purchase of shares without having to understand the business so deeply that they turn off many investors.
Then again, I wouldn't have anything to talk about with regards to GeoEye if that were the case!
Part Four: The Bottom Line
Don't Let Misinformation Dissuade You
I'm not only sticking to my original buy recommendation, but also ecstatic that the market has presented us with another timely and market-beating opportunity to start your GeoEye position if you haven't already.
I will be looking to purchase more shares if this keeps up, or if the stock price trades lower or sideways.
I hope that between this earnings breakdown, as well as my original buy recommendation, you have come to learn more about the GeoEye story and how, while risky for various reasons, the share price at today's levels presents a very compelling risk/reward value.
In fact, with GeoEye trading with a market cap of about $340 million, it is trading at LESS than the value of the assets on-hand! In other words, if we only count GeoEye's latest satellite, the GeoEye-1 that will be launched in August. The value of that satellite alone is worth about $400-500 million!
This doesn't even include GeoEye's other assets like the two other satellites that are still in orbit, the ground stations, personnel, cash on hand, business relationships, and the future revenue generating ability that will come from having GeoEye-1 launch successfully.
This also doesn't include a valuation comparison of GeoEye and its peers, as well as its closest competitor, DigitalGlobe that is an inferior company and business. Using various valuation parameters, and ratios, like P/E, P/S, PEG, EV/EBITDA, etc., GeoEye is worth at least DOUBLE from here to just be fairly priced.
Needless to say GeoEye wildly qualifies for my double thesis.
So, in the end, we are getting a company that has been unfairly beaten down only because the market is fearful of the upcoming launch, misunderstands the company's business, and misinterpreted GeoEye's latest earnings release in a negative way.
This is exactly the type of opportunity that I look to pounce on here at PeakStocks.com.
At the end of the day you may be right or you may be wrong, but if you keep making sound investing decisions based not on emotion and fear, but on sound logic, deep understanding, and opportune strategy, you increase the odds of having huge market-crushing returns for years to come.
If you haven't already, take a deep look at the GeoEye story, and start a position today.