With so many possible investment opportunities in the stock market, it is nearly impossible to find every winner, and even when you do find a stock that eventually moves higher, you have to pull the trigger in order to participate. As an investor, I follow many stocks, but only invest in a few. My goal is to find stocks with limited downside and a potentially rewarding upside. Unfortunately, I have to make cuts and not make the plunge in many stocks that look interesting.
One such opportunity was Goldfield Corporation (NYSEMKT:GV), which provides electrical transmission construction and maintenance services to the energy infrastructure industry. These services include the installation and maintenance of electrical transmission lines for utilities, the installation of fiber optic cable and the construction of concrete foundations, distribution systems and substations. The company also has a small subsidiary that is involved in the development of residential real estate on the east coast of Florida.
I have been following Goldfield for many years and watched this small-cap stock push near the $3.00 mark in 2006 only to collapse and trade just under $0.30 per share as recently as February of this year. Then on February 27, 2012, the company was selected as prime contractor for a 110-mile long 345kV transmission line in Texas as part of a Competitive Renewable Energy Zone project. Goldfield estimates the revenue recognized by this project will be approximately $52 million. The project is required to be completed by July 31, 2013. This helped push the company's backlog from only $12.2 million on December 31, 2012 to approximately $77.8 million on February 27, 2012. Of this backlog, the company expects to complete $55 million during 2012.
Within a week of this announcement, the stock had already doubled in price. Shortly thereafter, the company reported its annual results for 2011 which showed a $1.6 million or $0.06 per share profit in the fourth quarter, which sent the stock higher. The good news continued when the company announced a first-quarter profit of $2.7 million or $0.10 per share. The stock finally topped out earlier this month reaching a high of $2.58 before dropping to the current price of just over $2.00 per share.
Goldfield Corporation 1-Year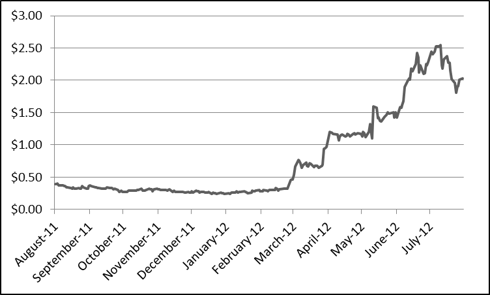 There is little doubt the risks are high with such a small company whose share price is being driven by a single contract, but this reversal could just be a breather before the stock reaches new heights. I initially did not make an investment in this stock due to a lack of a catalyst, but the improved earnings and the large contract should continue to support the stock in the short-term and if the company can continue to add to its backlog, this could be long-term winner. However, if the company fails to add additional large contracts to the backlog, an investor should be prepared to quickly sell and leave this one behind. I currently see Goldfield as only a short-term trade. It's only a long-term investment if additional large contracts are added to the backlog. SA contributor, The GeoTeam, wrote their case for a significant increase in the stock price on June 7, 2012 when the stock was still trading around $1.60 in Goldfield: A "Four-Bagger" In The Making.
Snack food manufacturer and marketer Inventure Foods, Inc. (NASDAQ:SNAK) is a company I wrote about in my article Inventure Foods: The Next Peter Lynch Stock? over one year ago, which you can read for more background on the company. At that time, the stock was trading at about $4.30 per share. At the time, I decided to pass on the stock as the price seemed fair for the earnings and growth rate. In addition, I anticipated rising commodity prices may squeeze margins on certain products.
In fact, since my original article, the stock did not do much for nearly a year, but in March 2012, the stock started to trend higher. The upward march was then bolstered by the report of record earnings in the first quarter and positive remarks from management. The stock has been very strong this month pushing to over $7.50 per share as investors anticipate second-quarter earnings that are scheduled to be released August 2, 2012. A fellow SA contributor picked up on this trend and on April 11, 2012 published Inventure Foods Demonstrating Fundamental and Technical Strength.
Inventure Foods, Inc. 1-Year Chart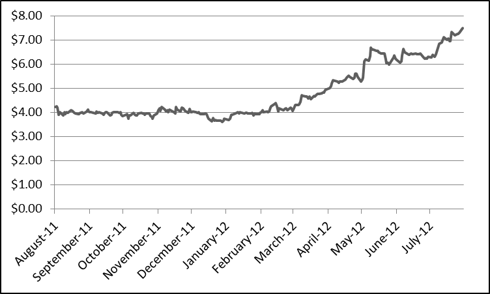 In addition to its own popular brands such as Boulder Canyon™, Poore Brothers® and Rader Farms®, the company also boasts licensing agreements with Jamba Juice®, T.G.I. Fridays®, Nathan's Famous® and Burger King®. The snack food segment is being led by it T.G.I. Fridays® and its own Boulder Canyon Natural Foods® while the frozen segment which includes Rader Farms® and Jamba Juice® showed growth of 53.1% in the first quarter compared to the same period in the previous year.
The company has strong brand recognition and quality products, but faces stiff competition from much larger players such as Frito Lay, Inc., a subsidiary of PepsiCo, Inc. (NYSE:PEP), and Diamond Foods (NASDAQ:DMND) with their Kettle Brand® of snacks. In addition, Inventure has a growing reliance on Costco (NASDAQ:COST), which accounted for 30% and 23% of revenues in 2011 and 2010, respectively. Given this stock has doubled since the beginning of the year, its reliance on a single retailer and competition from much larger players, I plan to stay on the sidelines for now and wait to see how the second quarter plays out. If there is any disappointment, the stock stands to get hit hard which could provide a buying opportunity.
My final miss was again in the food and beverage industry. Reeds, Inc. (NASDAQ:REED) is a brewer of natural sodas, including its flagship Ginger Brew and Virgil's Root Beer. The company has additional products including other naturally brewed soft drinks, candies, ice cream, health drinks and most recently, Kombucha.
Since the beginning of the year, the stock has shot up nearly 350% lead by significantly increased revenues and gross profit margins. In addition, the company has been aggressively expanding its distribution through several new agreements across the U.S.
Reeds, Inc. 1-Year Chart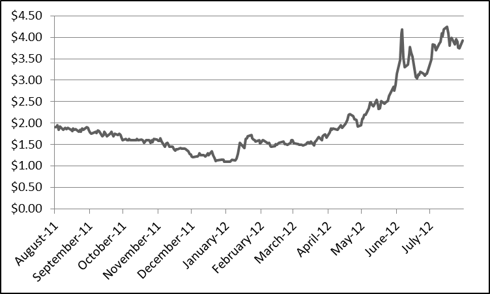 Reeds has a lineup of very unique and high-quality products, but the beverage industry is highly competitive going up against companies like Coca-Cola (NYSE:KO), which has been battling it out with PepsiCo since before many of us were even born. Reeds does try to separate itself from the competition by offering a higher quality product than the major producers and marketing that product to natural and gourmet food stores in addition to large retailers.
Is Reeds the next Hanson's Natural (now Monster Beverage Corporation (NASDAQ:MNST))? It is too soon to tell, but it is certainly worth continuing to follow the stock . It is important to note that while Reeds has had a good run, it is still well off its historic highs. The company seems to be moving in the right direction, but is still losing money with a balance sheet that is far from rock solid. Given the first big move has been missed, it is probably worth sitting on the sidelines for another quarter or two and see if revenues continue to grow and turn into a positive bottom line.
Disclosure: I have no positions in any stocks mentioned, but may initiate a long position in GV over the next 72 hours.