We previously wrote a five-part research analysis report series articulating our thesis as to why we disagree with Berkshire Hathaway with regards to investing in Ford Motor Company (NYSE:F) versus General Motors Company (NYSE:GM). Our fifth installment analyzed and evaluated the international operations of Ford and General Motors after Ford pre-announced that its International Operations would see losses that were triple the losses incurred in Q1 2012. The cause of this increased loss was primarily due to the European economic crisis. We were glad to see that Ford International's loss ended up a little less than anticipated and that North America continued to see profit growth, enabling the company to generate $.30 in adjusted EPS and beat Street expectations by $.02.
Ford North America is Ford's biggest geographic market in terms of revenues and profits. Though Ford North America was Ford's only market in which it generated a significant level of economic profit, Ford North America's profits more than offset losses from Ford's International Operations. Ford North America generated a 1% increase in revenue, a 2.3% decrease in units sold and an increase in its operating margin from 9.8% in Q2 2011 to 10.2% in Q2 2012. These results helped drive Ford North America's pre-tax income by 5.35% on a year-over-year basis.
Ford North America achieved $2B in pre-tax profit for the second straight quarter and achieved an operating margin greater than 10%. One disappointment was that Ford's U.S. market share declined by 1.7% versus the prior-year period. Factors aiding Ford North America's profit growth included higher net pricing, improved contribution cost and other factors that were partially offset by higher structural cost for growth-related initiatives. We expect this segment to maintain its course for profit growth and operating margin. Market share declines were due to the Japanese automakers regaining sales that were lost after the 2011 Tsunami. We appreciate Ford's efforts to maximize the profitability of its sales rather than chase sales volumes. This strategy has enabled Ford to be the most 2nd most profitable automaker in the world in 2011 (most profitable if we include Ford's $11.5B release of its deferred tax asset valuation allowance).
Click to enlarge
We were glad that Ford International only lost $465M, instead of the $500-$600M of pre-tax losses that were predicted. We are not happy that Ford International is expected to continue its losses for the rest of the year and that Ford Europe will lose $1B for the year. This wasn't unexpected, considering that Europe is the 'sick old man' of the global economy. Ford Europe saw its revenue skid from $9B in Q2 2011 to $7.1B in Q2 2012. Ford Europe's losses grew from $149M in the first quarter of 2012 to $404M in the second quarter of 2012. This was a bitter pill to swallow, considering it generated $176M in pre-tax profit in 2011. Revenue declined due to unit volumes declining by 15% and a lower price realized per vehicle sold. Ford Europe's Q1 loss was smaller than that of GM Europe's and we expect GM Europe to show a similar sales decline and increased loss.
Ford Asia Pacific Africa saw mixed results. Highlights included 11% wholesale volume growth and 10% revenue growth in the quarter versus the comparable period last year. Ford incurred a $66M loss in the quarter and $161M year-to-date to new product costs and expenditures to support increased capacity. We are expecting Ford Asia Pacific Africa to improve in the second half due to the absence of these investment expenditures. GM International (which includes GM's Asian and African operations) is well ahead of Ford APA, but even GM International saw its profits decline in the first quarter.
Ford South America saw disappointing performance. Wholesale volumes and revenues registered larger-than-expected declines and this market barely broke even. We expect the unit to remain (marginally) profitable for the rest of the year; however we see it at sharply lower levels versus last year. The company is seeing reduced demand for vehicles in the region and is seeing increased competitive pressures, unfavorable foreign exchange headwinds and changes in government policies effecting areas such as trade and access to foreign currency.
Ford Credit and its other financial services businesses generated $447M in pre-tax profits, down $155M from last year. This was due to lower vehicle lease terminations and lower financing margin due to the continued pay-down of older, higher-yielding assets. Ford Credit generated $890M in pre-tax profit year-to-date and is expecting to generate up to $1.5B in pre-tax profits this year. Ford Credit is expecting to reduce its managed leverage from a range of 10-11:1 (assets to equity) to 8-9:1.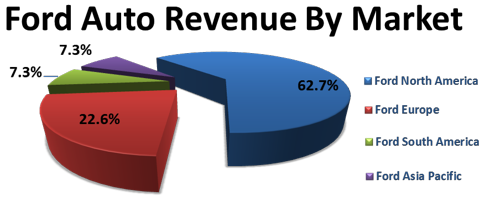 Source: Ford Q2 Earnings Release
The weakness in the macroeconomic environment served as a negative headwind for Ford Motor Company and overshadowed the fact that Ford regained its investment grade credit rating during the most recent quarter. Moody's and Fitch upgraded Ford Motor Company's credit rating to Baa3 and BBB, respectively, during the quarter. While it would have been nice to see Standard and Poor's make it unanimous, the credit upgrades represented an important milestone in Ford's turnaround.
We previously touched upon Ford mortgaging everything it could in order to secure $23.5B in loans to aid in its turnaround. While Ford paid back those loans in December of last year, it was not able to get its collateral released until two major rating agencies restored its credit rating to investment grade. Fitch upgraded Ford to investment grade in April and Moody's followed Fitch in May and this triggered the release of Ford's collateral, including its signature blue oval. Ford's automotive sector net cash increased by $1.5B and stands at $9.5B. Ford also contributed $800M to its worldwide pension plan as part of its de-risking strategy.
In conclusion, Ford is still our marque of choice for investing in the automotive industry. We believe that Ford is taking the right steps in order to catch up with GM in the emerging markets and we believe that Ford will be the most proactive with regards to addressing its 'Eurosclerotic' issues. Our expectation is based on the fact that Ford had just gone through a significant restructuring in its North American operations in order to successfully stave off bankruptcy (unlike its Big Three American brethren) and we expect that the company isn't going to want to see its profitable North American operations and high potential emerging markets operations in Latin America, Asia and Africa be dragged down by a structurally weak European division.
At $9/share, Ford's stock has gone down to levels last seen in December 2009. As a capital-intensive cyclical automaker, Ford certainly deserves to be trading at a PE of 6.9X expected 2012 EPS. It most certainly is a high beta company, due to the operational and financial leverage used. The automakers are most certainly not our favored sector. Having said all that, we believe that Ford is the automaker that will go further than other worldwide automakers.
Disclosure: I have no positions in any stocks mentioned, and no plans to initiate any positions within the next 72 hours.
Additional disclosure: Saibus Research has not received compensation directly or indirectly for expressing the recommendation in this report. Under no circumstances must this report be considered an offer to buy, sell, subscribe for or trade securities or other instruments.