When insiders buy shares on the open market, their companies are usually undervalued. Corporate insiders often have the inside track on their companies' prospects. Insiders probably wouldn't risk investing too much of their own money into their own companies unless they thought the stock might rise.
I screened for companies where at least one insider made a buy worth over $100,000 filed on July 31. Here are four stocks that I found:
1. Westport Innovations (NASDAQ:WPRT) is a leading global supplier of proprietary solutions that allow engines to operate on clean-burning fuels, such as compressed natural gas (CNG), liquefied natural gas (LNG), hydrogen, and renewable natural gas (RNG) fuels, such as landfill gas, and help reduce greenhouse gas emissions (GHG). Westport's technology offers advanced LNG fueling systems with direct injection natural gas engine technology for heavy-duty vehicles, such as highway trucks and off-road applications, such as mining and rail.
Thanks to the company's joint venture with Cummins (NYSE:CMI), Westport designs, engineers and markets spark-ignited natural gas engines for North American transportation applications, such as trucks and buses. The Westport LD division is one of the global leaders for natural gas and LPG fuel in passenger cars, light-duty trucks, and industrial applications such as forklifts.
Click to enlarge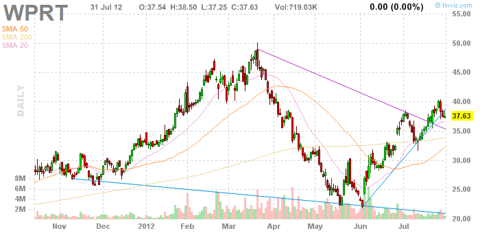 Insider buys
Kevin Douglas purchased 200,000 shares on July 27-30, 143,000 shares on July 23 and 300,000 shares on July 18. Mr. Douglas has purchased a total of 1.44 million shares during 2012. Kevin Douglas controls currently 10,472,867 shares of the company. The company has 50.9 million shares outstanding, which makes Kevin Douglas a 21% owner of the company.
Financials
The first quarter financial highlights include:
| | |
| --- | --- |
| Revenue | $88.6 million |
| Net loss per share | $0.44 |
| Cash | $333 million |
My analysis
The stock has a $71 price target from the Point&Figure chart. The company will report the second-quarter financial results on August 2.
2. Quality Systems (NASDAQ:QSII) and its NextGen Healthcare subsidiary develop and market computer-based practice management and electronic health records (EHR) solutions as well as revenue cycle management applications and connectivity services for medical and dental group practices and hospitals throughout the U.S.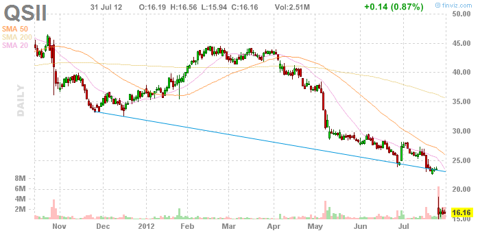 Insider buys
George Bristol purchased 10,000 shares on July 31 and currently holds 17,000 shares of the company. Mr. Bristol is a director of the company.
Russell Pflueger purchased 10,000 shares on July 31 and currently holds 19,000 shares of the company. Mr. Pflueger is a director of the company.
Financials
The company reported the fiscal year 2013 first quarter (ending June 30) financial results on July 26 with the following highlights:
| | |
| --- | --- |
| Revenue | $118 million |
| Earnings per share | $0.26 |
| Cash | $135 million |
Outlook
Steven Plochocki, president and chief executive officer commented during the earnings release:
"We remain confident about our future performance and prospects. However, due to evolving conditions affecting our industry and uncertainty in predicting future results, we are not affirming our previous guidance nor providing revised guidance at this time."
My analysis
The stock has been in a free fall due to margin calls from Ahmed Hussein's account and the earnings release. I believe this situation could be a buying opportunity for a speculative investor.
3. Tortoise Energy Independence Fund (NYSE:NDP) is a non-diversified, closed-end management investment company that seeks to provide stockholders a high level of total return, with an emphasis on current distributions through an efficient vehicle investing in a portfolio consisting primarily of equity securities of North American energy companies.
NDP intends to focus primarily on North American energy companies that engage in the exploration and production of crude oil, condensate, natural gas and natural gas liquids that generally have a strong presence in North American oil and gas reservoirs, including shale, and, to a lesser extent, on companies that provide associated transportation, processing, equipment, storage, servicing and equipment.
Insider buys
My analysis
The stock started trading on July 27. I believe it was a good time to launch this kind of energy fund.
4. Opko Health (NYSEMKT:OPK) is a publicly traded healthcare company involved in the discovery, development, and commercialization of pharmaceutical products, vaccines and diagnostic products.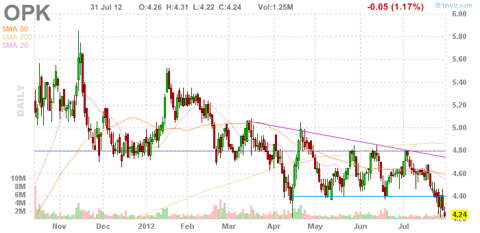 Insider buys
Phillip Frost purchased 100,000 shares on July 30 and currently controls 129,882,900 shares of the company. The company has 297,543,066 shares outstanding, which makes Mr. Frost a 43.6% owner of the company. Mr. Frost is the CEO and Chairman of the company. Philip Frost has been a buyer almost everyday this year. Mr. Frost's net worth is $2.3 billion as of March 2012.
Financials
The company reported its first quarter results on May 10 with the following highlights:
| | |
| --- | --- |
| Cash | $62.1 million |
| Net loss per share | $0.03 |
| Cash per share | $0.21 |
Upcoming milestones
The company expects to begin marketing its test for Alzheimer's disease in 2013. The company believes that this test could initially be useful in stratifying patients for ongoing clinical trials of potential Alzheimer's drugs, as well as to confirm the diagnosis in a clinical setting and to track the progression of the disease or effectiveness of a therapeutic in a clinical trial.
The company has already obtained a CE Mark for its point-of-care diagnostic test for prostate specific antigen (PSA) using its system in Europe and the company intends to launch the PSA test in Europe in the second half of 2012.
In December 2011, the company commenced a multi-center study in the U.S. for the PSA test, which is designed for 510(k) clearance and potential waiver under The Clinical Laboratory Improvement Amendments of 1988. The company intends to submit its application to the Food and Drug Administration for clearance of the PSA test in 2012 and expects to begin marketing the test in the U.S. in 2013.
My analysis
The stock has a $7.13 price target from the Point&Figure chart. I believe the target price is achievable during the next 12 months.
Disclosure: I am long OPK.